True concepts of passive house and 10 successful examples!
Updated
In this issue, we introduce passive houses, which make effective use of natural energy.
High-performance housing includes ZEH (Net Zero Energy House) and certified low-carbon housing, but the concept of a passive house differs slightly from that of those housing. We will delve deeply into advantages and disadvantages of a passive house.
A house must be a comfortable place to live, and a passive house is packed with key points to realize a comfortable house, which is important along with design.
Examples of passive houses by japanese-architects.com architects will also be shown to help you create your own home.
So, at the outset, here are the main points of this article.
A passive house is a house that makes the most effective use of natural energy and minimizes energy load, mainly for heating and cooling, with a variable design according to the seasons.
The difference from ZEH is in the concept of primary energy consumption and photovoltaic power generation, and also in the handling of airtightness performance.
Passive houses have the advantage of being comfortable year-round and friendly to people, the building, and family budget.
On the other hand, the disadvantages are the high price for high performance and the difference in the competence of the designer.
Designing a building that can take advantage of nature requires a minute balance. It is not simply a matter of increasing insulation and airtightness.
1. What is passive house?
First of all, a passive house is a house derived from "passivhaus" in Germany, a high energy-saving performance originally derived from German house design.
It is a house that can be comfortably lived in even with minimal use of heating and cooling equipment while considering sunlight according to the season and the region, in addition to high insulation and airtightness performance.
Let's take a look at the concept of a passive house and its criteria that serve as a guideline.
1-1. Concept of passive house
The basic idea of a passive house is to save energy by reducing dependence on energy equipment and devices and improving the performance of the house itself. In particular, it is based on the concept of effectively utilizing natural energy such as seasonal sunlight and ventilation.
In winter, the large windows on the south side of the house let in sunlight and heat into rooms. Since the house retains high insulation and airtightness, the heating load can be kept to a minimum, making it easier to achieve an even, comfortable warmth throughout the house.
In summer, on the other hand, sunlight entering through large windows is restricted by blinds and other devices. The house where air flows freely removes the heat that accumulates inside the room by the power of the wind, thereby minimizing the use of air conditioning.
Depending on the house design, there are also construction methods that use thermal storage heating or geothermal energy. However, what they all have in common is that they are houses that make maximum use of natural energy with high performance.
1-2. Criteria of passive house
In fact, there are criteria for an "official" passive house.
First, a passive house needs to join the General Incorporated Association Passive House Japan. The house has to be designed and supervised by an energy-efficient building inspector who has completed a training course, and also meets three criteria.
Annual heating load: 15 kWh/m2 or less
Primary energy consumption: Primary energy consumption including appliances is 120 kWh/m2 or less
Airtightness: 0.6 or less leakage frequency at 50 Pa
The concept itself is becoming popular, and individual values and regional characteristics are factors that affect how to adopt the concept. Those are not an absolute concept, but rather a standard that should be taken as a formula.
1-3. Difference from ZEH
If you are considering building a new house, you may have seen or heard of ZEH, as it is eligible for subsidies these days.
In conclusion, there are two differences: "the concept of primary energy consumption" and "whether airtightness is taken into account".
Both ZEH and a passive house use a calculation formula called "primary energy consumption" to estimate how much energy is saved by the equipment used in the house.
In order to calculate energy efficiency based on the original performance of a ZEH house, energy used by home appliances is "not included" in the calculation, and solar power generation is mandatory. On the other hand, the calculation in a passive house "includes" energy used by home appliances and does not require solar power generation.
The second point, airtightness, is not emphasized in ZEH, but a passive house emphasizes airtightness.
It is not the matter of which one is superior. Both approaches are aimed at realizing energy-efficient housing, with the ultimate goal of achieving the Paris Agreement's CO2 reduction rate targets.
2. Advantages of passive house
Let's take a look at the advantages of a passive house.
2-1. Comfortable thermal environment all year round
The first is a "comfortable thermal environment anywhere in the house" created by high thermal insulation and airtightness.
Passive houses require considerably higher levels of insulation and airtightness than ordinary houses. The reason for this is to make the entire house more comfortable with less energy consumption.
The whole house is insulated and airtight like a thermos bottle, which is a feature and an advantage, as air conditioning and heating equipment are unnecessary or operated minimally in both summer and winter. In old houses, there was a temperature difference within the building: the bathroom and dressing room were cold in winter, and it was hotter on the second floor in summer.
Passive houses are also designed to equalize temperature differences within the building, making people comfortable to live in.
2-2. Buildings tend to have long life span
Second, the buildings themselves also tend to have a long service life. This is because the high airtightness of the building frame reduces the risk of corrosion.
When airtightness is low, condensation within walls called "in-wall condensation" tends to occur, especially during the winter season. Condensation occurs within walls can cause mold to generate on pillars and insulations, affecting the life of the building.
It can be said that a passive house, with its airtightness well thought out, is friendly not only to people but also to the building itself.
2-3. Low utility costs and budget-friendly
The last benefit is low utility costs.
As explained in the first advantage, a passive house is a house design that minimizes energy consumption, mainly for heating and cooling equipment. The largest amount of energy used in a house is for water heating, followed by energy used for heating and cooling equipment. (Reference: Energy White Paper 2020, Agency for Natural Resources and Energy) By reducing the energy used for heating and cooling equipment, utility costs can be also reduced, making the house more economical for the family budget.
3. Disadvantages of passive house
We will now discuss the disadvantages of passive houses.
3-1. High construction cost
The first point is construction prices.
The price of passive house is higher than that of a standard house because of its high insulation performance and large, high-performance windows that let in sunlight. The initial price is a disadvantage because the construction cost is also relatively high for high airtight performance.
If you plan to build a high-performance passive house, a price range is about 900,000 yen per tsubo (1 tsubo = 3.3 square meters) or more.
However, do not simply look at the price per tsubo. You also need to judge the price per tsubo, considering "low utility costs" as explained in the third of advantages. By carefully comparing the amount of money of a typical house and the amount that you will ultimately pay out of your household budget, including the monthly mortgage payment and utility costs, you can avoid the mistake of "buying cheap and losing money".
3-2. Require high level designers (depending on local climate and land geometry)
Second, a passive house requires the high level and calculation for the design.
In the case of sunlight, too large windows tend to make the house hot during the summer and cold in the winter. It is not enough to simply increase window performance; it is necessary to consider the balance by taking into account the time and angle of daylight, the amount of heat produced by sunlight, and other factors.
In addition to performance, design, comfort, and cost of the house are also important factors. Even designers have difficulty in finding the best solution to the complex interplay of these factors. Please be assured as the architects introduced on japanese-architects.com have this kind of thinking in mind and are also able to take design and other factors into consideration.
4. Points to keep in mind when designing passive house
Let us briefly introduce the key points of a passive house design.
4-1. Adjustment for sunlight acquisition
The most important feature of a passive house is the large openings on the south side of the house in combination with blinds. Some house designs have full windows on the south to maximize the amount of sunlight during the winter days.
The length of the eaves can also be adjusted to block sunlight in the summer when the sun is high, and let sunlight enter in the winter when the sun is low.
The key is how to utilize sunlight according to the season.
4-2. Set level of insulation
Although a passive house has no UA value standard like ZEH, its goal is to meet the standard of an annual heating load of 15 kWh/m2 or less.
Generally, G2 to G3 level of HEAT20 is recommended for insulation performance in a passive house, and higher insulation performance is often required than ZEH. In addition, regarding windows that let in a lot of sunlight, three-layer glass, wooden, or plastic sashes are often used for the windows to block out cold in winter and heat in summer.
[Column] UA value and HEAT20
UA value is one of the indicators that numerically expresses the insulation performance of a house. The value calculated is an average value of how much heat goes out (or comes in) through the house's floors, walls, and ceilings. The lower the value, the higher the house's thermal insulation performance. The lower value means the higher insulation performance of the house. The standard value is explained in the following HEAT20.
HEAT20 is an abbreviation for "Committee for the Development of Highly Insulated Housing Technology for 2020," which was originally established by a group of researchers, housing and building material manufacturers, and wholesalers. This organization has established three ranks of indicators (G1, G2, and G3) for insulation performance (UA value) to be aimed for. These ranks were regarded as indicators. Since 2022, however, the ranks are used as indicators of heat insulation by Japanese government.
The recommended performance level for a passive house is around Grade 2 or higher.
H28 Energy Conservation Standards
(Heat insulation G4)
ZEH Standards
(Heat insulation G5)
HEAT20・G1
(Heat insulation G6)
HEAT20・G2
(Heat insulation G7)
HEAT20・G3
(Heat insulation G8)
First Region
0.46
0.40
0.34
0.28
0.20
Second Region
0.46
0.40
0.34
0.28
0.20
Third Region
0.56
0.50
0.38
0.28
0.20
Fourth Region
0.75
0.60
0.46
0.34
0.23
Fifth Region
0.87
0.60
0.48
0.34
0.23
Sixth Region
0.87
0.60
0.56
0.46
0.26
Seventh Region
0.87
0.60
0.56
0.46
0.26
Eighth Region
-
-
-
-
-
※ Unit (UA value):W/m2・K
※ Reference:
HEAT20
4-3. Detailed air conditioning and ventilation design
In a passive house, air conditioning design is another point that directly affects the comfort of living.
In some high-performance passive houses, a single 4 kW air conditioner (for 14 tatami) is sufficient to air-condition the entire house. One or two air conditioners are operated as a minimum, and storage heaters or wood stoves may be used in combination, depending on the design and local climate.
There are many approaches to ventilation design, and heat-exchange ventilation fans are generally recommended for passive houses. By effectively recovering heat, the heat emitted from appliances and people who live there may be sufficient to meet the needs without heating or cooling equipment.
4-4. Design that takes advantage of nature and climate of land
The main difference between a passive house and ZEH is that sunlight and ventilation are the basis of the design.
Taking advantage of the shape of the land, the surrounding environment, and the local climate to bring nature into a house is the most exciting and important element of a passive house design.
5. 10 case studies of passive house
Let's take a look at some examples of passive houses that you may be interested in. We will also introduce some key points in design.
If you would like to consult with or be introduced to an architect who can design a passive house that meets your needs and requirements, japanese-architects.com's architect referrals are also useful.
5-1. Renovation of old folk house with snow protection
The first case study is in the Yuzawa region, Akita. An old folk house was renovated into a passive house. This house takes measures especially to protect it from the cold in winter in a snowy area.
By making the beaten floor and corridor in a "square" shape throughout the house and enclosing the living room with an air layer, the cold outside air is prevented from being transmitted directly to the rooms.
The large opening on the south side of the house allows maximum daylight during the day when the weather is clear. The house is also designed to be barrier-free, making it both a good thermal environment and a comfortable place to live.
5-2. House with sense of natural openness in continuity with garden
This example is a house where the living room is designed to be long from east to west, thus increasing the area of the south side of the house.
Although the building has a simple structure, it is designed with high ceilings to allow the rising air to escape from the east to the west in summer. In addition, long eaves prevent the summer sunlight from penetrating deep into the rooms.
In winter, soil storage floor heating creates a warm thermal environment from the feet up, even in the bathroom, making this a truly comfortable passive house all year round.
5-3. House that feels nature with shadows created by steps
This example is a house in which the floors makes one large space, but the different levels create a private room feel.
By shifting the rooms from north to south, a gentle north-south breeze can escape, creating a pleasant space from early summer to autumn.
Each room also has large square window on south side. By shifting the rooms from north to south, many light garden-like spaces can be created. The effect is to bring in full sunlight and create a bright and warm environment even in winter.
5-4. Open house with sunlight and ventilation
This case study is of a residence for a couple in their 60s.
The "everyday" living space is located on the first floor and is designed to be open, so that they can feel a sense of spatial continuity with the garden via the veranda. The "non-ordinary" place is placed in the center of the second floor as a guest room. The perimeter of the guest room is designed with a porch, a light porch, to allow sunlight to enter the room. Loosely partitioned by curtains, this is an example of a "shimmering hikaridame (light gathering area)" that responds directly to natural elements such as light and wind.
5-5. Open two-family house with both public and private space
This is an example of a two-family house designed to maximize ventilation and sunlight by making one floor open.
The first floor has an open design with a beaten floor connected to the outside. The floor plan, which can be opened from north to south, is a passive design that allows ventilation and prevents heat buildup. At the same time, in spring, the cherry blossoms in the park can be seen from the room.
The second floor is characterized by two impressive indoor gardens, and these plantings create a pleasant environment that allows the residents to feel the wind and natural light even more. In summer, when the sun is high, sunlight is taken in only around the plantings, while in winter, when the sun is low, sunlight is taken in a wider area, creating a warmer environment.
5-6. House that changes expression in four seasons according to sunlight
This case study is from Kani City, Gifu.
It is designed in a way that is unique to the region, where summer heat is especially severe. The openings are provided on the north and south sides, and each of the living and dining rooms has a stairwell. It is designed to create a light environment where the morning sun from the north signals the arrival of summer and light from the south signals the arrival of winter, thus allowing sunlight to enter the house according to the four seasons.
5-7. Villa in Karuizawa where you can feel forest
This case study is of a villa nestled in the forest in Karuizawa.
The living and dining room, a large space on one floor, is designed to be bright all year round through a full south-facing opening. In summer, a lattice that restricts sunlight acts as a heat shield, while at the same time creating a calm and luxurious space created by shadows.
The villa also has a Japanese-style tea ceremony room on the first floor where a professor of Urasenke tea ceremony can enjoy the tea ceremony even in the villa.
5-8. Panoramic window passive house along coast
This is an example of a house built along the coast.
The large window facing the seashore allows bright sunlight to enter the room. A fireplace is installed in the stairwell to provide warmth in winter when combined with sunlight.
The dining room side is designed to limit the acquisition of sunlight by overhanging (protruding) the second floor. This is a design example that achieves both a sense of openness and livability.
5-9. House that changes its interior according to seasons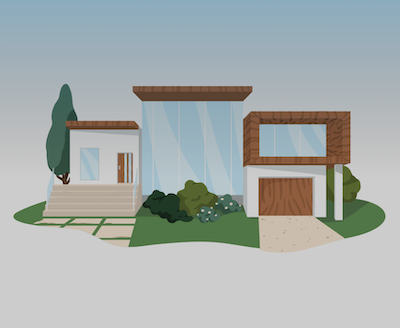 The ninth is the case of the house in Akita.
Considering the area's heavy snowfall, the first floor has a parking lot and a Japanese-style room that is used infrequently, while at the same time eliminating openings to prevent crime and the effects of snow.
In summer, it is used as a "summer house" with the inner fittings open to allow a good breeze and a sense of freedom. Conversely, in winter, it is used as a compact and quiet "winter house" filled with soft light by closing the inside fittings. This house has unique flexibility accoring to the seasons.
5-10. House with inner terrace and large windows
This is an impressive example of a house built in a hilly area of Tokyo, with an inner terrace that is continuous with the garden. The garden, which is half a level down from the road, creates a sense of privacy. The open living room, which is integrated with the garden, allows light to enter the house.
A large FIX window is provided above the atrium. The amount of sunlight is easily adjusted in summer by a roll screen and other devices.
6. Summary
You have seen examples of passive houses built by japanese-architects.com. We hope that you see the original livability, design, and comfort of the houses, including their performance.
Passive house design requires a sense of design and balance depending on a region and site. Japanese-architects.com has architects registered throughout Japan. If you are interested in building your one-of-a-kind custom-built house, please take advantage of our japanese-architects.com "Architect Referral Service". Our first-class architectural advisors will listen to your needs and connect you with the perfect architect or design firm.