House-makers, local builders or architects?
Full comparison of house builders in Japan

3 types of builders have its own uniqueness in 7 different categories - learn more and make sure to know who your best partner is
Do you want to know what types of companies there are, and who is the best partner for your new house?
Here is a comprehensive comparison of the 3 major builder types you can design and build your house with. House-makers (ハウスメーカー), local builders (工務店, Komuten) and architects (建築家, Kenchikuka) all have their own uniqueness and specialities. Depending on what the priorities are for you new house, your choice will be very different. As each partner type is very unique and different, make sure to know the overview and to choose the right partner for you.
Updated
Overview of the 3 builder types
Partner options for you to build your house with are...
House Maker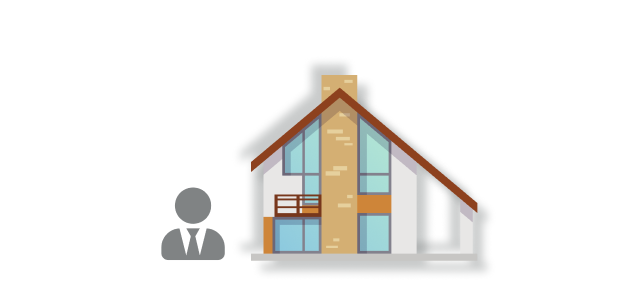 ハウスメーカー or house-makers are large corporations in Japan whose main business is mass manufacturing of standardized houses.
The business model is to run mass marketing with TV commercials and model houses, and acquire a large number of clients with similar needs across the country. In order to deliver houses to a mass population, the products are optimized to the common lifestyle and family needs in Japan.
You will be able to benefit from the cost efficiency from the mass production if you like the very product you see in their catalogs.
On the other hand, once you start changing the elements from their standardized plans, the cost will surge as it will fall out of their business model and capability.
Also know as; home makers, house manufacturers, home manufacturers, house builders, home builders, prefabricated house builders or prefab house suppliers...
Builder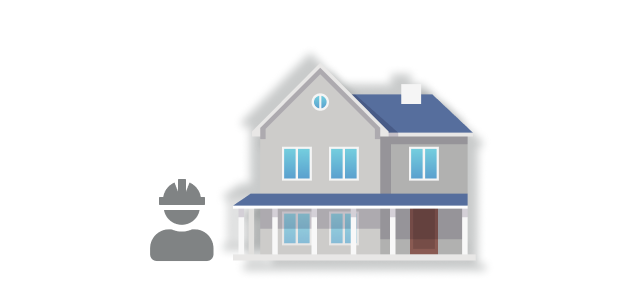 Builders or 工務店 ("Komuten") are generally the name for small-to-medium contractors who are engaged in construction work.
There are several types of builders, including;

(1) Independent builders: Has its own architects, carpenters, sales teams etc. Usually has certain scale compared to other builders and is closer to house-makers.
(2) Construction-focused builders: Mainly comprised of carpenters only. Its strength is in its construction skills and also collaborates with architects when a design work is necessary. Usually very local and does not have too much scale as a company.
(3) Subcontracting-focused builders: Only accepting subcontracting jobs, mainly from house-makers. As a client / consumer, you probably will not have any direct relationship with these types of builders.

(there are also other types, including reform-specialized builders or building division of real estate companies)
Builderes tend to be the cheapest choice in many occasions as they are a smaller company with less operating cost (unlike the house-makers who spend significant amount of money for marketing and sales forces).
Architect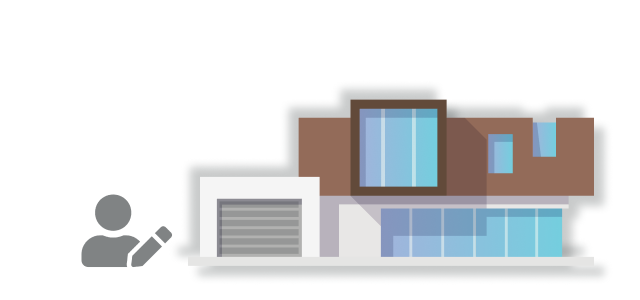 Architects (建築家 or Kenchikuka) or architect offices (建築設計事務所) are individuals or groups of professionals who plan, design and supervise the construction process of a building or an architecture.
There are several types of architect firms; architects who run their office on their own, offices with several architects, or even large corporations with dozens of in-house architects.
Architects will only do the design work and hire a contractor or a local builder to do the construction. Architects will act as the supervisor on the clients behalf to make sure everything is right, from procurement price to construction accuracy.
The greatest benefit in asking an architect is the high flexibility and the sophisticated sense of designs. They will design and build your house from scratch to create the one-and-only living space tailored for you.
As the architect will spend decent time on making the best design for each client, it will most likely take more time compared to house-makers or local builders from planning to construction completion.
Summary of comparisons: pros and cons
Here is the summary of comparison of uniquenesses and benefits among house-makers, local builders and architects: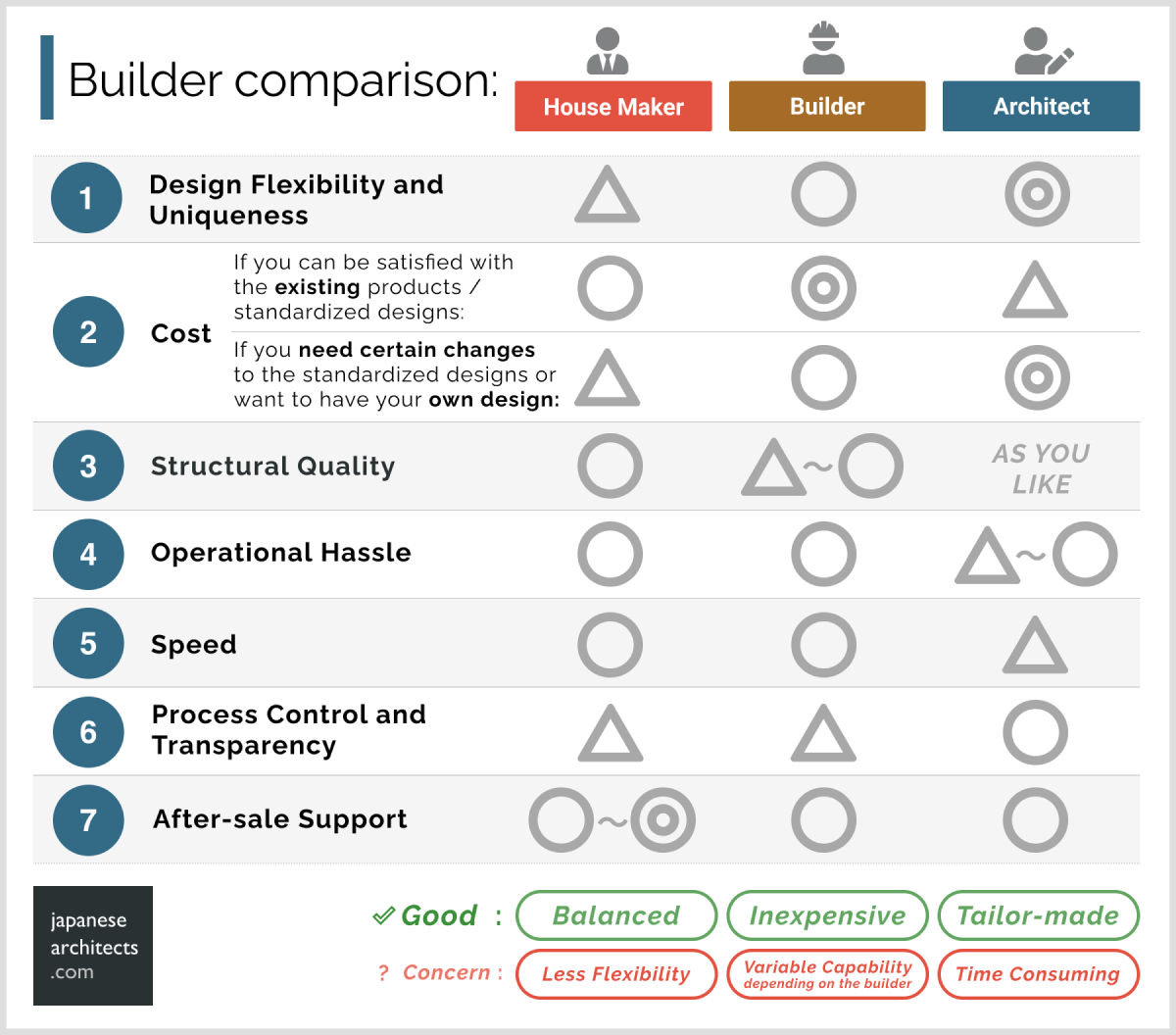 Learn the details of each pros and cons below... Or get in touch with a professional for live consultation online.
1. Flexibility and Uniqueness in Design
...How flexibly can we design our house and build as we want to?
House Maker

House-makers have its standardized designs and your house planning will start from the thought process of: "Which of our products do you like?" or "What would you like to change from this standard design of our product?"
For standardized houses (規格住宅), you will not be able to change any designs. The benefit of this house type is price - it will be cheap.
For house-makers' custom houses (注文住宅), you will be able to "choose" from several options. It is different from custom houses of architects where you design everything from scratch.
If you start "customizing" a house-maker's design too much, it will end up in a significant cost increase. Details described later in the "Cost" section.
Builder

You will be able to find certain types of builders who will be able to design your house flexibly.
Builders like (1) Independent builders or (2) Construction-focused builders usually has more flexibility compared to house-makers.
Some builders have their own standardized houses like the house-makers.
One thing you will need to keep in mind is, as the same company will be doing the construction, the designs tend to have priority on applying less-complicated cunstruction methods.
Architect

If flexibility is the priority in your house building, architect is the go-to place.
There is no standardized house with architects. They will design everything from scratch, based on a number of factors including what you want, your lifestyle, surrounding environment and your budget.
You will have flexibility in all aspects of your house, including the exterior, shapes, interior, floor plans, equipments, lightings or furniture.
As architects are knowledgeable in various architectural solutions, the range of your land options will also increase. Some sites are difficult for house-makers to place their products with a fixed shape / structure, but architects will be flexible in designing the best solution in each environment.
2. Cost
...How much will our house cost?
-- The cost of your house will depend on what you want to achieve:
2-A. If you can be satisfied with the existing products / standardized designs:
House Maker

If you like the very product you can see in house-makers' catalogs, it will be the most cost efficient way to build your house
You will usually be able to make some, but limited, customization from the standardized designs with some incremental cost
House-makers' business model is to produce a large number of standardized houses with the same design and materials. In this way, they are achieving a mass production business model and you will be able to enjoy the cost efficiency from these large companies.
Builder

Similar to house-makers, if the builder has their own standardized designs and you like the very product, it will be a cost efficient way to build your house
Some times, builders will be able to build a similar house to house-makers with less cost - as builders don't do mass marketing like the house-makers and you will not need to pay for the marketing cost. You will need to pay attention to the quality in that case.
Architect

If you are planning to bring a catalog from a house-maker and ask an architect to build something similar, that is not a wise choise.
With architects, you will not be able to enjoy cost effectivness from a mass production business model.
If you need certain change from their catalog or design everything customized for you from scratch, then architects will be your best choice.
2-B. If you need certain changes to the standardized designs or want to have your own design, something unique and different from other people:
House Maker

If you start "customizing" a house-maker's design too much, it will end up in a significant cost increase.
House-makers' cost efficiency comes from standardized designs and commonnalized construction materials. Once you start ordering something out of their standard scope, it will result in a significant price.
If you have quite a lot of changes in mind from house-makers' products, it will be less expensive if you start designing with builders or architects from the beginning.
Builder

Builders will usually be flexible in achieving your own design at a reasonable price.
Keep in mind, some builders, especially large ones, have a similar business model to house-makers and once you start customizing their standardized models, it could end up in a higher cost.
Architect

If you want to build your own unique design or want to think about the ideal option for each of your house components, it will be least expensive if you build your house with an architect. If you do the same thing with a house-maker, your cost will go sky-high.
When you have a fixed budget, architects will be able to back-solve from that number and be creative in making the most out of your budget.
Important note (1): Marketing Cost vs Design Fee
Based on the differences of business models, you will be paying different types of cost to house-makers and architects.
As you may have seen a lot of TV commercials, house-makers spend significant money on marketing. Approximately 30-50% of your construction cost is said to be the portion of the marketing cost - i.e. around 1/3 to 1/2 of the money you pay is not for the building work or the house materials but for the expenses of sales and marketing. In this way, house-makers are acquiring a large number of customers and delivering its standardized houses at a reasonable price thanks to its volume from mass production. This is how you benefit on cost efficiency if you like the standardized product.
With architects, you will pay a larger design fee compared to house-makers. This is obviously due to the process of more thorough and intense designing process. Design fee to the architects in Japan is usually 10-20% of the construction price. Most of this cost if for the work of architects as each architect office don't usually do massive marketing by themselves.As house-makers have their standard models, you usually will not have to pay too much design fee to the house-makers.
House-makers and architects have two completely different business models and are focusing its resources on different areas; house-makers focus on marketing and mass production, while architects focus on the design process of each project. You will be paying different types of cost and it is up to you how you want to use your money.
Important note (2): Construction Cost per Tsubo (坪単価)
You will hear many people say tsubo-tanka when you start considering building your house. Cost per tsubo, or 坪単価, is a unit to measure how much your house will cost per certain size of floor area. 1 tsubo is equal to 3.3 square meters. When you hear "1 million yen tsubo-tanka", it means that your house will cost 1 million yen per 3.3 square meters of the total floor area of your house.
The important thing to know is that the definition of tsubo-tanka is different between house-makers and architects. House-makers' tsubo-tanka will look smaller as it does not include many of the ancillary works, including air conditioning systems, lighting, outdoor facilities or water supply works.
In many cases, these ancillary works are all included in an architect's tsubo-tanka. You need to keep in mind that the tsubo-tanka is not apples-to-apples with house-makers and architects and think about the total cost you will need. When you are speaking to a house-maker, make sure you confirm what is not included in the original quote; it will often say "別途" (not included) on the list and will cost you material money later on.
3. Structural Quality
...How will the finished quality be like? (e.g. earthquake resistance)
House Maker

As you see on many marketing materials from house-makers, they conduct thorough tests to make the standardized houses durable to earth quakes and other natural disasters.
It is important for you to see the actual numbers and compare it with other house-makers if earthquake resistance is important for you.
Builder

As builders are usually the least expensive option for you, it is sometimes at the cost of decent quality compared to others.
Japanese law regulates all buildings in Japan to be in compliance with the set standards of aseismic reliability so you don't have to worry about it too much if it is a regular builder and can properly handle the confirmation application process (確認申請) with the authorities
Architect

As you will have full flexibility with the architects, you can also design the structural quality as you wish.
If earthquake resistance is extremely important for you, you can concentrate your budget to the structure and make your house more durable than any other house-makers.
Most of the architects will work together with a structural engineer (構造設計士) and you will be able to design your structure and strength as you like, taking into account the balance between your budget.
4. Operational Hassle
...How much work and time will be required from us?
House Maker

Usually, a sales representative will be your point of contact and he/she will manage everything for you.
As your house will be based on standardised designs, you will not need to (can not) make detailed decisions to complete your design.
As house-makers will do the design, supervision and construction all by themselves, you can defer majority of your work to them (the trade off is the quality control and transparency)
Builder

Same as house-makers. Builders may have slightly less resources compared to house-makers with decent company size and numerous employees.
Architect

You will mostly need to spend a decent time with the architect, from high-level communication of your lifestyle to detailed conversations about specific designs of each house component.
Some architects prefer designing based on their established systems and you will not have to spend as much time with those architects.
5. Speed
...How fast can we finish the design and complete the construction?
House Maker

As house-makers have its standardized designs, it will generally take less time in fixing the designs.
Also, because a large number of similar houses are being built, it is also easy to assemble and build the standardized house, which will result in less construction time.
Builder

Same as house-makers. If you are in a rush to build your house, it is better to build your house with a house-maker or a builder.
Architect

As you will be designing your house from scratch, it will usually take more time in fixing your design when you build with an architect.
It will generally take 14 to 20 months from design to completion.
6. Process Control and Transparency
...How can we ensure that the material procurement or the construction process is done in our best interest? Who is the professional overseeing the process on behalf of us and how much transparency can we have?
House Maker

House-makers will conduct design and construction by themselves. As the two roles - design and construction - will be done by the same company, it is difficult to access to full transparency of important aspects.
Important aspects to check include fair price of labor or material procurement, construction method (checking if everything is being built according to the plans and specifications) or even the best experience from the resident's perspective.
Builder

Same as house-makers. Builders especially have some incentive to make the specifications less complicated so that the cunstruction process can be executed smoothly.
Architect

As architects will be the independent "supervisor" who will oversee the entire project on behalf of you, you can rely on the professional to maximize your interest as well as have transparency in each and every part of the building process.
7. After-Sale Support
...How much support and guarantee can we get after we build the house and start living?
House Maker

Beyond the 10-year rule, some house-makers provide longer after-sale service, 20 years, 30 years or sometimes longer.
If you care a lot about the after-sale service, it is important to compare the among the house-makers and see what and for how long each company can offer you.
Builder

Based on the Housing Quality Assurance Promotion Law (住宅品質確保促進方), all builders are required to provide free after-sale support for 10 years from completion.
Builders will mostly be able to provide appropriate support as necessary.
Architect

Same as builders and house-makers, your architect-designed house will also be protected by the law.
Under the law, it is the actual builders' responsibility to ensure the support for 10 years.
Most architects are very supportive in checking and fixing after the completion. Some offices even have a full-blown support system like the house-makers.
- DIY? - Building a house by yourself
If you are willing as well as skilled and informed enough, you will also have a choice to DIY your house. The major benefit of DIY, if you do it the right way, is that the cost will most likely be lower as you will be paying less for external labor and partners, including construction workers, sales representatives from house-makers or architects. You may also be able to enjoy the joy or the process of building your important environment on your own.
However, as you can imagine, DIY obviously requires significant work and time on yourself, especially if you are building a new house. Make sure to make sufficient research before you start a DIY.
Summary
To summarize, you want to make the right choice depending on the priorities you have for your new house:
If you want an easy process and prioritize construction speed, house-makers are your suitable choice. Please review the characteristics of the house-makers described in this article and investigate the ones you like.
If you want to keep the cost as low as possible, it will generally make sense to go to a local builder as they offer similar services as house-makers but you don't need to pay for the marketing cost, which is generally around 40% of the construction cost with the house-makers.
If you want to design freely or achieve higher functional performance than house-makers, it will make sense to hire an architect who can develop your own house from scratch at a similar budget.
japanese-architects.com is here to support your house building in Japan providing full English support. We offer a wide range of Japan-based architects with a proven track record and designing skills. We will connect you with the right and the best architect who matches your needs. Get started with us for free.
You can also contact us for free for a casual chat if you want to know which builder is your best choice. A professional will listen to your situation and provide honest feedback.