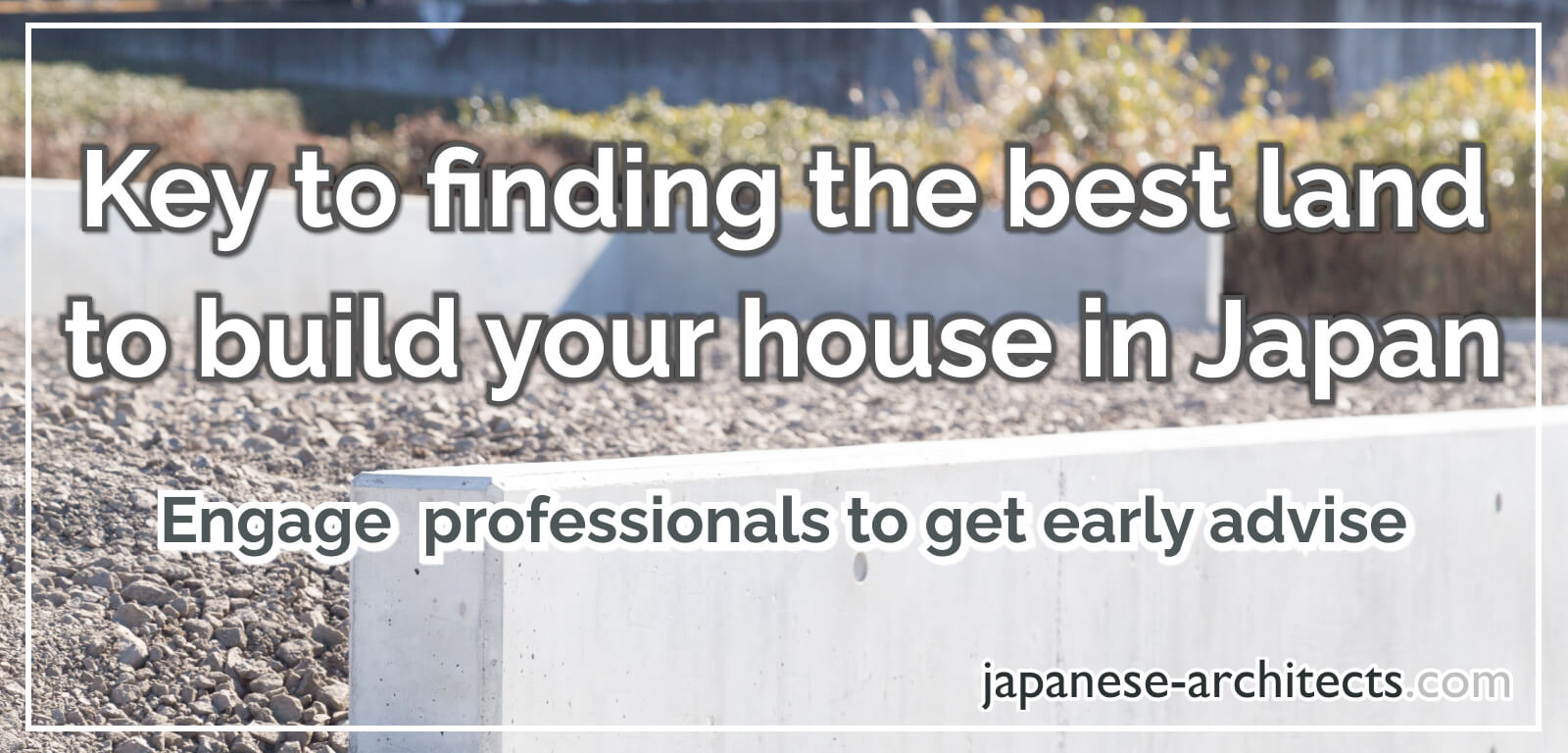 How to find land for sale in Japan - Find the best property with skilled Japanese architects
Updated
Land selection is very important for building an ideal home. In Japan, there is a way to start looking for your land or property with an architect. Actually, there are many benefits if you engage an architect before your land search process.
To help you find the best choice of land to build a house, we will help your process by introducing qualified Japanese architects. We, japanese-architects.com, provide a platform of professional architects who can hunt the most appropriate land considering all factors that are necessary to build your dream house. We cover all areas in Japan including Tokyo, Osaka, Kyoto, Niseko and Okiniawa.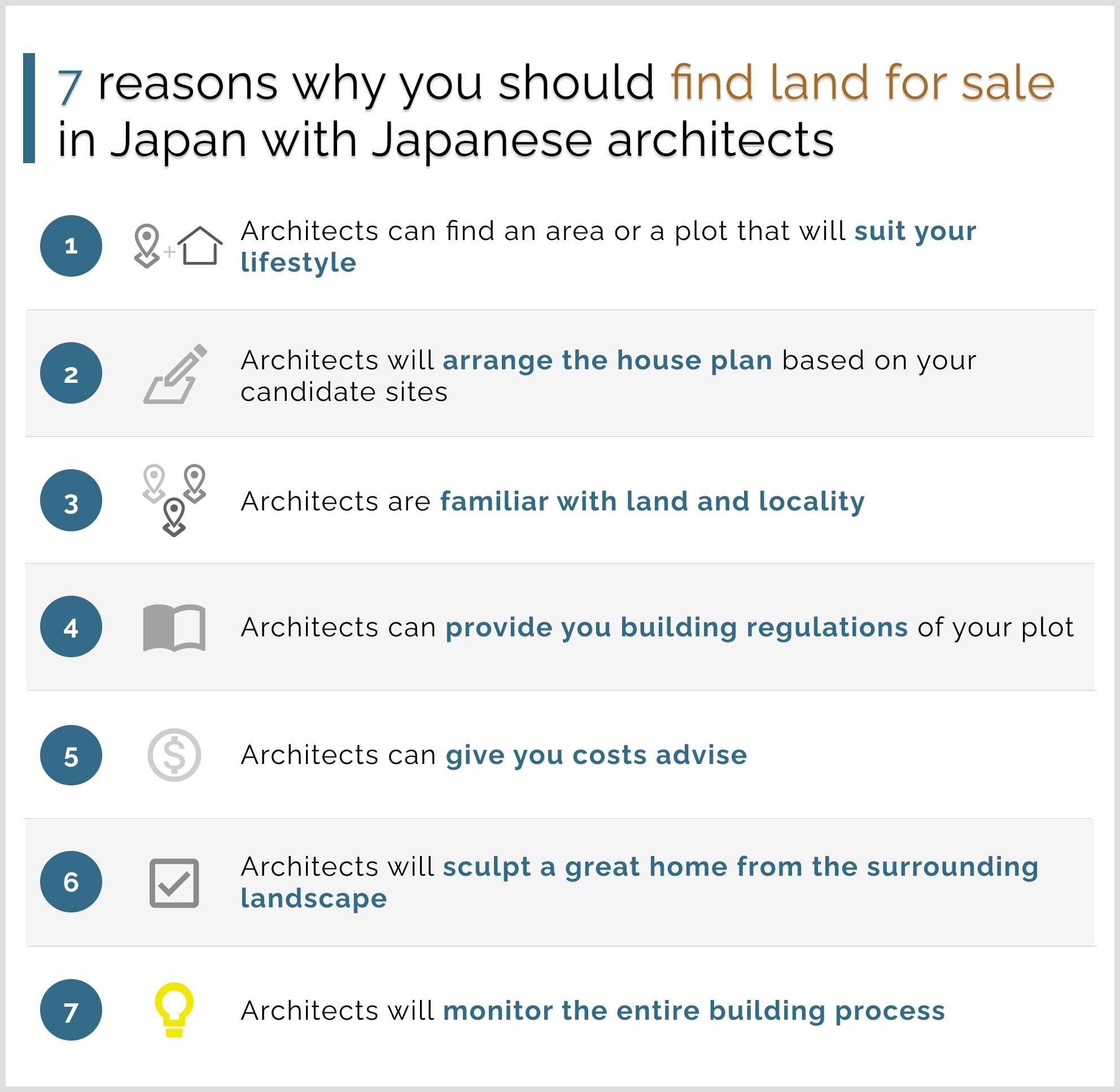 Table of Contents - benefits of finding land with an architect:
1. Architects can find an area or a plot that will suit your lifestyle
Architects do not only design a house for you, but they also help you in searching for land in a specific area in Japan that will suit your lifestyle and match your needs.
For example, if you already live in Tokyo or Osaka and are interested in building a second house in surrounding rural areas, architects will help you identify a suitable area or a specific spot, taking into account what you want to and can do with the new house.
Talk to a professional!
Have you gotten used to life in Japan? If you haven't, a professional staff in japanese-architects.com will look at the area or city you are interested in and give you some information about land on sale in those areas, including:
Size of the lot
Land price
Neighborhood
Access to facilities (international schools, public library, workplace, etc)
Access to public transportation
Natural surroundings (ocean, forest, mountain, field, ski resort, etc.)
If you need support, please contact us for free . English-speaking professionals in the area will support you in accordance with your request.
2. Architects will arrange the house plan based on your candidate sites
Rather than adapting to the plan of ready-build houses, professional architects will create a space and house specific to the candidate sites. Maybe you have a large family and need multiple rooms and bathrooms? Do you want a built-in gym or a theater room? Or do you need an indoor music studio with the technical lighting?
You can go over these extra features with architects, as they are professionally trained to know how to incorporate these features into the site. It may be helpful to do a site analysis with an architect before purchasing the property, to make sure that your request and extra features will fit into the plot exactly.
3. Architects are familiar with land and locality
Whenever you need a service of any kind, it is always smart to consider your option of going local. Local architects can be useful in finding land and informing your decision to purchase, since they have a good sense of locality and know the neighborhood very well
Local architects are more available to meet with you face-to-face, walk around candidate sites together. Additionally, topography varies greatly even within a small geographic location in Japan, therefore working with an architect who is well informed about your neighborhood and characteristics of land is extremely important.
Also, knowing what is available locally can make a big difference in construction cost. An architect from another area may not be as knowledgeable of the availability and costs of particular construction methods or materials.
In some cases, architects based in another location but has project experience in the region does have sufficient knowledge about the locality. japanese-architects.com staff can also support you in finding the architect with the right experience.
4. Architects can investigate the building regulations of your plot
Japanese architects will guide you through the building regulations and restrictions to help deliver your house building process before purchasing property. In Japan, there are minimum standards regarding the site, structure, facilities, and use of buildings.
In every piece of land, certain rules are applied to restrict your house size, building height, and material. By having an architect engaged from the early phases, you will be able to understand the rules of candidate sites and make a better decision based on the professional feedback from your architect.
Engage a professional - contact us
We have registered architects who can check your land regulation thoroughly for free, before you purchase any property - Make sure you don't regret it after your payment.
5. Architects can give you cost advice
Architects are familiar with building costs and will offer cost-saving design alternatives so that the total cost will not exceed your budget. It is essential to select an architect early in the process so he or she can direct your vision and land hunting process.
The architect will help you calculate your rough construction costs, and tell you what is and is not possible based on your land, and timeframe. If you have no idea about the budget, here are the key factors to plan your budget:
Land price
Design and engineering fees
Building construction fee
Landscape cost
Local tax and application fee

The cost will vary greatly depending on how much space you have to work with, how large your home should be, and where you want your house to be in. We first recommend you to read our article on general building cost and contact us so we can give you an ultimate guide to understanding the cost and process of building a house in Japan.
6. Architects will sculpt a great home from the surrounding landscape
Architects have control over the building environment and natural features on site. They direct your planning with all sorts of factors: its orientation, natural features of the site including topography, wind, snow, greenery, and the availability of the sun.
Architect's involvement at the earliest stages will create structures and spaces in a way that they would blend with their natural surroundings. The works of Japanese architects have a good reputation of integrating nature and architecture, and they are designed with many considerations in mind, the foremost being its relationship to the surrounding landscape.
See also: 6 benefits of building a house with architects in Japan
7. Architects will monitor the entire building process
Architects do much more than designing aesthetically-good houses. They will monitor the entire building process until your project is complete.
Japanese architects will suggest a building contractor in the early phase of design and they will carefully review the estimates for you so that the building cost is not overcharged.
Also, they will handle the tough aspects of contract negotiations and building permits on your behalf, helping foreigners who do not speak Japanese get through the complex procedures and communication with builders.
8. Summary
For all, finding land is the first step towards building a dream home. Japanese architects can be useful from finding land and informing your decision to purchase, to guiding you through the specifics of planning, building regulations and managing everything within your budget and timeframe.
It is important to hire your architect early in the process so that they can direct your vision, listen to your thoughts and needs and help you based on your land, budget, and timeframe. Architects typically will not charge you for early phase support.
Are you looking for an architect?
japanese-architects.com can introduce you to the right architect(s) that fits you and your wishes. We'll have a casual chat with you first to hear about what you want to achieve as well as what kind of designs you like, and select the best architect from our network.