A Step-by-Step Guide to
the house building process
in Japan

Learn the entire process of house building in Japan - from searching your land to completing the construction
Are you considering to build your own house in Japan?
Here is a step-by-step guide to a general house building process in Japan. Understanding the whole picture will help you make a good start and plan everything thoroughly. Some of the steps could be unique in Japan and be different from what you know. Read the full guide and get ready to start your exciting process.
Updated
Summary of the entire house building process in Japan
In summary, you will need approximately 14 to 20 months for the entire house building process from finding your land to completing the construction and actually moving in to the new house. Start your planning early and make sure you can start living in your new house when you wish to.
Here is the overview of the entire process: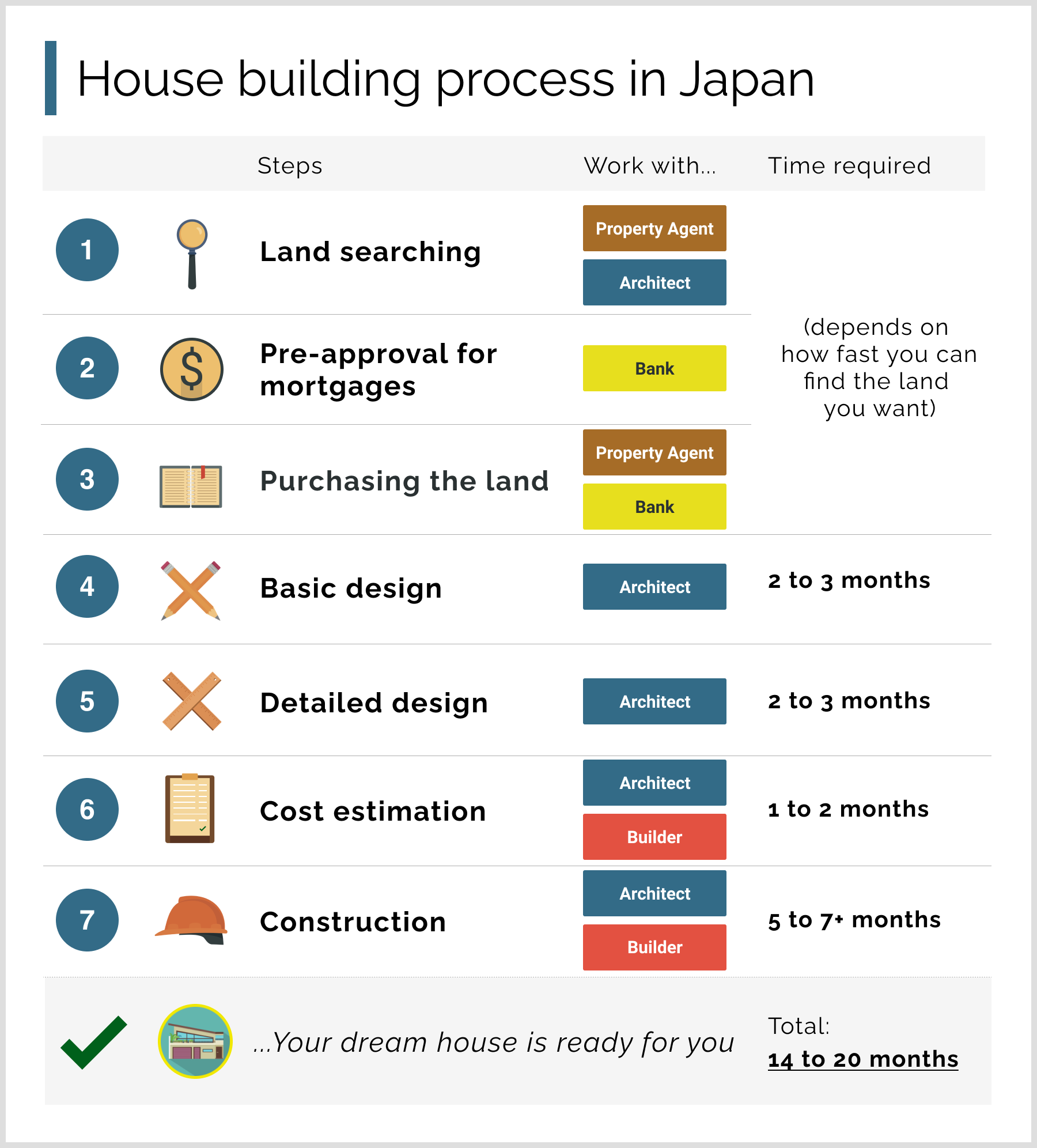 Your partners:

Architect

Property Agent

Bank

Builder
When you think...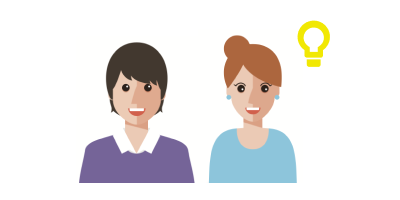 "We want to build our own house in Japan"
↓
Start looking for your land

Engage a property agent

A property agent will help you search for a good land, negotiate the price and do the required paper work.
A licensed agent will be required for the actual purchase.
You can also search on public Japanese websites e.g. SUUMO, at home.

We can connect you to the right property agent for you.

Engage an architect and get feedback

If you have an architect engaged from the early phases, you will be able to make a better decision based on the professional feedbacks from your architect.
Architects typically will not charge you for early phase support.
You can also hire an architect after you purchase a land if you are comfortable with choosing the right land by yourself.
You will need an estimate for your construction cost provided by the architect to apply for a pre-approval of bank loan.

Get pre-approval for a mortgage loan

A pre-approval (仮審査) is a simple audit process with the banks.
You will need to provide certain information to the bank, including your salary or the portion of upfront cash payment for your property. Information will be different with each bank.
Timing and percentage of the actual lending may be different and may have limited flexibility. Make sure to consult with the banks or engage a professional for an accurate planning or estimation.

Finalize contracts

Certain paper work is needed to finalize and complete your purchse.
You will also need regulatory process, including the registration of ownership transfer (所有権移転登記).
Keep in mind that certain administrative fee will be incurred.

Hire an architect

Your first step is to hire an architect to start designing what you want.

japanese-architects.com can introduce you to the right architect(s) that fits you and your wishes

. We'll have a casual chat with you first to hear about what you want to achieve as well as what kind of designs you like and select the best architect from our newtork.
Through japanese-architects.com, if you wish, you can meet several candidates before making your final decision.
If a product from the house makers' catalogue is sufficient for you and you don't need too much customization, that could be an option as well.

Tell your wants and wishes

Tell the architect what you want for your house.
Basic design (基本設計) is the first process to tell the architect what you want for your house, or maybe ask the architect to come up with a creative idea.
The architect will prepare an initial design based on your needs and then it will be modified through periodic meetings - mostly once every 2~3 weeks.
The design will also take into account the surrounding environment, as well as laws and regulations of the area. Learn more about the regulations in Japan .

Complete basic design

Work on the details of the design

The detailed design (実施設計) is mostly architects' work to design all the specific details of your plan.
The "details" will also include discussions about your facilities and equipments (e.g. kitchen, bathroom), interior finishes (e.g. floor materials, wallpapers, doors), exterior finishes (e.g. roofs, walls) storages, finishing carpentry work and other details.
This is also when a structural engineer (構造設計士) will be involved and make sure to make your house robust and also durable for natural disasters including earthquakes, typhoons or heavy snows.
The execution plan will also be used for construction confirmation application (建築確認申請) where the authorities will check if your house will be in compliance with all the laws and regulations.

Get quotes from builders

The architect will get quotes from builders (工務店), usually several, and ask them to take a look at the detailed design and come up with the realistic cost estimate for the construction.
You will always have a rough estimate of the construction cost from the architect while planning but this is when you will get the precise estimate.

Monitor the construction process

Your architect will act on your behalf to supervise everything and make sure the process is going as planned.
You can also visit the construction site yourself and check the progress.
If you work with a flexible architect, you may be able to see the work-in-progress house and make small adjustments along the way.

Build the house

Your builder (工務店) will procure the materials and construct them according to the exectution design.

Get money from the bank

Large portion of your loans will be paid when the construction is complete.
You will start repayment from the next month.
You may also need to consider borrowing bridge loans if your main loan can only be paid at certain timings or amounts. Get in touch with a professional if you want to learn more about the details of your financing plans.
Start living in your dream house
This is an example of a typical case building your house with an architect, with regular conditions and circumstances. The process and time required can be different in your own case. You can also find out more about the differences between your builder choices from the article below: