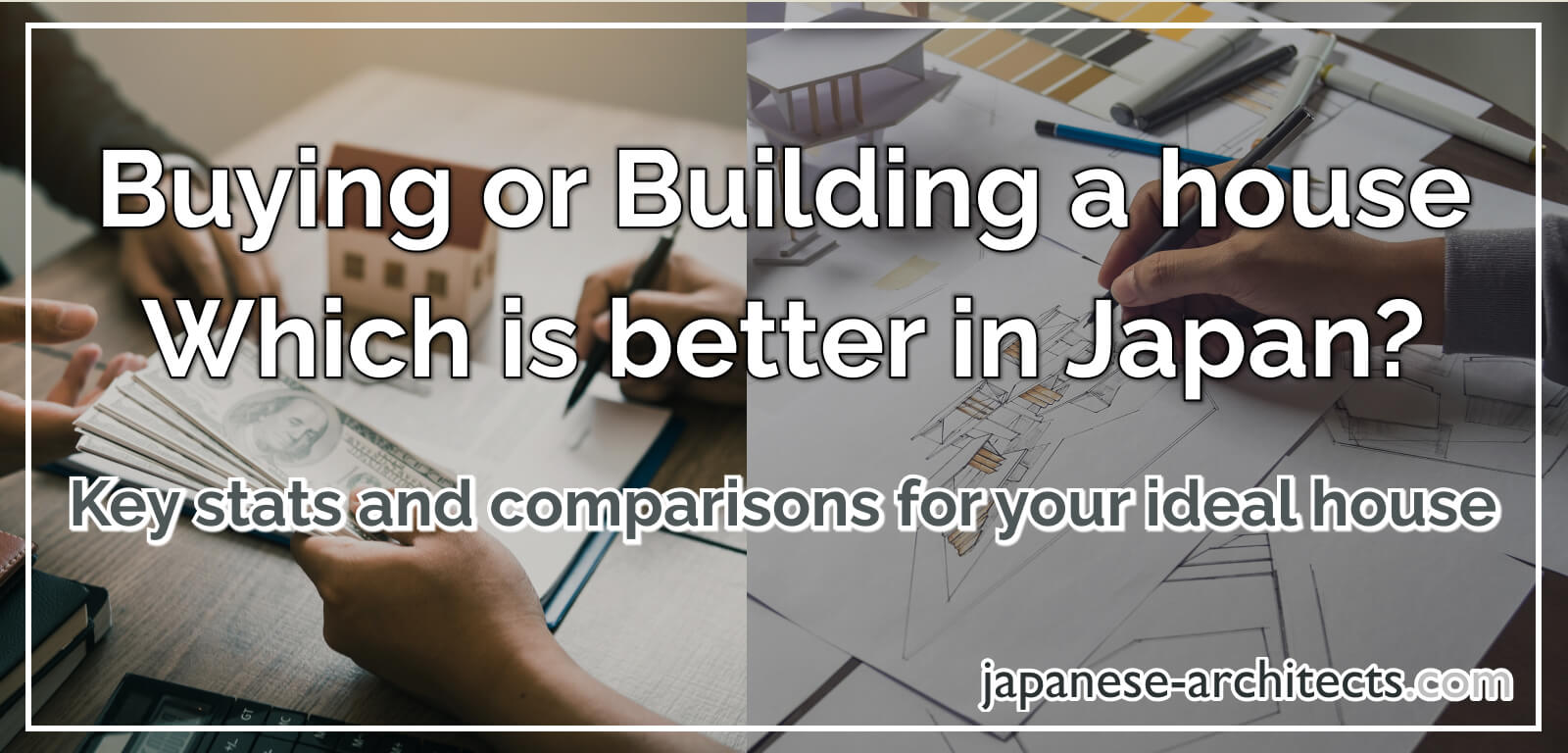 Should I buy or build a house? Guide for foreigners in Japan
Updated
When foreigners are ready to purchase their land or property in Japan, they tend to think that buying real estate is the most common and cheapest way to make your dream home come true. However, there are a lot of opportunities in Japan where people can choose to build a custom-made house (注文住宅) rather than buying a ready-built house (建売住宅) or an apartment. As with any property purchase, you may be wondering whether it's better to build or buy at this stage of your life. The best option for you depends on multiple factors.
To summarize, the 5 main factors to consider when buying or building a new house are:
Price / Cost
Location
Time required
Lifestyle
Upgrades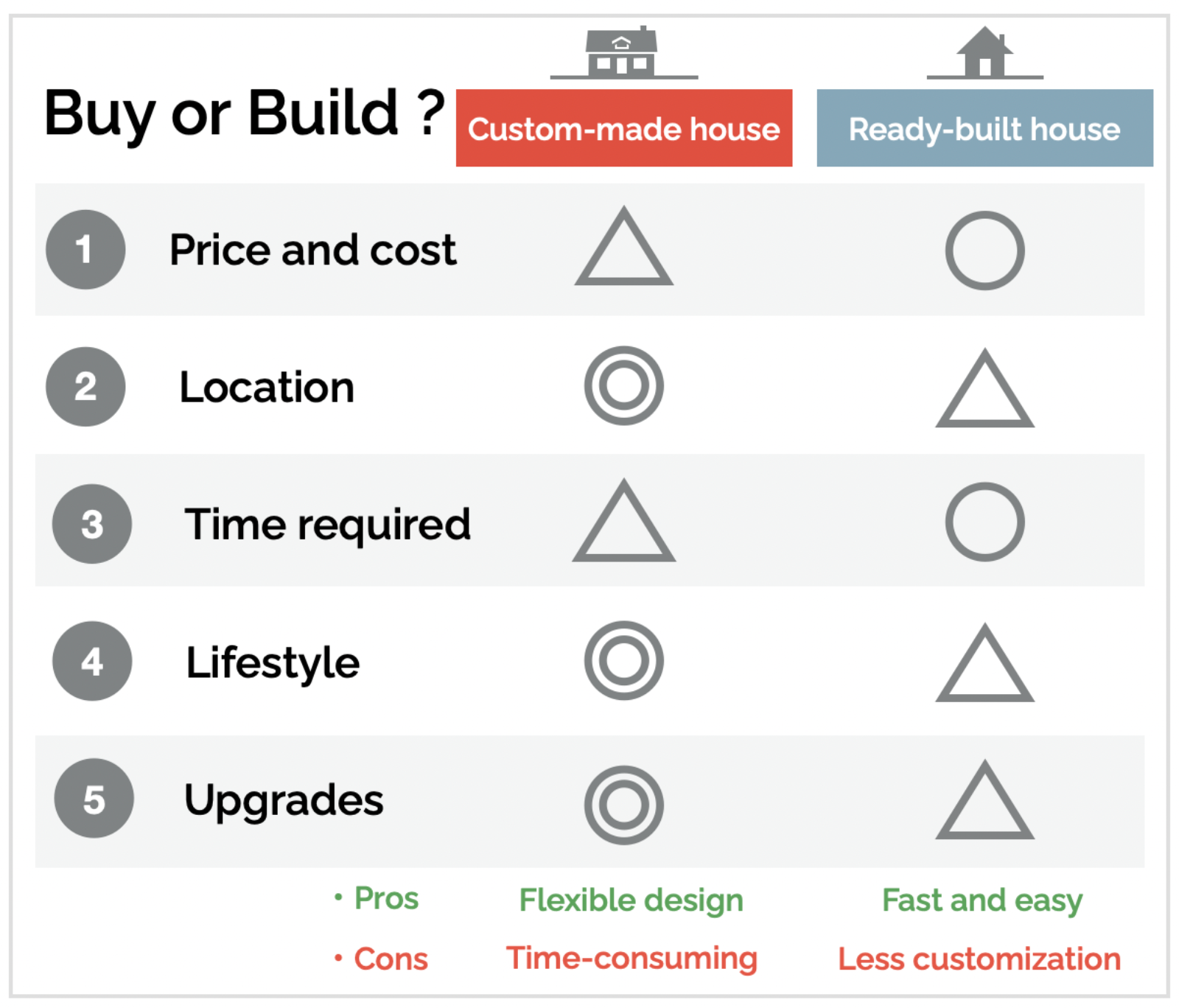 1. What is a ready-built house and a custom-made house?
Deciding whether to buy or build a new house is a common discussion within the foreign community in Japan. There are benefits and drawbacks to each approach. While the home-buying process involves several important choices, one of the very first decisions that forigen buyers need to make is whether to buy a house or build a new one. Here is the overall definition and characteristics of a ready-built house (建売住宅) and a custom-made house (注文住宅).
1-1. What is a ready-built house?
A ready-built house is a new house that a real estate company sells the land and the house together. In Japan, in the past it was the mainstream to start selling after the house was completed and have the home buyer see the actual building and make a contract. Nowadays, there are also many cases where sales are started during construction or even before the start of construction.
1-2. What is a custom-made house?
A custom-made house is a new house where owners work directly with an architect and a homebuilder to design, plan, and select your own designs and details in a particular land or location. If you already own land in Japan, it is common to use plans created by an architect, which home builders uses for construction.
Foreigners who want to be involved in the planning and are creative in their own lifestyle are able to work with your favorite Japanese architects and homebuilders to bring your ideas to life.
See also: How to find land for sale in Japan - Find the best property with skilled Japanese architects
1-3. Which is more common in Japan?
Custom-made houses are the most common in the Japanese housing market, accounting for 44% of new purchases, according to the "2020 Flat 35 User Survey" (Flat 35 is one of the most common Japanese housing loan products) released by Japan Housing Finance Agency.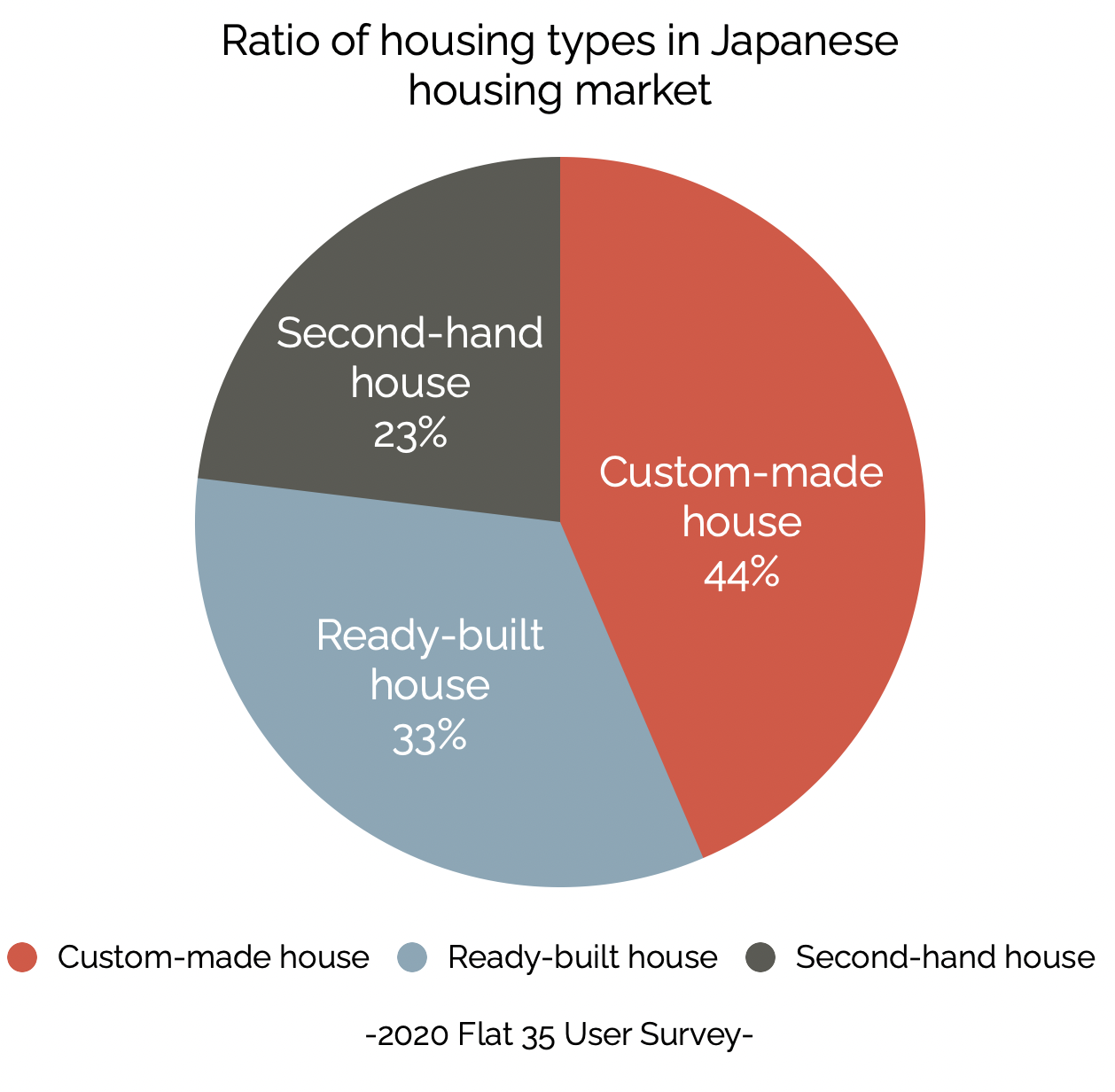 2. Can foreigners buy real estate in Japan?
Before getting into the details, we want to clarify that all foreigners are permitted to buy land or property in Japan and be the absolute owner of it.

Foreigners can purchase homes and own land for any kind of purpose, and the tax you have to pay for land purchase is the same as the rate paid by any Japanese citizen.
You can either buy an existing house or an apartment or puchase an empty land and build a fully-customized house, collaborating with an architect.
japanese-architects.com has partnered property agents and will be able to search the suitable land for your house. Please contact us for free if you are interested in purchasing a real estate in Japan.
3. "5 Factors" in deciding to buy real estate or building a house
In order to decide the best choice of house purchase for you, there are 5 major factors you need to consider:
3-1. Price / Cost
If you want to save your money as much as you can, a ready-built house will be slightly cheaper for you. It is important to think about the balance between price and your ideal design, whether the incremental cost to realize your ideal design with a custom-made house is within your affordable budget.
According to the survey conducted by the Ministry of Land, Infrastructure, Transport and Tourism, the national average price is 44 million yen for custom-made houses and 35 million yen for ready-built houses.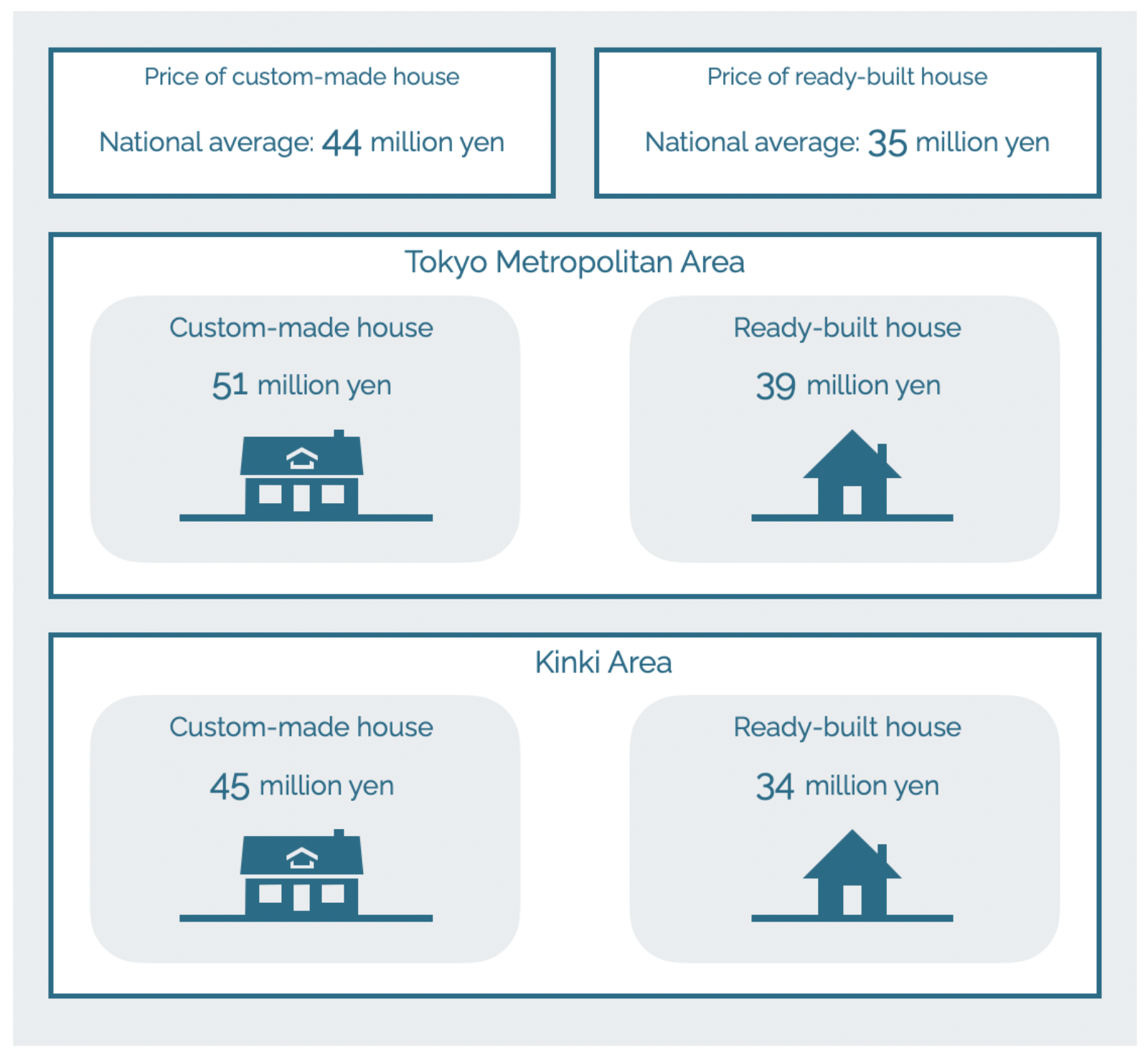 Based on the average home sale, it's cheaper to buy real estate rather than build it in Japan. However, the price varies greatly depending on the area and size of your house.
If you have a set budget, you can also work with a professional and consider if you can build your ideal house with the budget. You can contact a professional for free to have a casual discussion with local advisors and plan the best option for you.
3-2. Location
If you need to live close to a train station in urban areas, a ready-built house is likely to save your money. If you are considering to live in the suburb area, you can save money for an ideal custom-made house as the land price tends to be relatively lower.
In Japan, land prices are the most expensive in the Tokyo metropolitan area. The price of land varies depending on where you buy or build the house. In addition to that, the price is more expensive where the land is close to train stations.

3-3. Time required
The average time from the first contact to moving in is about 7 months for a ready-built house and about 12 months for a custom-made house.
When you buy a ready-built house from a real estate agent, you don't have to spend a lot of time looking for land or making a new plan. However, if you have specific requests or design preferences and planning to change after your purchase, it may end up faster to build a new house rather than changing the details of a ready-built house.
Before deciding whether to buy or build a house, foreigners living in Japan need to consider that the loan application process can be relatively time-consuming. On average, it takes about two months to three months and it varies depending on their visa status.
To learn more about the general process of building a new house, please read our Step-by-Step Guide to the house building process in Japan
Before deciding whether to buy or build a house, foreigners living in Japan need to consider that the loan application process can be relatively time-consuming. On average, it takes about 2 to 4 weeks to take out a loan and it also varies depending on their visa status.
You can also find out more about getting house loan in Japan from the article below:
3-4. Lifestyle
If you envision to realize your ideal lifestyle in your ideal house, a custom-made house will be your preferred choice.
Japanese traditional floor plans in many of the ready-build houses do not always adapt to the needs and lifestyle of foreigners. Ready-built houses have original plans and materials chosen and you can know if it will match your lifestyle before the purchase.
It is difficult to find the exact house and floor plans from the existing market. Rather than working around an existing home's floor plan, or having limited options with a ready-built house, a custom-made house has the flexibility and functionality to eliminate unused space as well as adapt to your needs and lifestyle. With custom-made houses, you can work with an architect to incorporate all your wishes into your dream house.
3-5. Upgrades
It is relatively easy to change or make upgrades with a custom-made house, compared to a ready-build house.
Tweaking the features in your house is one of the most satisfying aspects of a custom-built house. If you are thinking of long-term residency in Japan, you may want upgrades or changes that will help you to personalize your specific needs and requests.
In general, it is difficult to make upgrades to a ready-built house due to the fixed plan offered by real estate companies.
In the case of a custom-made house, it is relatively easy to change or make upgrades as the architect and the constructor can offer hundreds of upgrades that will help you personalize at any time of your life stage.
4. Benefits of building a house with architects in Japan
Japanese architect, being one of the most popular and skilled architects in the world, offer a number of unique benefits to your house and your life.
4-1. Open space
Despite Japan's tricky planning regulations and tight urban plots, Japanese architects are smart at making small spaces feel large, by designing an open space rather than small rooms and walls usually seen in a typical Japanese house.
4-2. High ceiling
A Japanese ready-built house has a standard 2.4m ceiling height. This can be lower than abroad and foreigners may feel oppressive with the low ceiling height.
Working with architects can solve this problem by adapting an optimal ceiling height or even adding an atrium to help make a space feel larger by providing a feeling of openness.
4-3. Simple and minimum
Houses designed by Japanese architects have gained a reputation for being simple, highlighting minimal and natural decoration. The concepts of simplicity, purity and clean form have been adapted to create harmonious yet highly functional living space.
4-4. Modern
Contemporary style made by Japanese architects combines a rich mix of traditional design practices and modern aesthetics. Japanese architects are good at innovating new forms, combining western materials to create a minimal yet rich space both inside and out.
4-5. Traditional
Japanese architecture has been dominated by wood. Nowadays, Japanese architects are creating various styles, features by using traditional wooden materials.
4-6. Integration with nature
Japanese space seeks to harmonize architecture and nature, to make them one, by enveloping nature in architecture and making architecture and nature equal partners.
5. Summary
To summarize, if you have:
a specific floor plan in mind in a particular location
more than 12 months before moving in
interests in Japanese modern and minimum design
customised desire such as high ceiling or flexible plan
Please Contact Us for free and a local professional will support you with your project and connecting you to the right partners. We, japanese-architects.com, is a platform of Japan-based architects with proven track record and designing skills. We can connect you with the right and the best architect who matches your needs.
If you have some concerns such as::
struggling to searching for desired land
tight schedule but wish to build a custom-made house
limited amount of budget for building a custom-made house
difficulties in language issues for dealing with local partners
Please Contact Us for free and we will also assist you according to your situations and concerns.
No fee, no risk. Just your name and email address.