A guide to
concrete houses

in Japan - build your house with a concrete structure -

Updated

The greatest appeal of planning a custom-built house is the ability to create an original house that reflects one's own tastes and interests by focusing on the building design. The structure of the custom-built house is an important aspect of home construction that affects the floor plan, performance, and price.

For family homes, the main choices are wood, steel, and reinforced concrete construction, and each structure has different features and construction costs. In this article, we will be focusing on reinforced concrete (RC) construction, explaining its features, types, advantages, and disadvantages.

To summarize, concrete houses have the following characteristics:
High earthquake resistance
High fire resistance
Soundproofing
High freedom in building shape and design
Construction cost is more expensive than wooden and steel construction
1. What is concrete construction?
Concrete (RC) construction refers to the construction of buildings using reinforced concrete. In the construction process, reinforcing bars are assembled at the construction site to form the framework for the columns and walls, which are then surrounded by plywood and other materials known as formwork, into which concrete mixed at the plant is poured and hardened.
In this way, the building is formed one floor at a time. RC construction offers a high degree of freedom in design and is often used in high-end custom-built houses where the owner wants to create a house of his or her own original design because it is easy to construct large spaces.
2. Types of concrete construction
RC construction is a unique method that combines two materials with different properties for tensile (pulling) and compressive (pushing) forces to make a strong house.
There are two types of RC construction methods: "wall-type construction (WRC structure)" and "rigid-frame construction (ramen structure)", and the wall-type construction is commonly used for residential houses.
The WRC structure is a construction method in which the building is supported by walls instead of structural elements such as columns and beams. On the other hand, ramen structures support buildings with columns and beams and are mainly used in mid and high-rise condominiums.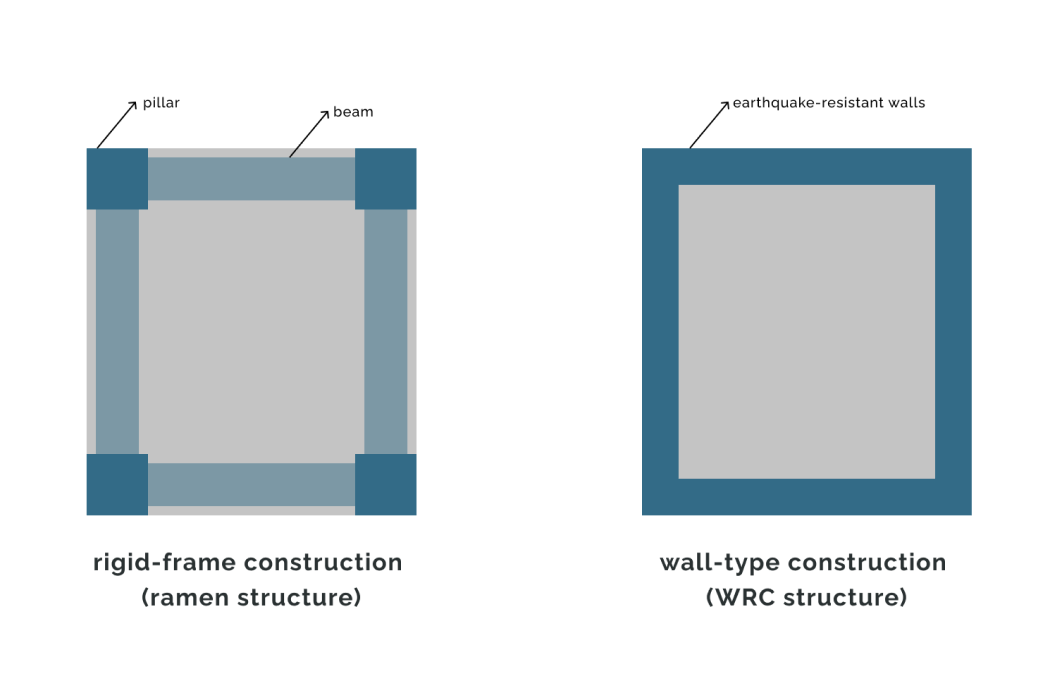 Many residential houses have a WRC structure in which the body skeleton is supported by earthquake-resistant walls.
3. Comparison with other construction methods
Each building structure has its advantages and disadvantages, which are important factors for those who are planning to build a house to decide what kind of structure to adopt. Below are the pros and cons of concrete houses compared to other structures.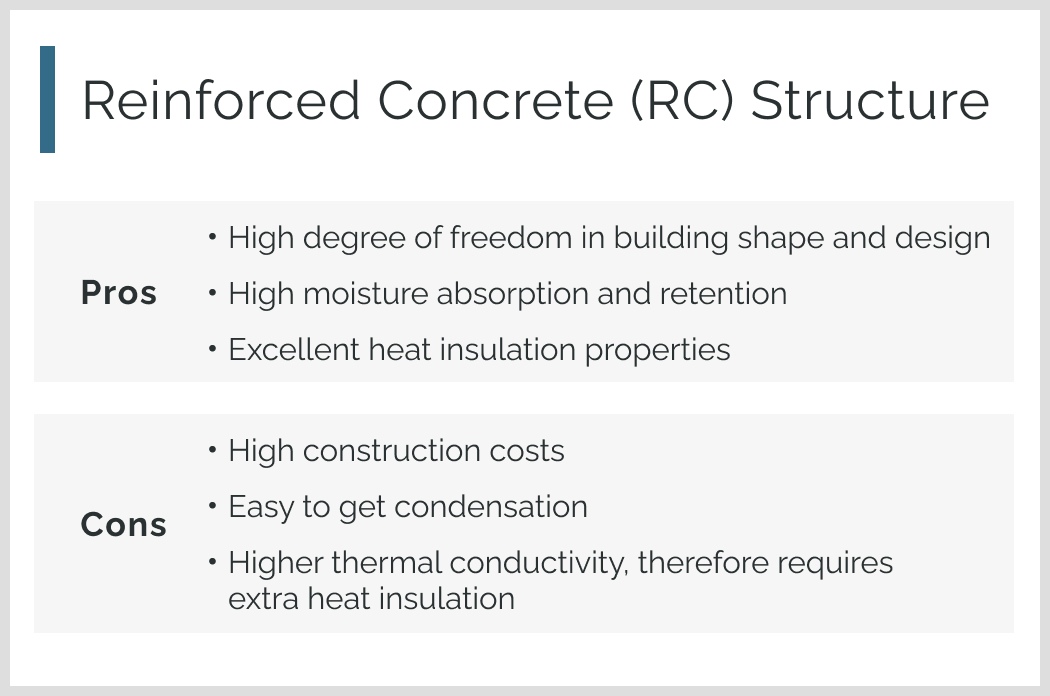 The nature of concrete makes houses a durable, long-lasting material choice. It resists erosion, fire, rotting, and rusting, and with relative ease. Concrete can be cast into any desired shape. It also has a lifespan that exceeds many other types of building materials.
On the other hand, concrete houses are more expensive to build than wooden houses because concrete typically costs more than wood.
Also, it is important to be aware that concrete sweating can happen when warm air comes into contact with a cooler concrete slab and it causes the concrete floor to sweat. For more information about the two other structures, please refer to the following articles:
A guide to wooden houses in Japan
4. Why Choose concrete construction?
When building a house from scratch, you are given multiple choices of materials. Concrete can be your premier material for plenty of reasons and the following are some of the benefits of using reinforced concrete when building your residential house:
4-1. Earthquake Resistance
The compressive force of concrete and the tensile force of reinforcing steel makes it resistant to earthquakes. In Japan, which is located in the Circum-pacific mobile belt where there are constant seismic and volcanic activities, the earthquake resistance house is a source of peace of mind for residents.
In addition, RC housing is relatively easy to maintain. Cracks may appear due to age-related deterioration and earthquakes, but they can be repaired with ease by just injecting repair agents.
4-2. Fire Resistance
Although the reinforcing steel is sensitive to heat, the concrete is resistant to heat and therefore fire-resistant. Since concrete is an incombustible material, it is unlikely that the outer framework will burn and collapse in the event of a fire.
Even after facing the unlikely event of a fire, the structure can often be remodeled rather than rebuilt from scratch.
4-3. Soundproofing
RC housing allows less sound transmission from the outside and inside, and provides higher sound insulation than wooden and steel houses.
Since concrete itself acts to reflect and absorb sound waves, it is an effective structural material for those who are concerned about daily noises. It is a top choice for both residential and commercial constructions.
4-4. Design perspective
One of the most unique advantages of RC housing is its design flexibility. Unlike wooden or steel-frame custom-built houses, a major feature of concrete houses is that they can be freely created in any shape.
High atrium and large opening rooms can be realized without compromising strength. Many people who want to build RC houses are probably most attracted by this high degree of freedom in design.
5. Three examples of modern concrete houses by our architects
Here are some actual examples of concrete houses that our architects have worked on.
5-1. Attraction of custom-built houses built with RC construction 1: Large space
This residence consists of a large two-story atrium with glass on the front side. Taking advantage of the location surrounded by great views, the big opening and spacious room are achieved by applying concrete construction as the main structure of the house.
It gives the living room both a sense of freedom and livability. This is a good example of the ease of creating a large space without the need of putting extra pillars or beams.
Another greatest feature of concrete applied to this house is that it does not require a sloped roof like wood construction, resulting in a beautiful box-shaped exterior. This is another reason why concrete construction is said to have a high and modern design quality.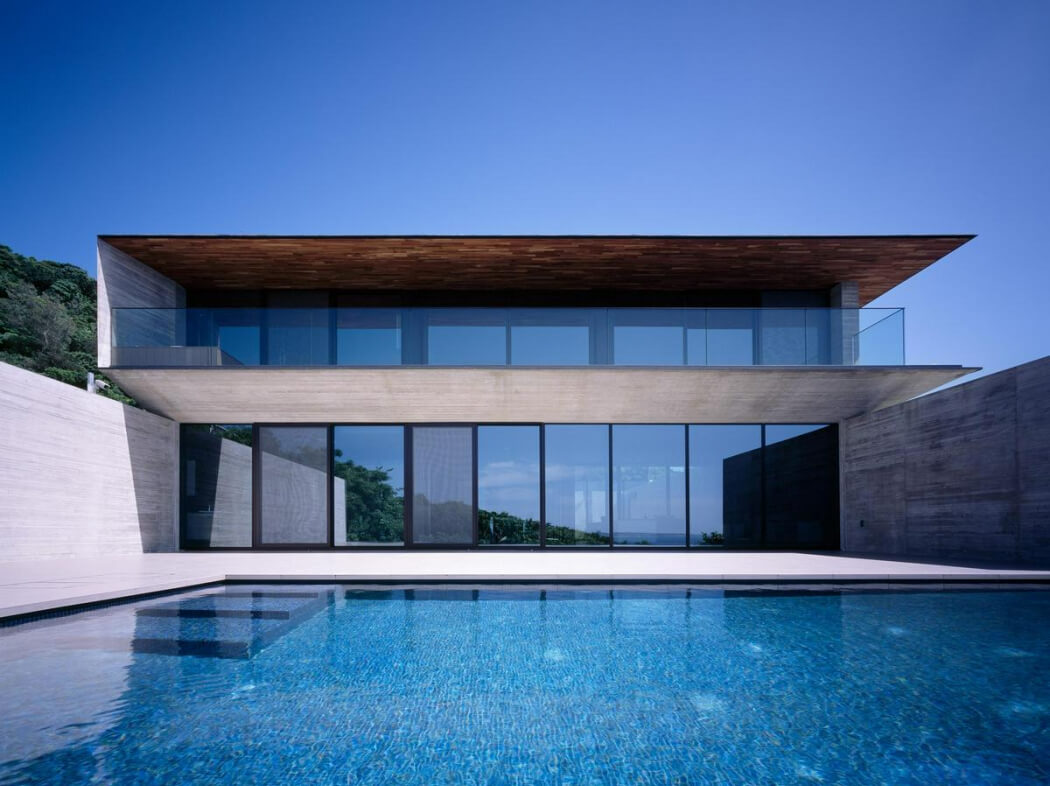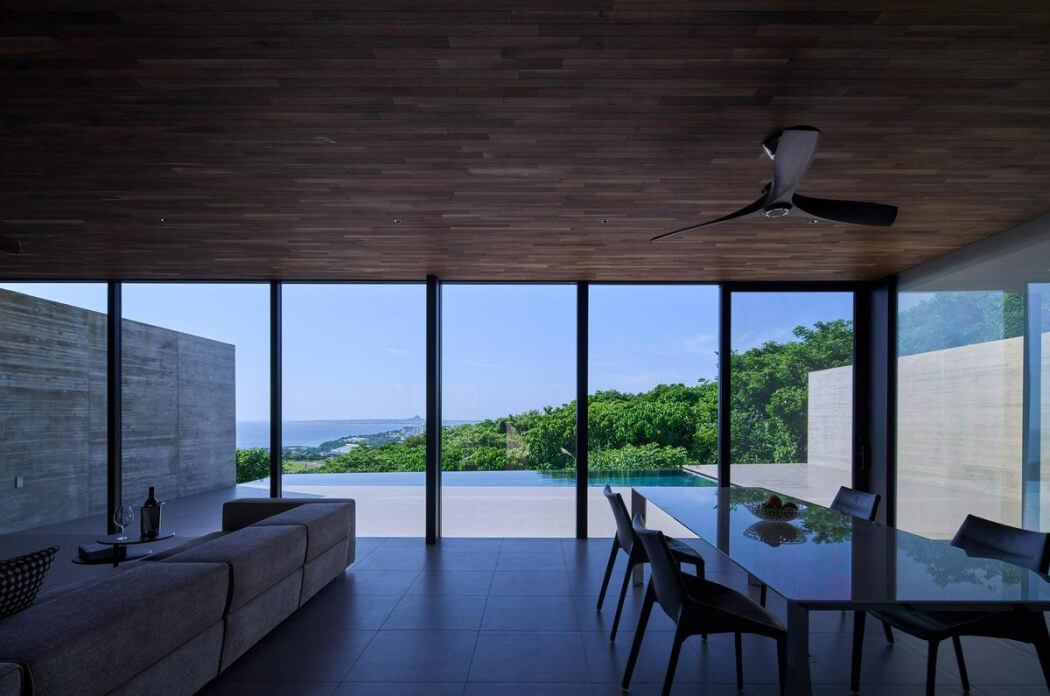 5-2. Attraction of custom-built houses built with RC construction 2: Free in shape
RC buildings are constructed by pouring fresh concrete into a "formwork" to form walls, pillars, floors, and ceilings.
Just as materials are poured into a candy mold to create various shapes, the formwork can be molded into various forms, making it possible to create designs with many curves and diagonals, unlike wooden or steel-frame structures where the materials are straight.
Concrete construction is often used for high-end custom-built houses that are particular about their building shape and exterior design.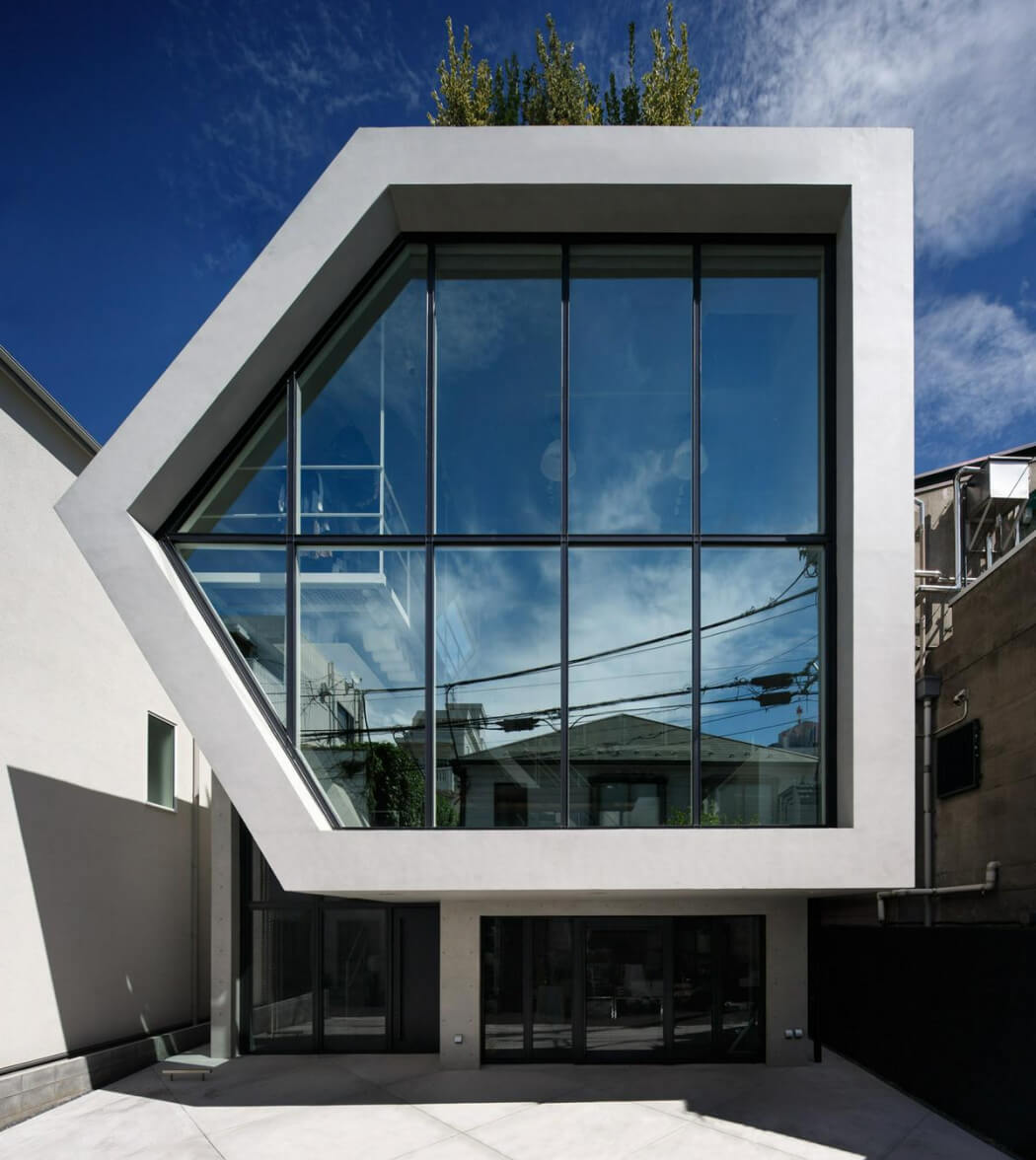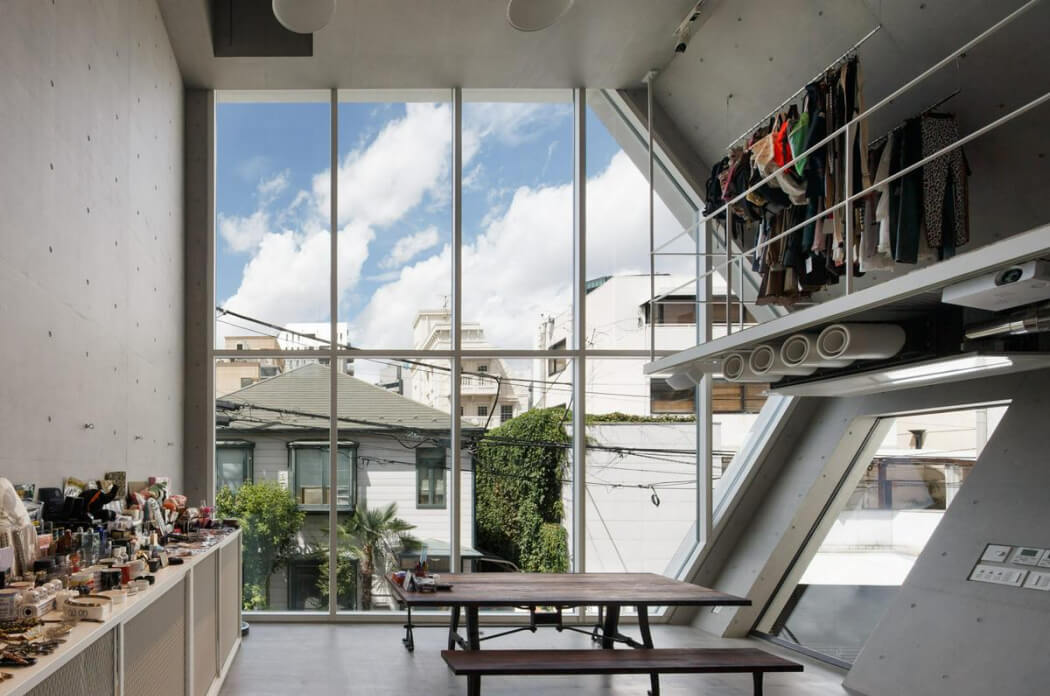 5-3. Attraction of custom-built houses built with RC construction 3: Visual effect
In this case, by using cedar planks instead of plywood for the formwork (杉板本実型枠コンクリート工法), the beautiful grain of the wood is transferred to the concrete, giving the inorganic concrete a natural softness.
This type of design that uses the beauty of the concrete material itself, known as exposed concrete finish(コンクリート打ち放し), is very popular among those who prefer modern and stylish house design.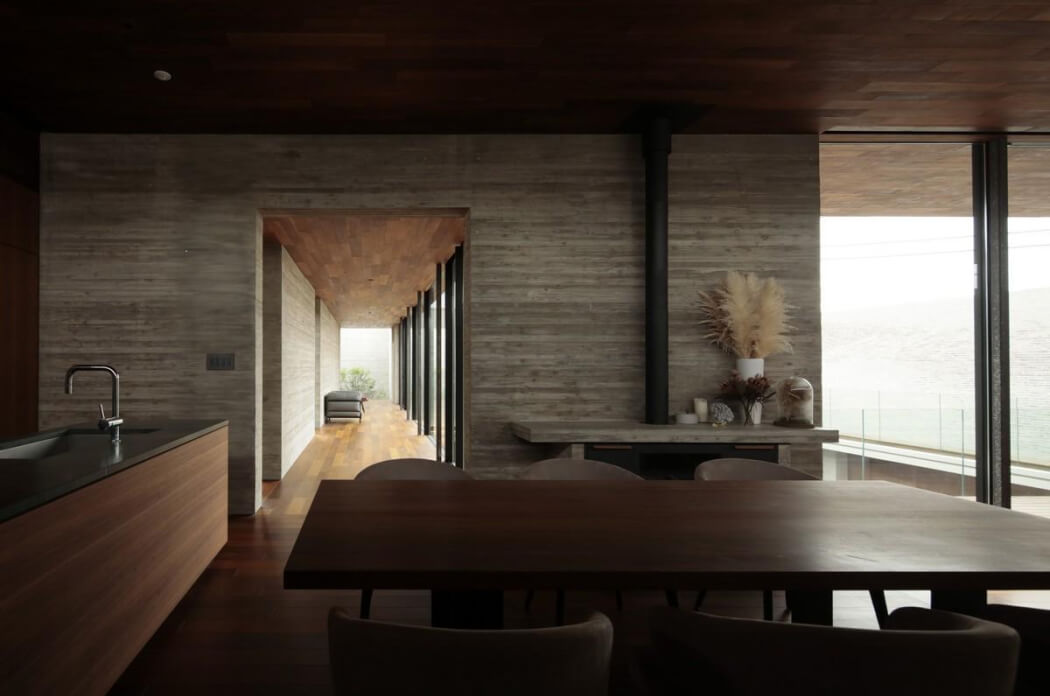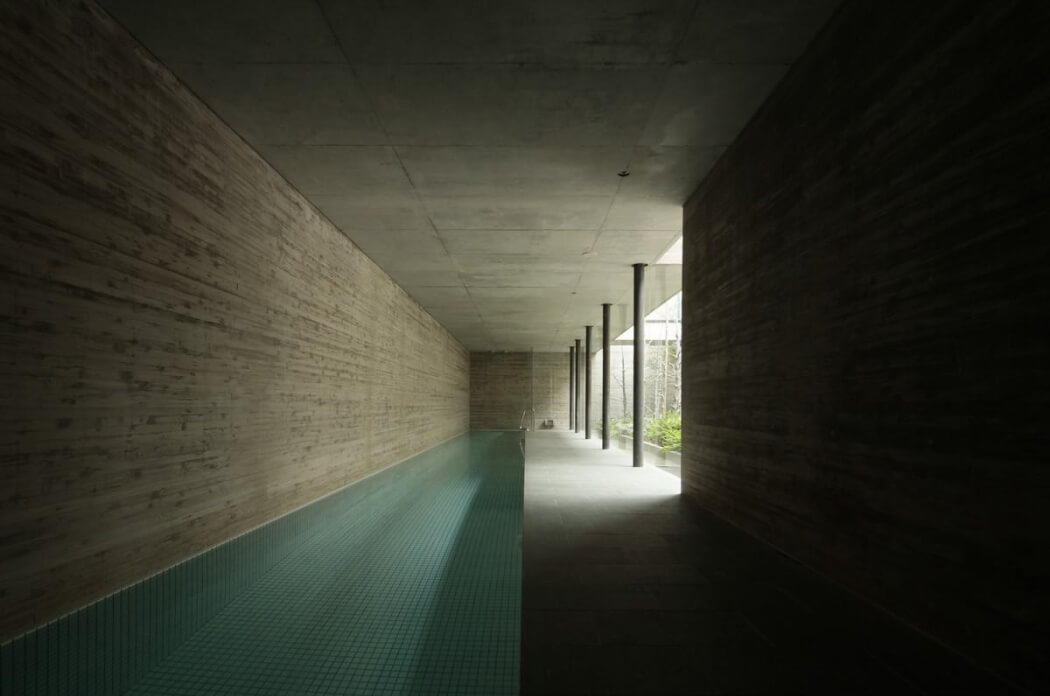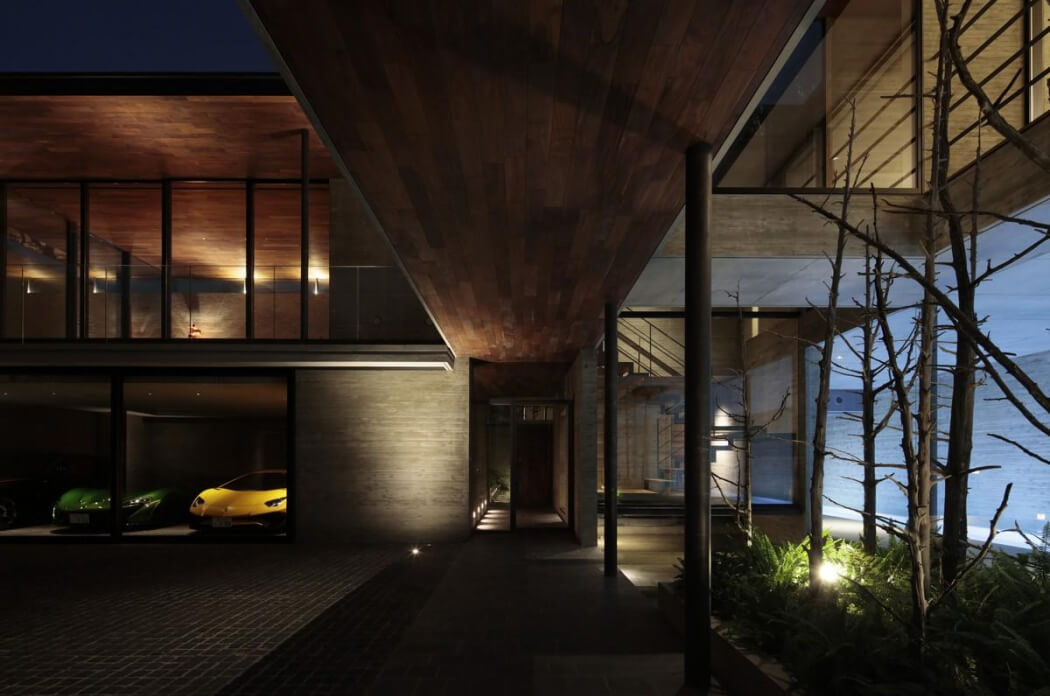 6. Summary
In this article, we have focused on RC construction, and it is up to each individual and everyone's design taste to determine whether it is the suitable construction method for your dream house.
If you have quite a bit of leeway in your budget, want to have higher earthquake and heat resistance and soundproofing measures, or just like the way it looks, RC construction can be your ideal construction method.
Additionally, the skill of the construction company can make a difference in the final texture of the building since concrete is very difficult to control with its temperature. Choosing a skilled construction company is extremely important when building RC houses. If you want to build a custom-built concrete house, we will introduce you to skilled architects who can help you design a concrete house, and connect professional builders that excel in RC construction.
If you have any questions or concerns about RC houses, why not take the first step toward building an RC house by contacting us ? An English-speaking professional will contact you back right away.