Want a House with a "Doma(土間)"! How to Create a Convenient and Beautiful Doma, Dirt Floor
Updated
The word "Doma" may evoke images of an entrance dirt floor and a kitchen, as found in Japanese houses.
Today, however, more and more people are incorporating dirt floors into their living and dining rooms for hobbies and storage.
In this issue, we will explain the charm of a house with a dirt floor and points to note. We will also introduce seven examples of beautiful homes with dirt floors, so please take a look at them for reference when building your own home.
1. A house with a dirt floor! The charm of Doma and how to use it
A house with a dirt floor where one can walk with one's shoes even though it is indoors. The unique atmosphere of the dirt floor adds charm to the house.
A concrete area as small as one square meter at the entrance or kitchen door is also a dirt floor, but it is a much larger dirt floor that can be incorporated into a floor plan.
For example, a dirt floor can be incorporated as part of the living room or dining room or as a continuation of the entrance. It is used in various ways today, such as for hobbies, storage, or a studio.
This section details the charms of dirt floors and how they can be utilized.
1-1. Living room feels spacious
Some people may think, "If I build a large dirt floor, it will make the room feel smaller. However, depending on the architectural design, the LDK can feel larger with a dirt floor.
In a typical house, the entrance and living room are usually separated by home fixtures called tategu(建具), such as doors and windows. However, by integrating the dirt floor with the LDK, a spacious and large space can be realized.
In addition, because the floor height of the dirt flooring is lower than that of wood flooring, the ceiling seems higher. The movement in floor height creates a sense of space and depth in the living room.
1-2. Keeps you cool in the summer
A dirt floor helps to keep the summer cool. Concrete, tile, and mortar used for dirt floors have high thermal conductivity, which allows heat to escape easily. Have you ever felt a cool sensation underfoot when stepping into a Japanese house?
Since dirt floors store heat, they can be attached indoors to block the sun's rays to provide shaded coolness. And in winter, even if the outdoor temperature drops, the heat stored in the dirt floor is released during the night, making it difficult for the room temperature to drop.
Since it does not consume energy like an air conditioner, the appeal of a house with a dirt floor is that it can create a comfortable space with the power of nature.
1-3. Become a place to enjoy your hobbies
A house with a dirt floor is also a good choice for those who enjoy the hobbies of gardening and vegetable gardening. With an indoor dirt floor, you can take care of your plants without worrying about rainy or windy days.
Even if the floor gets dirty, a dirt floor is easy to wash away with water and requires little effort to clean. It will also serve as a place to shelter plants during the cold winter months.
For home gardeners, it can also serve as a convenient place to place dirt-covered vegetables.
1-4. Entrance dirt floor becomes a large storage space
A larger entryway dirt floor provides a large storage space for outdoor items. You can also store plenty of shoes for the whole family and off-season boots.
Many people do not want to bring their jackets and raincoats into the house during hay fever or the rainy season. With a dirt floor, it is possible to brush off the dirt from outdoor jackets and hang them as a coat checkroom.
The entrance dirt floor is also useful for storing outdoor goods, sports equipment, and other hobby items. Soccer balls, outdoor chairs, sand play sets, etc. are easily soiled. Even dirty items can be conveniently placed on the floor in the dirt floor.
The dirt floor can also be used to store strollers and bicycles, making it safe for security purposes.
1-5. Become a place to enjoy communication
Doma is also a great place to socialize with neighbors and close friends. Even if you don't have to go up through the front door, a large dirt floor makes it possible to enjoy "sitting down for a cup of tea".
If the house is a place where people gather on weekends, they can enjoy their meals around a dirt floor with no partitions. If the dirt floor is connected to the garden, it is possible to have casual conversations outdoors and in.
A large dirt floor will serve as a place for people to communicate with each other.
1-6. A comfortable place to spend time with children and dogs
The dirt floor, the middle ground between the outdoors and the living room, is also an ideal place for children to play. Since children can walk through the dirt floor without taking off their shoes, they can freely enjoy themselves while moving back and forth between the outside and inside of the house.
Dirt floors are also recommended for homes with dogs or other pets. It serves as a place to clean off dirt as they go in and out for walks. A dirt floor made of tile or concrete is also easy to clean and will serve as a place to place pet toilets.
2. Are there any disadvantages to a house with a dirt floor? Tips to eliminate them
A dirt floor is convenient, easy to spend time in, and can create a beautiful interior, but are there any disadvantages? Knowing the precautions beforehand will help you in building your own home.
Here are some of the disadvantages of a house with a dirt floor and points to eliminate.
2-1. Create a flow line to and from rooms
Since creating a dirt floor changes the height of the floor, it is important to create a flow line that allows people to move back and forth between rooms. When moving from a dirt floor living room to another room, which can be entered with dirt feet, shoes must be removed and put on.
If you want to enlarge the indoor dirt floor space, we also recommend that you choose a lifestyle where you change into slippers. You could also choose to make part of the dirt floor into a ramp for future use.
On the other hand, the difference in height between the dirt floor and the floor can be an advantage depending on the floor plan. For example, a Japanese-style room is a room where the line of sight is lowered because people spend their time sitting on the floor. If a counter for seating is placed on the dirt floor, which is one step lower than the floor, the eye level of those who sit on the floor and those who sit on chairs will easily be at the same height.
In many cases, this problem of flow line can be solved by the floor plan, so discuss the desired style with the designer.
2-2. Wood stove is recommended for cold weather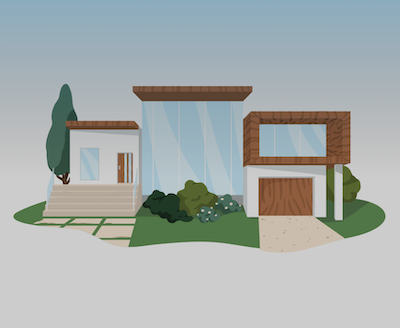 Although the dirt floor space is cool in summer, it can easily become cold in winter, so countermeasures are necessary. A wood-burning stove is recommended for houses with a large atrium or other large space with a large dirt floor.
A wood stove can efficiently heat an entire house with just one stove. The wood stove burns wood for fuel and heats the room by radiant heat from the warmed stove body.
Many people also find watching the flickering flames relaxing. A wood-burning stove also works well as a second stove, and you can enjoy baked potatoes and stewed dishes. If your house has a dirt floor, you can spend a relaxing time with your family around the wood stove.
2-3. Ventilation to prevent moisture
Since dirt floors are prone to moisture accumulation, it is recommended to create a breezeway. It is also a good idea to add windows on two walls or a high window with an atrium.
Windows will also allow a pleasant breeze to blow through in the summer, helping to save on heating and cooling costs. If the site conditions make it difficult to install windows, ventilation fans and vents should be installed.
In addition, keeping the dirt floor breathable and preventing moisture from accumulating will help prevent mold and other problems.
3. A house with a dirt floor! 7 beautiful architectural examples
If you want to build a house with a dirt floor, look at actual houses that have been built to get an idea.
Here are some beautiful architectural examples of houses with dirt floors. All of them are unique homes that make the most of the dirt floor feature. We hope you will find them useful in creating an image for your own home design.
If you would like to speak with or be introduced to an architect who can design a dirt floor that suits your needs, japanese-architects.com's architect referrals are also useful.
3-1. House with a large dirt floor for multiple purposes
Here is an example of a dirt floor where wind and light pass through comfortably. Actually, the wall seen on the right side of this photo is the south side of the house. However, because of the parking lot of the housing complex on the neighboring property, not a single window has been installed. This floor plan is designed to allow people to live without worrying about car emissions or line of sight.
Instead of windows, there is an atrium dirt floor, bringing in natural light from the second floor. The design allows light and breezes to flow in through the gaps between the wooden corridor and the staircase.
By creating a dirt floor, a bright and open home was realized even without windows on the south side. This is a wonderful street dirt floor that solves the problems the site has and accentuates the house.
3-2. House with dirt floor with insulation layer that completely wraps the house
Next is a residence located in cold-weather area with an airy dirt floor space outside the Japanese-style room on the first floor, which is U-shaped and provides ventilation in the summer. The upper part of the dirt floor expands into the living room on the second floor. You can see bright natural light coming through the gap between the duckboards(スノコ)placed on ceiling.
Please see the second floor of this house.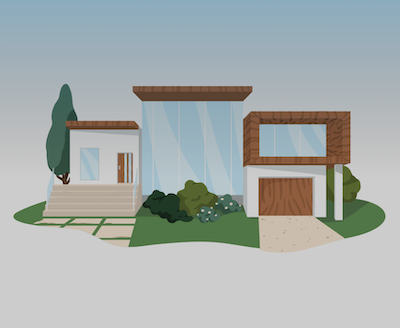 On the other side of the taiko shoji(太鼓障子)is a corridor above the dirt floor. In winter, the shoji are closed to separate the rooms and create a layer of air between them and the cold outside air. The other side of the shoji is lined with large windows, which spread soft light throughout the living room.
It is a wonderful architectural idea that takes advantage of the dirt floor's characteristics of allowing air to flow through in the summer and storing heat in the winter.
3-3. A house with a passage dirt floor connecting two households
We present here a two-family house with a long dirt floor on the south side that surrounds a larger house. The dirt floor connects the parent and child households.
From the entrance shared by both households, one arrives at the parent household through the dirt floor. The dirt floor in the parent's house has a slope to allow easy access without putting a burden on the legs and feet.
The indoor dirt floor, which is easily accessible to adults, could also be used as a children's play area.
3-4. Dirt floor as an atelier
Many potters and photographers would like to have a studio attached to their homes. For such people, we recommend the method of creating a studio with a dirt floor. The following is an example of renovation of the studio of a woodblock print artist spanning four generations.
Unlike flooring, a dirt floor is easy to walk to and from, and you don't have to worry about getting dirty while working. The dirt floor is easy to separate work and living spaces and is also suitable for handling visitors.
The appearance of the historic Japanese house has been preserved, and the studio has a lovely dirt floor that provides a comfortable environment for artists to work in.
3-5. A house with a dirt floor that makes a narrow house look wider
Doma is also recommended for small houses in urban areas where the floor space is not large enough. Here is an example of an entrance dirt floor as a continuation of the living room.
Usually, an entrance hall is built before the entrance to the living room. However, in many cases, with limited site area, separate entrance halls would be too small for both.
Therefore, by integrating the entrance and living room as shown in the photo, an open dirt floor space filled with light can be created. The long dirt floor leading to the living room makes it easy to communicate with neighbors.
On the other hand, privacy is ensured by closing the sliding shoji door. It is a highly convenient dirt floor that can be opened or closed freely.
3-6. Dirt floor space connecting outside and inside
The following is an example of a skip-floor house with a wide entrance dirt floor. As you can see, with the dirt floor extending beyond the entrance door, bicycles can also be stored indoors.
The large dirt floor can be used as a raincoat or coat checkroom. It could also be a space for balls, tricycles, and other playthings used in the garden.
In addition, the large storage space seen at the far left can hold plenty of large leisure equipment. This is a house with a beautiful dirt floor, with a well-defined and convenient living space.
3-7. Bright atrium entrance dirt floor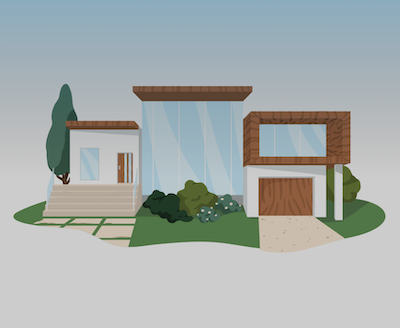 The next house we will introduce is a two-family house with an atrium entrance dirt floor. The occupant of the first floor is a grandmother who uses a silver car as her favorite vehicle. The dirt floor is long and gently sloping, so there is no strain on her feet and legs.
The room connected through the atrium is the living room for the children on the second floor, which is connected as one space so that they can talk to each other.
The bright sunlight shines in on the porch, where you can sit anywhere and enjoy chatting with visitors.
A house with a dirt floor that allows interaction with the family living on the second floor and neighbors will enrich grandma's life.
Summary
As a halfway point between the outside and the inside, the dirt floor can be used in a variety of ways, including as a hobby space or for storage. To make the most of the characteristics of a dirt floor, you need to be creative in the floor plan and living lines. It is important to keep in mind the image you have of your own home, "what kind of life you want to lead," along with the site and surrounding environment.
If you are looking to build a house with a dirt floor, why not consult an architect? With their extensive expertise and experience, architects can propose a house that perfectly fits your land and lifestyle.
japanesse-architects.com also offers free consultations with first-class architects, so please feel free to use this service if you need individual consultation.