How to create a house with an open atmosphere! 13 examples of architect's works included
Updated
Enjoying tea in the living room with bright light or in the dining room with a pleasant breeze. If you build a house, don't you want it to be an open house? Depending on the architectural design, a bright and spacious home can be realized.
In this issue, we will explain how to create a house with an open atmosphere, along with architectural examples. We will also introduce some ideas for creating an open living room without a stairwell, so please take a look.
1. To create a house with an open atmosphere, let's work on the living room
To create a home with a sense of openness, make the living room, where the family gathers, a bright and open space. Incorporating sloped ceilings, a stairwell, and a courtyard can make the interior appear brighter by expanding the space and bringing in more light.
Here are some examples of how we have created a sense of openness in our living rooms.
1-1. Open living room with sloping ceiling
If you want to create a sense of openness in your living room, why not incorporate a sloped ceiling? A sloped ceiling is a ceiling that takes advantage of the shape of the roof to secure height.
If you are going to install a sloped ceiling, you can create a more stylish space by making the ceiling more varied. For example, a lower ceiling above the kitchen and a higher ceiling in the living room where the family gathers will create a more stylish LDK.
The photo shows an example of a partial sloped ceiling in a second-floor living room. It is an open living room with plenty of light coming in through the large windows.
1-2. LDK with a stairwell
A well-known technique for creating an open-plan living room is to create an atrium. An atrium is characterized by its ability to let in light because the area that would normally have a floor or ceiling is eliminated.
Even if the house is not large enough, such as in a dense residential area, a stairwell will provide a wide and open feeling.
It is also recommended to install a staircase in the atrium living room as shown in the case study. Since the family always passes through the living room before going to the children's rooms on the second floor, they will naturally see each other and communicate more easily.
1-3. Skip floor with a sense of floating
One way to create a sense of openness is to incorporate a skip floor. Changing the height of the floor in one part of a room is called a skip floor.
The photo shows an example where the living room is divided into a dining area and a living room area, and the living room is divided into two different levels. The skip floor will give a sense of spaciousness like a three-story building, even though it is a two-story building.
Because the space is finished with as few pillars as possible, the living area feels as if it is floating in the air. In addition, the staircase and railing are slender in design, so they do not feel oppressive.
Light pours in through the skylight installed at the top, creating a space so bright that lighting is not necessary during the day. It is an open skip-floor residence where you can lie down in the living room and relax when you get home.
1-4. Open living room with light
The choice of material is also important to create an open impression. The abundant use of permeable and shiny glass can add a sense of transparency and luxury to a living room.
The photo shows an example of a glass-enclosed courtyard next to the LDK. The dining room is on the front side, and the living room with a vaulted ceiling extends beyond the hallway.
Because the view is unobstructed by walls, it is an open space where you can see the scenery beyond the living room. This is an urban-style living room where you can enjoy the sunset and morning glow beyond the cityscape.
LDK connected to courtyard
If your site is surrounded by buildings, why not create a courtyard? A courtyard allows light to enter and breezes to flow through while maintaining privacy.
By matching the floor tiles in the courtyard with the design of the LDK floor, it will feel as if the courtyard is part of the LDK. Symbolic trees will convey the changing of the seasons.
On sunny days, enjoy a cup of tea on the patio or take a nap in the recliner. The house can be used as an extension of the living room, giving it a sense of openness.
2. Innovations to create an open house without a stairwell
Vaulted or sloped ceilings are a common design technique used when creating a home with a sense of openness. However, some people may consider the reduction in heat and heating efficiency and the reduction in the number of rooms to be disadvantages of creating a vaulted or sloped ceiling.
Also, in some cases, due to renovation or site area, it may not be possible to raise the ceiling height.
Depending on the architectural design, an open house can be achieved without changing the ceiling height. Here are some architecturally designed homes with open living rooms without vaulted ceilings.
2-1. Add a window that gives a sense of space
To make the living room feel more spacious, why not add a window with a sense of openness? This is an example of a large FIX window on a living room wall to create a sight line.
In addition, you have installed a tall mirror behind the mini-kitchen, a technique that makes the room appear larger.
Another technique to make a room look larger is to minimize unevenness in the room and maintain horizontal and vertical lines. By placing air conditioners and ventilation fans, which would normally protrude outward, inside the walls, the ceiling area is simplified, as you can see.
The roll screen is also installed within the ceiling near the wall for a clean and clear design. By paying attention to the detailed design, the entire room gives a sophisticated impression of the living room.
A sofa from which you can sit deeply and enjoy a generous view of the spacious garden would make for a relaxing weekend for both body and soul.
2-2. Incorporate downstairs
One way to create an open living room is to incorporate a downstairs. Downflooring is the process of lowering the floor by digging down a portion of it.
Incorporating a down floor will naturally lower the line of sight and give a sense of spaciousness, since living is based on sitting on the floor.
In the case study, a sofa is built in using the difference in floor level. The space is full of originality, and both children and adults can easily spend time in this bright and open living room.
2-3. Devise partitions
One key to creating a sense of openness is to avoid dividing rooms into smaller sections. Here are some examples of apartment renovations in which design was added to the partitions.
By making the wall dividing the space curved and opening up the upper part of the room, it gives a sense of space. Another technique to make a room look larger is to have all the elements in the room in the same color, as shown in the example. The soft wood grain and graceful curves give the LDK a gentle atmosphere.
3. Create a house with an open atmosphere by incorporating views
If your house has a view of a river, ocean, or mountains, try to use the location to bring the view indoors. Using distant trees or mountain scenery as if it were part of your garden is called "borrowed scenery.
Here are some examples of how borrowed landscapes have been used to add a sense of openness to a home.
3-1. Open house with ocean view
This is an example of a large glass window installed in a direction overlooking the beautiful ocean and mountains. The fact that part of the living room is made into an earthen floor and lowered one step in the direction toward the sea is another point that gives a sense of expansiveness.
The living staircase is skeletonized, and the stair railing is also a handrail with no walls to obstruct sight lines. This is a well-designed, open house that makes the most of the favorable conditions of being built by the sea.
3-2. A house with a sense of openness extending toward the river
The trick is to make the room appear larger by cropping the landscape horizontally. This example is a house with windows that extend toward the river.
By adding a large wooden deck as a continuation of the living room, a space to enjoy the outdoors is created as a continuation of the living room. The expansive windows let in plenty of natural light, creating a sense of openness.
You can easily enjoy barbecuing and sunbathing on the large wooden deck.
4. Points to keep in mind when building a house with an open atmosphere
Vaulted ceilings and sloping ceilings are techniques used to create a house with a sense of openness, but some people may be concerned about earthquake resistance, thermal insulation, and security because of the reduced number of walls and pillars. It is important to build a house with a clear understanding of the design considerations.
Here are some tips for building an open house.
4-1. Consider insulation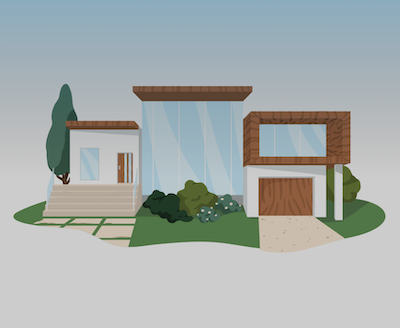 Many people yearn for a home with a sense of openness, but are concerned that more windows will reduce heat and heating efficiency. Here are some examples of homes that have a sense of openness while at the same time offering improved thermal insulation.
The fittings are placed inside the living room to create an air layer surrounded by the fittings, thereby enhancing thermal insulation. Let's take a look at this house with the fittings open.
As you can see, there are large windows that let in plenty of light and air. In summer, the fittings can be opened to allow air to flow into the living room. The floor near the window is designed as a sunken floor to allow light and air to flow through to the first floor.
It is a functional living room that can be used according to the season, with the fittings closed to keep warm in winter and open to keep cool in summer.
4-2. Consider earthquake resistance
In Japan, an earthquake-prone country, many people want to build earthquake-resistant houses for the safety of their families. Many people worry that "if we reduce the number of beams in the walls and ceilings to create a sense of openness, won't that reduce the earthquake resistance of the house?" Many people are concerned that "if we reduce the number of beams in the walls and ceilings to make the house feel more open, won't that make it less earthquake resistant?
In conclusion, both openness and earthquake resistance can be achieved through design efforts. If you have any concerns, you should discuss with the designer or builder about the earthquake resistance rating and so on.
Another approach is to use earthquake-resistant structures such as steel-framed or RC structures. The photo shows an example of an RC house with glass block walls in part of the house. Glass block is an ideal material for bringing in light while maintaining earthquake resistance because of the placement of reinforcing steel between the joints.
An architect with extensive experience should be able to propose a plan that combines earthquake resistance and openness from a variety of ideas.
4-3. Ensure privacy
Many people may be concerned about security and privacy if they increase the number of glass windows to achieve a sense of openness. One way to block the view from the outside is to use balconies.
The photo shows an example of a high-walled balcony built outside the living room. The outside wall and the floor of the balcony are white to reflect light, so the light from the outside gently reaches inside the living room.
There are many other ways to ensure privacy, such as creating a courtyard or attaching a material to the wall that allows light to pass through but blocks line of sight. It is best to let the architect know in advance what kind of home you would like to have, so that he or she can proceed with a plan that meets your wishes.
5. Summary
Building a house with an open atmosphere can be achieved by introducing light into the living room, brightening the interior, and so on. When incorporating vaulted or sloped ceilings, it is also important to consider compatibility with insulation and earthquake resistance, and to ensure privacy.
A common way to create a sense of openness in a home while making the most of the site and the home's environment is to consult with an architect who is flexible enough to design without being limited by standards. Your hopes and concerns about your home may be solved with the many ideas that architects have to offer.
Let's consult a first-class architect.
If you are thinking "Who do I actually talk to when I want to build a house with an open atmosphere?" or "Even if an architect is recommended, I don't know how to start considering it," please consult with one of japanese-architects.com's architectural advisors.
First-class architects and architectural advisors from design firms will listen to your concerns and wishes. Of course, you are welcome to consult with us even if you just want to ask a simple question such as, "I am having trouble with this". If you would like to hear from a professional, or would like to have an experienced person or a third party take a look at your project, please feel free to take advantage of our free consultation.
In order to build a house without regret, it is recommended that you ask for a professional opinion at least once.