Do the wealthy and rich build their houses with house makers?
Updated
Building a house may be a once-in-a-lifetime project. If you can afford it, you would like to build a high-grade, specially designed house. Which house makers do the rich and wealthy people ask to build their houses? Or do they build their houses with house makers in the first place?
In this section, we will discuss "Who should you ask to design your home" for the people on a budget. In addition, we will explain the characteristics commonly found in the homes of the rich, the key points to consider in a floor plan, and 5 housing examples.
The point of this article:.
House makers are recommended for those who "want the security of standardized housing" and "have a favorite product among house makers".
If you want to have an original house that you are particular about, make the most of the site and landscape, consult with us from the land search stage, or enjoy the process of building a house, we recommend hiring an architect.
Wealthy and rich people's homes are characterized mainly by their approach, exterior, floor plan, equipment and fixtures, and furniture coordination.
1. Do the wealthy and rich build their houses with house makers?
Some people may think that building a house means hiring a house maker, which is often seen in commercials, but this is not always the case.
To create a home with a high-end commitment to excellence, you need to either;
Hire a major house maker
Ask an architect to design the house and built by a construction company
These are the two main options.
Major house makers and architects each have their own advantages, so it is important to choose a home building partner while considering which one would be better to work with in your case.
1-1. Features of building with a house maker
House makers, often referred to as "major" house makers, often offer relatively high-end grade homes and are popular for their upscale line of branding. First, let's look at the advantages and features of building a house with a major house maker.
1-1-1. Standardized housing with stable performance
The most important characteristic of a house maker's house is that it is a standardized product. Generally, the client selects his or her preferred product and grade from a number of products available at the house maker, and designs the house by adding options based on the base specifications.
As standardized housing, any craftsman can build a house of consistent performance in any region. On the other hand, there are some restrictions: it is not possible to choose specifications that deviate from the standard, and designing a house that deviates significantly from the standard will significantly increase the cost. This is ideal for those who have a favorite product among house makers and are able to build a satisfactory house within the standard to some extent.
1-1-2. General price and tsubo unit price of major house makers
According to a survey conducted by Jutaku Sangyo Shimbun, the average price per tsubo of a house completed in 2020 by nine major house makers is between 850,000 yen and 1,000,000 yen. Of course, the price per tsubo will vary depending on the products selected and the amount of options added, so please take these figures as a reference only. Also, keep in mind that the larger the area, the lower the unit price per tsubo, since the number of facilities and the labor required for construction generally decrease with the size of the area.
1-2. Features designed by famous architects
For those who want an upscale, high-class home or a home with a lot of attention to detail, we recommend to hire a well-known architect. Here are some of the unique features of an architect's home.
1-2-1. Completely original design
The biggest advantage is that when you ask an architect to design your house, you can create your own one-of-a-kind home. They will listen to your daily living style, lifestyle, hobbies, etc. in detail, and design a house that is perfect for you from scratch.
They carefully design not only the floor plan, but also materials, equipment, lighting, and other details. Because they design from scratch, they can accommodate various requests such as "I want a storage space that fits this size box perfectly," "I want to install a German-made built-in washing machine," "I want to be particular about indirect lighting," and so on.
For those who "don't like the house maker's product," "don't want to build a house like the others do," or "want to focus on ease of living," building with an architect is the right choice.
1-2-2. Performance beyond that of house makers
Being completely original means that the performance of the house can be enhanced freely. While manufacturers are based on standards, architects design everything from scratch, so they can ensure that the design meets the desired level of earthquake resistance, airtightness, heating and cooling, and so on.
Many design firms collaborate with outside professionals such as structural and facility designers, which allows them to incorporate high performance while achieving a free design.
Common requests include, "To achieve a higher level of earthquake resistance than the house makers," and "To put in a fully custom air conditioning system that fits the way I spend my time." The more particular you are about performance, the more we recommend building a home with an architect with a proven track record.
1-2-3. Designed to make the most of the site
Architects excel at creating homes that make the most of the site's charm. Designing a house that takes advantage of the unique characteristics of the site, such as a house with a spectacular panoramic view, a house that takes advantage of the difference in elevation of the site, or a house that takes into account sunlight and ventilation, is a good example of an architect's skill.
Not only that, but they also offer ideas to make a small lot in the center of the city feel spacious and to protect privacy from the front road.
1-2-4. Consultation is available from the selection of land
If you want to build a house that you are particular about, the choice of land is also an important factor. Architects will consult with you from the land selection stage, and can make suggestions on what can be achieved with the land, or present countermeasures that you have almost given up on because of its peculiarities. They will also advise you on legal aspects and budget allocation between land and building, making them a reassuring partner.
1-2-5. You can also enjoy the process of building a house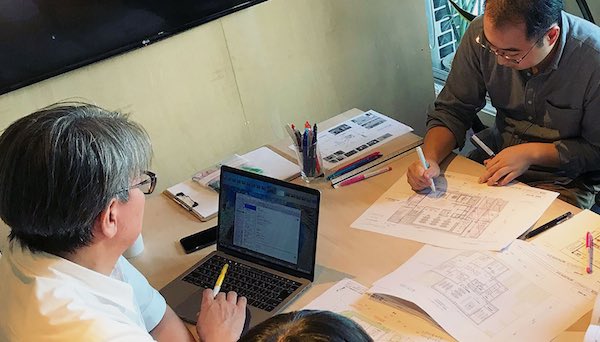 Architects are also perfect for those who want to "thoroughly enjoy the process of building a house", which may come only once in a lifetime, and who "also value communication and process". There are many architects who make their living from their design work. They spend a lot of time designing, thinking about how to make the client happy and making various suggestions. Because they design from scratch, there are many considerations, and meetings are usually more frequent than with house makers.
On the other hand, if you do not want to spend much time on building a house, or if you want to reduce the number of meetings as much as possible, building a house with an architect is not for you. It is recommended that you request a house maker to build your house.
1-2-6. Price is up to you
Since the houses are completely custom-made, the cost of building a house can vary widely. Depending on the design, the cost can be kept low, or you can spend as much money as you want on an architect's house.
While we cannot clearly tell you "how much is the cost per tsubo," you can refer to the article in the link below for general construction costs.
2. Characteristics of the luxury homes of the wealthy|What do the rich care about?
What exactly do people who are called rich spend their money on? Here we will explain the characteristics commonly found in the homes of the wealthy.
2-1. Approach
There is an impression among the wealthy that they seek a sense of luxury in their approach as well. This is because a well-designed approach space can create a space that is physically and psychologically removed from the hustle and bustle of the city.
To create a spacious approach space, for example, a gate or shutter facing the front road, a wide porch or pilotis space in front of the entrance, a vestibule, or an entrance higher than the front road can be built.
2-2. Appearance
Rich people are also particular about the exterior of their homes, known as the "face" of the house. In order to block the view from the surroundings, they tend to have fewer windows and more walls, resulting in a stately appearance. This tendency is especially noticeable in urban areas where privacy is more important.
When you see a house like this one, you may think, "Wouldn't it be a very dark house with so few windows?" The house in the photo above is actually U-shaped, with a completely private courtyard in the middle. The large windows facing the courtyard create a light-filled space.
For those who can afford it and can purchase a large plot of land, there is also the option of a luxurious one-story house.
Basically, the cost of building a one-story house is higher than that of a two-story house for the same total floor area. This is because the building area is larger for a one-story house, and the area for ground improvement, foundation, and roof is larger.
2-3. Floor plan
The floor plan is one of the most important factors in home design, and it is the most important factor in how people live. Rich people, in particular, often invite people to their homes, and many of them are particular about the LDK so that their guests can feel at home.
For example, if the house is a place where people often gather, features such as "an open kitchen suitable for home parties in the center of the house", "a large barbecue terrace that can be used as an integral part of the LDK," and "private spaces such as bedrooms are placed far from the entrance".
2-4. Facilities and equipment
Those who can afford to spend more money put a lot of thought into each and every detail, from kitchen fixtures and sinks to hardware such as faucet fixtures and doorknobs.
Particularly strong in popularity are overseas products made in Germany and Italy. Incorporating products with superior functionality and design will take your home up a notch. The quality is of course high, but the cost is doubled since the products are imported from overseas.
In cases where a home is built with an architect, sinks and hardware are often built from scratch to match the overall design and usability of the house.
2-5. Furniture coordination
Furniture coordination is another essential element of a quality home. We encourage you to choose furniture that fits with the overall concept and worldview of your home, and to pay close attention to its placement.
In order to avoid such regrets as "the sofa is too large and unbalanced when it is actually placed," or "the furniture looks too lived-in and is not what I had envisioned," it is important to plan from the design stage, envisioning "where and what kind of furniture will be placed?".
Some architects offer total interior design proposals and furniture coordination services, so if you want to be particular about your interior design, please consult with an architect.
3. Luxury homes for the rich|5 examples by architects
Here are some of the actual architect's examples of luxury homes for the rich.
If you would like to speak with or be introduced to an architect who can design a luxury home that meets your needs and requirements, japanese-architects.com's architect referrals are also useful.
3-1. Cool exterior of eye-catching garage house in the heart of the city
This residence is located near the Tokyo Tower. The façade is designed with glass blocks and frosted glass to allow light to pass through, while at the same time ensuring privacy. Although the house is closed from the outside, a fully-glazed patio was created in the center of the building to create a bright and open space even in the heart of the city.
Seen at the rear of the first floor is a luxurious garage space where multiple cars can be parked. By making it a room, security is also taken into consideration. Furthermore, the space is also littered with devices that allow car lovers to view their beloved cars from inside the house, making it an irresistible space.
3-2. An elegant Japanese modern house loved by all ages
A wooden house built in a suburban residential area. By creating a skip floor with gradual steps for each room and function, the house has an open, one-room-like space with a clear view.
By using shoji screens instead of curtains, soft light is spread throughout the room, while at the same time, no one will be able to see in from the outside.
Natural materials such as wood and stone give a sense of warmth, while the sharp lines of the ceiling and latticework give a modern impression.
3-3. Ryokan-like bathrooms for the ultimate in relaxation
This is an example of a renovation of an old townhouse. The entire bathroom is decorated with luxurious matte black tiles, which create a tranquil atmosphere as if you were in a bamboo forest.
The bathtub is also built with the same black tiling as the floor and walls, instead of the white color which is commonly used, to unify the style.
3-4. Open kitchen as a place of hospitality
This is an example of a condominium room that was completely renovated to your liking.
For the client, who loves to cook and entertain, we planned an open kitchen as a "place of hospitality" in the center of the house. The range hood and wall storage are original and designed to neatly accommodate the refrigerator, oven, and other appliances.
It is a one-of-a-kind home with as much attention to detail as possible in the interior design.
3-5. A house that brings "playfulness" into daily life
This house is located just a 5-minute walk from the ocean. The house is planned for the client who can enjoy playing in the ocean, coming home, taking a bath, having a barbecue... as part of the daily life.
The center of the house is the courtyard. The U-shaped floor plan allows access to the bathroom, LDK, and other rooms from the courtyard.
Summary
Depending on each case and your particular needs, selecting the designer of your house, whether it will be a house maker or an architect, will vary. While rankings and word-of-mouth are one indicator, you should also consider what you want to achieve through home building, and what you want to focus on when choosing a partner for home building.
In addition to well-known architects, japanesse-architects.com has registered architects with various strengths, such as architects who have experience working for famous architects, architects who have worked on many houses, and architects who specialize in designing for special terrains. If you are interested in building a house with an architect, please use japanesse-architects.com's architect introduction. japanesse-architects.com's architectural advisors are first-class architects who will introduce you to the perfect architect based on your wishes and image.
Let's consult a first-class architect
If you are wondering "Who is actually the right person to build our home?" or "How should we start with our luxury home?",
First-class architects and architectural advisors from design firms will listen to your concerns and wishes. Of course, you are welcome to consult with us even if you just want to ask a simple question such as, "I am having trouble with this". If you would like to hear from a professional, or would like to have an experienced person or a third party take a look at your project, please feel free to take advantage of our free consultation.
In order to build a house without regret, it is recommended that you ask for a professional opinion at least once.