7 examples of open kitchens|5 points to keep in mind so you have no regrets
Updated
Many would-be homeowners yearn for an open kitchen that is convenient and stylish. However, they may wonder what type of open kitchen is ideal and what points they should keep in mind to avoid regrets.
This article introduces 7 examples of open kitchens that will make you want to show them off, and explains 5 key points that you must keep in mind to avoid regrets when creating your kitchen.
By the time you finish reading this article, you will be able to concretely imagine the ideal open kitchen you are looking for.
1. 5 sophisticated open kitchen layouts
Here we introduce 5 examples of sophisticated open kitchen layouts that can be used as a reference for your kitchen design. Each of these layouts is both visually appealing and highly functional, so we hope you will find them useful when choosing your kitchen.
1-1. "Island kitchen," which is shaped like an island
The "island kitchen," designed to float off both walls like an island, is one of the most well-known open kitchen layouts. Many people have at one time or another admired this spacious design with a sense of openness.
Since the island kitchen faces the living room, it is suitable for people who want to communicate with their family members face to face while cooking. Also, the kitchen as a whole has a large space, making it possible for multiple people to enjoy cooking together.
A similar layout with a counter between the kitchen and dining area, called the "island kitchen with counter" is also very popular. Combined with high chairs, it is an attractive way to enjoy cooking and dining as if you were at a stylish bar.
1-2. "Peninsula Kitchen," as it is named
The "peninsula kitchen" is characterized by the fact that one of the left or right sides of the kitchen is against a wall.
The absence of a wall in front of the kitchen gives it a sense of openness, and it can be installed in a smaller space than an island kitchen, making it an easy layout to incorporate into a small LDK.
However, since the peninsula kitchen has only one aisle in one direction, the aisle must be wide enough for people to pass each other. It is recommended that the aisle width be 80 to 120 cm. This will allow for a wide aisle, so that people can pass each other with plates and dishes in hand, and two people can work together.
1-3. "Face-to-face type I kitchen," often seen in rental property
The "face-to-face I-type kitchen" is often seen in rental units. It is similar to the peninsula kitchen and can easily be confused with the peninsula kitchen, so it is important to understand the difference here.
Peninsula kitchens have no wall in front of the stove. On the other hand, a ace-to-face I-type kitchen has a wall in front of the stove. This is also known as a "semi-open kitchen" because the wall area surrounding the space is larger than that of a peninsula kitchen, making it feel less open.
The two-way I-type kitchen is also attractive in that it is available in a wide variety of designs, including one with a high counter space in front of the sink and another with a hanging cupboard overhead the workbench.
If you want to avoid the line of sight while working, or if you value storage space in a small amount of space, you should choose a face-to-face I-shaped kitchen.
1-4. "L-Shaped Kitchen," to enjoy foreign ambiance
The "L-shaped kitchen" is an open kitchen that gives the impression of depth and space, as if it were in a foreign movie. It is suitable for people who want to cook efficiently.
The layout of an L-shaped kitchen can be further divided into two categories: "facing" and "wall-mounted".
Face-to-face layouts have one side of the sink or stove facing the living room or dining room. On the other hand, the wall-mounted type faces two walls and turns its back to the living room or dining room while cooking.
For those who yearn for a facing kitchen but are concerned about oil splashes, a wall-mounted stove layout with the sink side and work space facing the living room, as shown in the photo above, will solve the problem.
1-5. "Separate type kitchen," for easy cooking for two people
The "separate type kitchen" is also called a "Type II kitchen" because the sink and stove are separated into two rows.
The design of the sink and stove are separated from each other, which allows each to have enough work space for two people to cook, or to use both the sink and stove by simply turning around.
However, there is a disadvantage in that the more often you turn around while cooking, the more water droplets and soups are likely to drip onto the floor. For this reason, it is safer to use a flooring material that is resistant to wet.
2. Advantages of an open kitchen
Here are 3 advantages that all open kitchens have in common.
2-1. Being able to communicate with family members while cooking
The most attractive feature of open kitchen, which integrates the space with the living room and dining room, is that it allows you to see and communicate with your family even while cooking.
This is a great feature for families with small children or pets, as they can cook while keeping an eye on them. It is also a great way to enjoy the cooking process without feeling isolated.
Because you use your kitchen every day, you will want to make it a wonderful space where you can enjoy cooking without isolating yourself from your family. If you want to cook while enjoying a sense of togetherness with your family, please consider an open kitchen.
2-2. It makes open and stylish kitchen
The second advantage is the ability to create a stylish kitchen with a sense of openness. An open kitchen provides a spacious and open feeling because of its unobstructed layout with the living room and dining room.
While cooking, we tend to look down or concentrate on the recipe, which limits our field of vision. However, with an open kitchen, you can cook comfortably while looking out over the entire house. Of course, you can also cook while watching TV.
If you imagine what the view will look like when you stand in the kitchen while designing the entire house, you will create a more pleasant space.
2-3. Minimize the time spent for serving food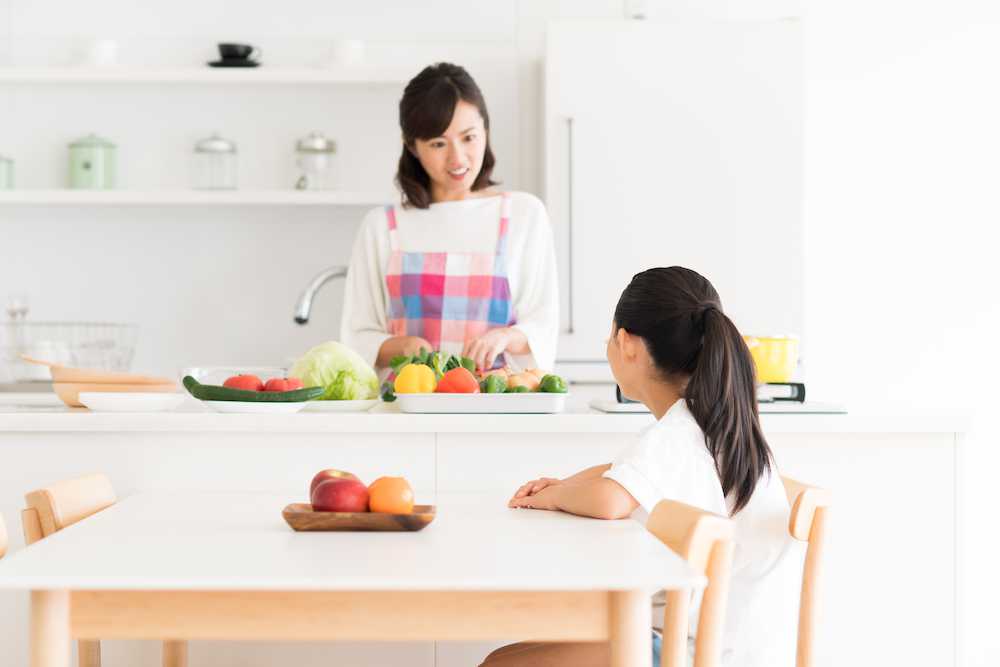 Another major attraction of an open kitchen is that it reduces the time and effort required for serving food. If the kitchen is isolated from the living room and dining room, it is time-consuming to carry the food to the dining room.
However, with an open kitchen, the finished dishes can be handed to family members in the dining room because of the close proximity to the dining room. In addition, the effort of carrying the finished dishes will be reduced.
It may be "just a little difference," but the daily serving of food can be a huge burden. The advantage of an open kitchen is that it saves time and effort.
3. Disadvantages of an open kitchen
Here are some disadvantages of open kitchens that you should know about. Please keep in mind that understanding the disadvantages in advance will allow you to design with countermeasures and avoid regrets.
3-1. It's easy to get disorganized
The first disadvantage is that it is easy for people who are not good at tidying up to show a sense of life. In an open kitchen, where things can be placed freely like counters, people tend to put their personal belongings carelessly.
However, open kitchens are often designed in such a way that it is easy to look over the living room and dining room, and at the same time, the kitchen is easily visible from the other side. This makes it inevitable that the kitchen will be in full view from the living room and dining room.
As a countermeasure, we recommend using an L-shaped kitchen or a face-to-face type I kitchen layout that provides relatively easy storage space. Another option is to have stylish cooking items that can be left out to be used as showcase storage.
3-2. Smoke and odor spread easily throughout the room
In an open kitchen where the space is integrated with the living room and dining room, smoke and odors from cooking can easily spread throughout the room. It is not uncommon for people to be bothered by the smells because they are invisible and seep into walls, curtains, and furniture.
Example of the countermeasure is placing the stove as close to the wall as possible and always running the exhaust fan while cooking. In addition, it is recommended to consider the placement of windows to improve ventilation in the kitchen. If ventilation is always available, smoke and odors are less likely to linger.
3-3. Need more space in the floor plan
When installing an open kitchen, a certain amount of space is needed in the floor plan. This is because the fewer walls there are, the more difficult it is to secure storage space. Even if storage space is consciously provided, if there is no room in the floor plan, it would be inconvenient to use such as narrow aisles.
For this reason, when incorporating an open kitchen, make sure that there is enough space for the following
Cooking Space
Storage space
Aisles wide enough for people to pass
Plan for appliance installation
In particular, many people who want an island or peninsula kitchen may not install hanging cupboards for a spacious and open feeling. However, please note that if you do not have a spacious kitchen that takes sufficient storage space into consideration, you may regret it after you start living in the house.
3-4. Concerned about oil splashes and water splashes
When incorporating a face-to-face kitchen with the stove and sink facing the living/dining room, some people may be concerned about splashing oil or water while cooking.
If you can secure a sufficient floor plan, consider a separate type or L-shaped kitchen where only the stove faces the wall. We also recommend installing an "oil guard," a glass partition in front of the stove, so as not to spoil the design as much as possible.
In addition, for flooring materials around the kitchen, incorporating water- and oil-resistant "tiles" and "solid wood with urethane coating" will make cleaning easier.
4. 5 points to avoid regrets in an open kitchen
Here are five important points to avoid regrets in an open kitchen. Because you use your kitchen every day, you want to create an ideal space. Please refer to these important points to avoid making mistakes in kitchen design.
4-1. Provide storage space
The most important aspect to avoid regret in an open kitchen is storage space. Many people tend to neglect storage space because it needs to be large enough to accommodate even just appliance space and sufficient aisle width.
In addition to the standard storage under the cooking area and under the stove, be sure to consider and secure a place to store seasonal cookware such as clay pots.
For those who have a lot of things to store but still want to create an open kitchen with a sense of spaciousness, we recommend installing a "pantry". It can neatly store food stocks, small cooking appliances, cleaning supplies, etc., which tend to become disorganized.
4-2. If you're nervous about being seen, add a blindfold
If you are concerned about being seen in an open kitchen from the living room and dining room, incorporate blindfolds if necessary.
For example, roll screens and curtains are useful for concealing rear storage and pantry entrances, and are relatively easy to install as they can be done as DIY projects.
Also, if you want to be able to hide the entire kitchen in case you have guests, you can install a partition door. Although it will cost more because you will have to hire a contractor.
4-3. Consider measures to prevent pets and babies from entering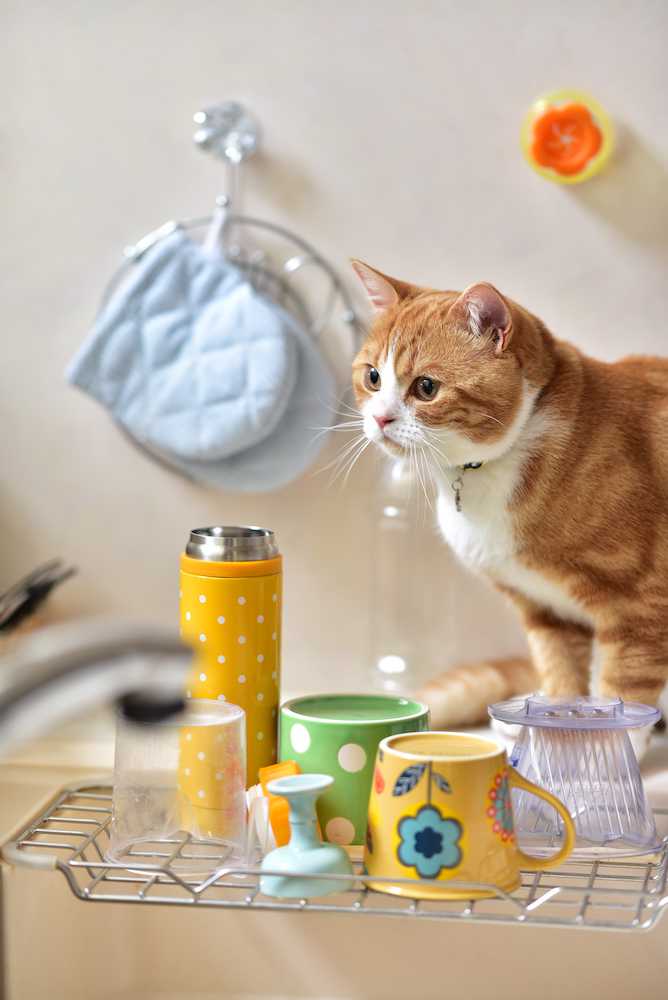 If you are considering an open kitchen, consider measures to prevent pets and babies from entering.
It is difficult to cook with peace of mind if you have a cat that comes near the stove or a baby that waddles up to your feet.
Therefore, if you have a pet, install partitions using "PVC boards" or "acrylic boards," and if you have a baby, use "baby gates" or "stoppers" to prevent storage shelves from opening.
All of these measures can be installed as DIY projects, so please try to incorporate them to keep your family safe.
4-4. Don't forget the functionality!
To create a perfect kitchen, consider not only the appearance but also the functional aspects that make it easy to use.
For example, if you are not good at cleaning, choose a flat type sink with no uneven surfaces, or an IH stove that can be wiped clean in one go to make it easier to clean. Also, if you want to use multiple appliances at the same time, the number and placement of electrical outlets should be carefully considered.
Depending on the lifestyle of each family and the personalities of the residents, there will be different functional aspects that are important in a kitchen. Therefore, please discuss priorities with your family members and consider functional aspects to create a kitchen that you will not regret.
4-5. Total coordination can be requested from architects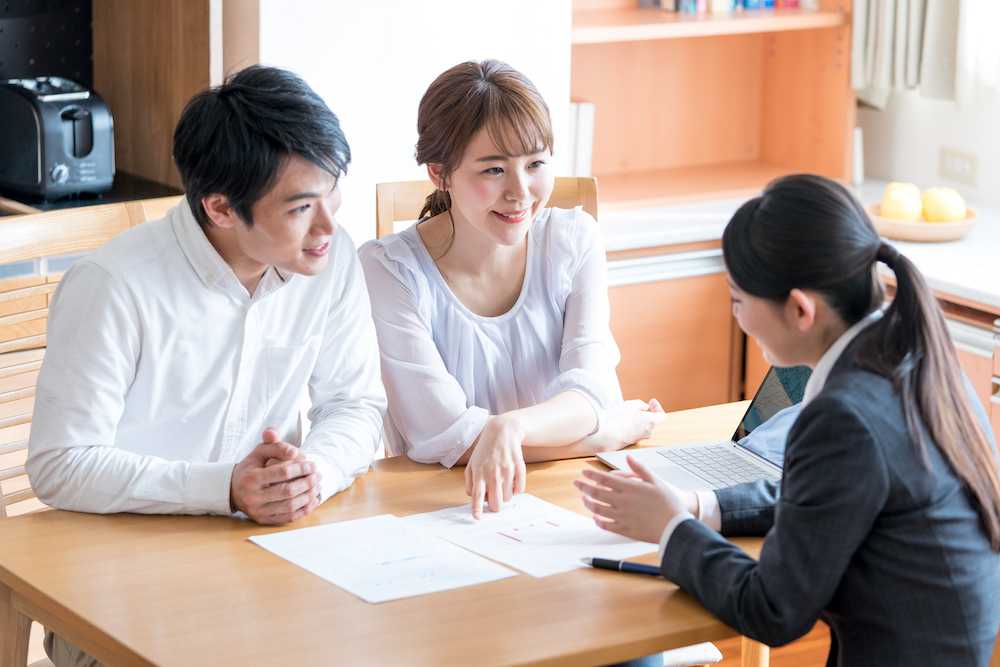 We have discussed the advantages and disadvantages of open kitchens and points to keep in mind, but many people may feel that it is difficult to design a kitchen that fulfills all their ideals.
One way to create a stylish and user-friendly open kitchen is to hire an architect. You will be able to create the kitchen of your dreams, combining the innovative ideas and sense of style that only a professional can offer, while saving yourself the time and effort.
Furthermore, even those who are not confident in their sense of taste can leave it to us, as we can request total coordination of the dining table and interior design to match the open kitchen.
5. 7 examples of stylish open kitchens
5-1. Ppen kitchen connecting to the dining room and living room as one
The owner is a couple who enjoys inviting people over. However, in their old house, the kitchen, dining room, and living room were divided individually, and there was no sense of continuity. In the new house, the kitchen, dining room, and living room were designed to be connected.
The kitchen is a separate type, with a stepped dining table as an extension of the sink table. This makes serving food easier, and the most attractive feature is that you can overlook the living room where the family spends time together while cooking.
L-shaped kitchen in soft beige
In many cases, people think that open kitchens have little storage space, but an L-shaped kitchen like this one, with hanging cupboards utilizing the wall and ceiling, offers excellent storage capacity.
The large work space realized by utilizing a corner is also an attractive feature. It is a calm space that makes you want to spend time in the kitchen.
5-3. Open kitchen to match the overall natural ambience
The kitchen is located in the same space as the living room and dining room. By using the same shade of wood as the ceiling, walls, and pillars in the kitchen, you can feel as if you are blending into the space.
This is also an L-shaped open kitchen, but with a hip wall that casually hides the hand. You can enjoy cooking without worrying about being seen.
5-4. Stylish face-to-face type I kitchen reminiscent of Scandinavian style
The design of this face-to-face type I kitchen is reminiscent of fashionable Scandinavian style, and the gentle impression of ivory is the main feature. A brick wallpaper in pale blue was applied to the wall so that the client can enjoy cooking in relaxed mood.
Also, storage capacity, which is often a drawback of open kitchens, is solved by installing a pantry in the back of the kitchen. You will be able to spend a pleasant time in a user-friendly and stylish kitchen.
5-5. Renovated condominiums where "oldness" is the star of the show
This residence was renovated from a room in an apartment building. Mortar and plaster exposed during demolition were reused as is. The kitchen, which has been completely redesigned, is made of stainless steel, and the novelty of the kitchen is not the focus of attention, which is one of its charms.
In order to make the kitchen fit in as an extension of the room, an island kitchen has been adopted, which is connected to the passageway. The stylish kitchen makes cooking even more enjoyable.
5-6. A space where warmth and coolness coexist
This house, which has been featured on TV show, has an overall woody and natural interior. A cool-looking stainless steel kitchen is used.
The fact that different tastes, such as "warmth" and "coolness," coexist in the same space but harmonize well to create a comfortable space is truly an art form. The gray walls and flooring further accentuate the stainless steel and make the kitchen look stylish.
5-7. Kitchen with dining table with attractive Japanese impression
In this house, the kitchen and dining table are combined according to the owner's wishes. Next to the sink is a dining table in the same taste as the flooring. After cooking, the food can be served immediately, providing an excellent flow line for household chores.
And on the back of the kitchen is a cupboard made of wood reminiscent of Japanese style. It also provides storage space, making it a wonderful and easy-to-use kitchen.
6. Summary
An open kitchen makes it easy to communicate with family members while cooking and to enjoy an open space. Because it is a place used every day, we want to create a stylish open kitchen.
However, it is essential to make sure to secure more storage space and enhance functional aspects to suit your personality. To avoid regrets, please discuss carefully with the designers before proceeding with the project.
Our architect introduction service, japanesse-architects.com (japanese-architects.com), introduces architects (design firms) to owners who are interested in custom-built homes, remodeling, and renovations. By hiring an architect, you can have not only the desired open kitchen, but also a coordinated style for the entire house.
A house is an important place where you spend a long time in your life. Please use japanese-architects.com to make sure that you will be very satisfied with your home. If you have any questions, please feel free to contact us.