Tips on how to incorporate high windows to create a stylish design home
Updated
This section includes tips on how to use high windows (high side lighting), which are recommended for design houses, stairwells, and narrow houses, to create a fashionable home. While there are many advantages to high windows, it is also important to understand the disadvantages of using high windows before designing a house.
"Where should I install it?" "Isn't it hard to clean? How should I clean it?"
If you have any of these questions, please refer to this article. Let me begin by giving you the main points of this article.
A high sidelight is a window placed relatively high on a wall.
High windows (high side lighting) allow for effective use of wall surfaces while ensuring privacy.
The disadvantage is that it is difficult to reach when cleaning, but longer handled mops are available, or if you are concerned, you can have the mop cleaned by a contractor.
It can be used in places where you want to utilize the wall surface, or in places with high ceilings, such as a stairwell, to create a sense of openness and light. In such cases, consideration should be given to the location of the building to prevent line of sight from neighboring properties.
1. What is a high window (high side lighting)?
A high window is a window placed relatively high on a wall surface. There is no specific definition of how many millimeters or more is a high window. There is no specific rule for this, but in the general architectural sense, the height below the window should be about 2 meter above the floor level.
High windows are also called high sidelights because they brighten a room from a higher position. A window with a fixed frame and glass that cannot be opened or closed is a FIX window.
They are sometimes compared to top lights, which are installed upward on the roof. Compared to top lights, high windows are easier to install from the standpoint of waterproofing, and depending on the direction, they can let light in deeper into the room.
These tall windows are often incorporated into design houses, but let's start by looking at the advantages and disadvantages of tall windows.
2. Advantages of high windows (high side lighting)
Here are 4 advantages of high windows.
2-1. Allows both privacy and lighting
Sunlight and the brightness of the living room and other rooms are important, but at the same time, privacy must be considered. The photo above is one example by japanese-architects.com.
Usual windows at the floor level require curtains even during the day, but the high windows do not require curtains to be installed, make the living room well-lit. The high windows have the advantage of creating a condition in which the space in which one normally lives is not easily visible from the neighboring property.
In addition, it can bring in sunlight that falls into the room from a higher position, which is why it is called a high side lighting, and brightens the room as a whole.
Thus, high windows are perfect for windows that provide privacy while allowing in plenty of light.
2-2. It creates a line-of-sight loophole
In considering design, there is the concept of line-of-sight and "blocking" line-of-sight. If you want to create a sense of openness in a room or a feeling of space that is larger than the floor space, line-of-sight can be used effectively to significantly change the sense of space even in a room of the same size.
Taking the architecture shown above as an example, a high window above the living room allows the line of sight to "break through" diagonally upward, creating an expansive sense of space. If this were a wall, the view from the staircase would create a sense of enclosure, despite the high ceiling height of the space. (There is a window in the back of the photo.)
Windows are an effective tool for creating sight lines, especially high windows, which can be designed diagonally upward to create light plus expansiveness.
2-3. Wall surfaces can be used for other purposes
The functional benefit of high windows in design is that they allow light to enter the room while making effective use of the wall surface.
In this example, one wall is a storage cabinet. If this room did not have a high window, it would be a little dark with only light from the window on the far side. In design, wall surfaces can be used as storage space, furniture space (such as the sofa), or a place to put a TV.
In this case, a high window is an effective means of providing a functional place for a wall and a lighting window at the same time.
2-4. Prevention of heat buildup in summer
Today's houses have improved insulation performance and have a higher ability to shield heat from the outside.
However, that heat retention can be counterproductive once the interior becomes hot in the summer. Naturally, running an air conditioner will make the space comfortable right away because it works well, but using high windows can also help to exhaust heat. Air has a tendency for hot air to rise to the top of the room and cold air to fall to the bottom.
Therefore, for example, on hot summer nights, ventilation can be designed so that outside air is let in through normal windows and inside air is discharged through high windows, thus allowing heat to be discharged. However, since air with a higher temperature has a smaller density and is lighter in weight, air is more likely to be discharged through high windows, which are located at higher positions where air with a higher temperature tends to accumulate.
3. Disadvantages of high windows (high side lighting)
On the other hand, let's understand the disadvantages of high windows.
3-1. Difficult to clean depending on design
The first disadvantage of high windows is that they are difficult to clean.
Once high windows are installed, a large ladder will be needed for maintenance and other work, and some skill in working at height is required. For this reason, cleaning and maintenance by yourself is not recommended, and should be done by a contractor.
But basically, the windows themselves do not need to be cleaned that often. Dirt on the outside is washed away by rain, and windows located higher up are less likely to accumulate dust on the inside.
3-2. Opening and closing will be electric or chain
If the window is within reach, a sliding window is fine, but if the window is installed in a stairwell or other location and cannot be reached, it should opened or closed by electricity or rotating a chain.
The electric type is convenient, but has the disadvantage of high installation cost.
And the chain-adjustable type has a chain hanging down from the window, which can be a bit distracting to the interior design. If you have small children, you will need to be careful that they do not play with the chains.
3-3. Line-of-sight from neighbor properties and outside should be concerned
The installation of high windows must be designed with consideration for sight lines from neighboring properties and the street.
If the house next door is a two-story building, is it possible to see into the house from the second floor? If you do not consider such factors, you will not be able to ensure the privacy. If the adjacent lot is still vacant, which position is most likely to be occupied by a building? It is a good idea to design in advance, taking into consideration of such factors.
4. Tips for designing stylish high windows (high side lighting)
Now, let's take a look at the important points in designing a fashionable house that you may be interested in.
4-1. Designed with consideration for neighbors sights, cardinal directions and interiors
As mentioned in the disadvantages, first install a high window in a position where you do not have to worry about the view from the outside. Also, if you do not consider "cardinal directions" and "harmony with the interior," they may become difficult to use.
As for the direction, it is recommended to avoid as much as possible locations where the glaring western sun shines in. On the other hand, a high window on the north side is recommended to create stable and gentle light regardless of the time of day.
A typical example of what to avoid in terms of harmony with the interior is to install a high, transparent window above the TV. The light from the window may be too bright, making it difficult to see the TV. If you wish to install a high window above the TV set, it is advisable to use a low light level, for example, by using a frosted glass with a low level of light.
4-2. Position the stairwell to create a sense of openness
High windows are more valuable when installed in an atrium or other location where a sense of openness is desired. In this case, it is advisable to design the windows in a position where they can be seen, for example, diagonally above or to the left or right when you sit on a sofa. It is a waste to have a high window if it is not in the line of sight, as it will not allow the viewer to see through.
In addition, there are various sizes and types of high windows, especially FIX windows, which can be delivered with fewer window frames, so if you are only considering lighting, you should utilize large FIX windows with an emphasis on design.
Click here to read more about FIX windows.
4-3. Using frosted glass or roll screens
Since ordinary curtains in fabric form on high windows are often out of harmony with the design, we recommend the use of frosted glass or roll screens when blindfolding is necessary.
When privacy from neighbors is not possible, frosted glass allows light to gently enter without concern.
Also, if you want to block sunlight depending on the time of day or season, use roll screens.
Roll screens are available in a wide range of colors and designs, and can be easily used for a variety of purposes, from light-shielding types to types that allow light to pass through.
Some types are electrically operated to open and close, while others are adjusted with a chain. Because they can be stored neatly and unobtrusively when not in use, they are often installed at the same time when high windows are used, and are very popular.
5. 10 examples of architects from japanese-architects.com
Now, let's look at some examples of houses designed by architects from japanese-architects.com that you may be interested in.
Referring to good examples of high windows is also a key to designing stylish high windows.
5-1. Modern urban 3-story building with white color scheme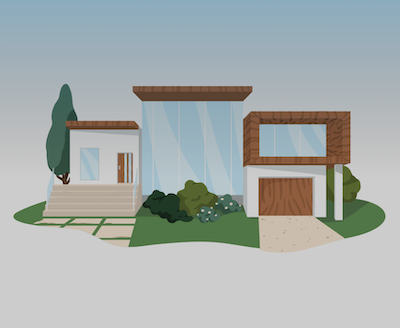 In this example, a high window is designed in a living room with a stylish white interior.
The inorganic atmosphere is made even more appealing by the fact that the outside view is not directly visible through the high windows, and the overall impression is a smart one. Although sliding windows are used for the high windows, the use of frosted glass allows sunlight to enter the living room without worrying about the view from outside, creating a bright living room.
5-2. A house with a bright space based on the concept of the sea
The second case study is based on the concept of a "house with a view of the sea," but the sea is not visible from the site to begin with. However, the "sea" is so essential to the architect's life that it is inseparable from it, and the house is designed in such a way that the presence of the sea can be felt even if the sea is not actually visible.
The large FIX high windows in the living room let in a lot of sunlight, reminding one of the sky over a clear ocean. The atrium is designed to create a sense of openness in the interior space, and this high window further enhances its attractiveness.
5-3. A house that combines a sense of calmness and openness like a resort
This living space, which was also featured as an example in the explanation of its merits, features a large living room with a sense of openness and a lot of line of sight thanks to the high windows. It is also an example of the harmony of the large atrium space with the open daisy staircase in the living room.
The high windows on either side provide a sense of expansiveness beyond the actual ceiling height when sitting on the sofa.
5-4. Southern European style clinic with attractive wood grain
This case study is from a dental clinic, not a house.
It needs to store a lot of things, like a doctor's office, and one wall is used for storage.
In this case, however, a high window was installed to create a very bright, sunlit examination room. This is an example of how the benefits of high windows are fully utilized.
The windows are FIX windows, designed to match the slope angle and size of the roof, and feature a single, large sheet of glass with few cleats.
5-5. A smart house with simple beauty
This example is similar to the "Round Cell House" introduced in the first section, with white as the basic interior color and designed to pursue simplicity and beauty.
The dining room, which is in the kotatsu style, has a horizontal high window that gently lets in light. The design pursues simplicity, and the high windows make the smart interior design of the room stand out without being noticeable to the outside view.
The architecture rotates around the courtyard, paying attention to the way sunlight enters the building, the line of sight from the outside, and the sense of openness when inside.
5-6. Narrow house with light and high ceilings to expand space
This is an example of high windows in a narrow house. The lot is long and narrow, with a frontage of 6 meters and a depth of 18.5 meters.
Under these conditions, the second floor LDK space is enlarged by raising the ceiling, and despite the narrow site, the high windows create a sense of openness, making the design feel less cramped. The living room is also well lit by light coming in from the high windows.
5-7. A one-story house for a calm Japanese lifestyle
The seventh case study is more like a top-light window installation, but is discussed as an example of a technique for indirect light in a bedroom.
In the bedroom, direct sunlight entering the bed position in the morning can cause glare and discomfort. The design of the room is such that the bed position is not directly dazzled by the sunlight by letting in sunlight gently through the top light and high windows.
There were many examples in the living room and atrium, but when incorporated into a bedroom like this, it makes a wonderful bedroom to wake up in comfort.
5-8. Stylish modern cooperative house
This example shows a spiral staircase and high windows throughout the living room to create a modern stylish design.
The modern atmosphere of the poured concrete and the high windows in the living room allow it to get a lot of sunlight, making it a bright living room during the daytime all year round.
The spiral staircase also has a high window to provide light from the staircase to the second floor space.
5-9. House combining garage and natural modern living space
This case study is featured as an example of blinds on a high window.
The overall design of the building has a natural modern taste, and the large opening in the living room is fitted with shoji-like lighting blinds that convert sunlight into gentle light. By matching the blinds on the upper and lower windows, a sense of unity is created when the windows are closed, allowing the interior to look a little different during the day and at night.
5-10. House unified by the contrast of white, black, and silver
The tenth and final example of architecture is a stylish modern example, as per the "white x black x silver" concept. A large FIX high window was installed in the living room to make the living room even brighter.
Although the living room has a high ceiling height, it is designed with many storage shelves on the wall, making it a good example of both wall-mounted storage and lighting.
And looking up from the living room to the ceiling, the design of the large and small square windows, which project shadows into the living room, is also a feature of this case study.
6. Summary
Through the case studies, we have seen how to balance privacy and lighting, which we have introduced in terms of advantages, and how to create a sense of openness.
In summary, let's look back once again at the tips for adopting high windows (high side lighting) to create a fashionable design home.
The minimum design is to take into account the neighboring lot, cardinal direction, and purpose. It is unfortunate if the design is too much solar radiation, or if the design is too much in view of the neighboring houses.
It is important to install the stairwell in a location that creates a sense of openness. Consider a location that allows the view from the place where you usually relax to feel the expanse of space.
It is a good idea to use cusped glass or roll screens to both block out the view from the outside in moderation and to incorporate them into the design.
As described above, even a single high window can have disappointing results if designed slightly wrong. If you are considering a house with high windows to create a sense of openness or a stylish design, please consult with an experienced japanese-architects.com architect.