Need for bulkheads and 10 examples of beautiful bulkheads!
Updated
Bulkheads tend to be eliminated in interior design.
Although only its disadvantages are often focused, bulkheads can produce advantages depending on design, for example by arching them to create a Western style.
We give you an idea of how japanese-architects.com's architects have done bulkheads in style, and we'll show you some houses with bulkheads!
Let's begin by looking at the important points to keep in mind about bulkheads.
A bulkhead is a wall that hangs down from a ceiling and is also called a suspended wall.
It is provided due to several reasons, including a building frame, the Building Standard Law, and the Fire Service Act. While there are disadvantages such as generation of shadows, it can be fashionable with some ingenuity, for example, by making it arch-shaped or utilizing curtains.
Bulkheads can "edge off space" while allowing sight lines to escape.
Depending on the skill of the designer, its disadvantage, the feeling of oppression, can be reduced so as to match with the interior.
1. What is bulkhead?
A bulkhead is a wall that hangs down from a ceiling or beam toward the floor. Depending on its role and use, the thickness and drop dimensions vary.
The role of bulkhead is, for example, to increase the rigidity of the structural frame (the resistance of the frame to deformation from external forces of bending and twisting). It also prevents smoke from spreading in case of a fire.
For example, in the case of smoke prevention, the Fire Defense Law specifies that the size of bulkhead for smoke prevention used in large buildings must be 50 cm or longer to 80 cm or shorter, and the Building Standard Law specifies that noncombustible materials must be used for the wall.
Bulkheads provided in a typical house are often found in 2×4 and 2×6 construction methods for wooden houses. The reason is that the structural frame is composed of walls instead of columns, so bulkheads often appear to increase the strength of the line partitioned by panels.
Let's delve into roles of bulkheads.
1-1. Smoke barrier wall in kitchen
The kitchen is a location where a bulkhead may appear. Because it is a place where fire is handled indoors, the Building Standard Law has detailed regulations on the materials to be used in the interior.
However, this provision was relaxed in 2009, and detached houses are no longer required to build smoke walls as long as the area around the stove uses noncombustible materials (such as kitchen boards). Thus, smoke barrier walls are now rarely provided.
Therefore, you don't need to consider the possibility of a bulkhead appearing in the kitchen area, except for structural reasons.
1-2. Bulkhead in 2×4 construction method (2×6 construction method) increases rigidity of frame
As mentioned briefly earlier, in 2×4 construction method, not columns but walls are used as supporting materials. Therefore, when an opening is made around the line of a load-bearing wall, a bulkhead may be provided to ensure rigidity.
Because of the various restrictions imposed by the Building Standard Law on both interior and exterior walls, panel construction methods such as 2×4 construction method generally have the disadvantage that it is more difficult to create large openings than conventional construction methods. Although it is more resistant to earthquakes, 2×4 construction method is unsuitable for those who place importance on the size of openings and a sense of openness.
1-3. Various uses for reinforced concrete bulkhead
Similarly, reinforced concrete (RC) construction may have hanging walls coming into the room as beams.
RC construction has a structure called "wall-type structure," in which the building is composed of walls and floors instead of square columns, and bulkheads are likely to appear particularly in a wall-type structure.
This occurs to ensure the strength of the building by increasing the amount of walls. It may look like a bulkhead, but it is a structural member called a "wall beam." Wall beams are necessary for the structure to bear the load as beams and cannot be removed.
In an RC construction, a bulkhead may be provided to serve as a smoke barrier, and it is a wall that is required by law and structure.
1-4. Types of bulkheads
A tall door is used between the living room and hallway if it is wood-based house, but a bulkhead hardly leaves a large space for door opening.
A typical door can be provided in this area, but depending on the interior, it may be a good idea to leave an arched opening without a door.
As shown in the photo above, a compact place like a pantry does not need a door. In fact, it is more usable without a door. Compared to rectangular openings, arched openings can give a natural and soft impression in terms of design.
On the other hand, a Japanese-style room uses bulkheads in many cases.
The traditional tokonoma (alcove) has a bulkhead, which in architectural terminology is also called "otoshigake." In some cases, fusuma, one of the fittings of a Japanese-style room, has a bulkhead to lower the center of gravity of the space.
2. Advantages of bulkheads
In addition to the role of increasing the strength of the structural frame in 2×4 construction method and RC construction, we will introduce the advantages of bulkheads in terms of interior design and daily life.
2-1. Space partition
A bulkhead is one of the techniques that are perfect for dividing a space, even though it is a single continuous space.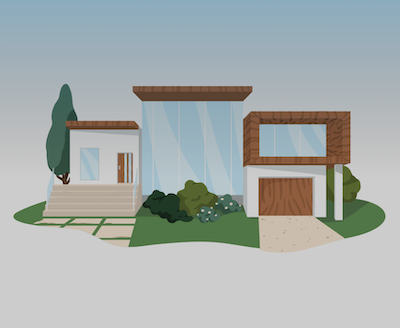 For example, in the case shown above, the kitchen adjacent to the living room is an open, continuous space without a door. A bulkhead in the ceiling of the kitchen secures the line of sight while "cutting off the edge of space" between the kitchen space and the living room. This meets the need of people who want to separate the kitchen space from the living room without bothersome door opening.
In addition, a bulkhead may be installed in advance at the time of construction for the purpose of separating children's rooms in the future. In reality, as long as the ceiling, floor, and walls each have a base, the construction process will not vary that much. A bulkhead will not be necessary if the room is initially made as one room.
2-2. Arch shape is perfect for Western style
In Western countries, arched openings are often used because 2×4 construction method is the most common method for wooden structures. As an interior design, this design matches Scandinavian interiors, sweet natural interiors, and traditional interiors. A simple opening would be tasteless, but an arched opening can be a distinctive point of interior design, increasing the stylishness of the interior.
Also, the rounded shape bulkhead, not a simple bulkhead, has the effect of eliminating the feeling of oppression in the room.
3. Disadvantages of bulkheads
Now, let's look at the disadvantages of bulkheads.
3-1. Feeling of oppression
A bulkhead that appears as a beam in reinforced concrete construction could be oppressive, especially when they are thick. It is also assumed that a tall person will have a wider range of sight lines and be more likely to feel a sense of oppression.
In this case, it is important to cover a bulkhead by design, for example by making it arched, or by using cross and lighting, or by clarifying its role as a space divider.
3-2. Shadows are formed (due to lighting)
The lighting design around a bulkhead can create shadows in some locations and contribute to a darker feeling.
It depends on the location and dimensions of a bulkhead. When the back side of the bulkhead is brighter than the front side, shadows will be formed on the front side, making the bulkhead look even more prominent. Therefore, careful consideration should be given to lighting design for areas around a bulkhead.
4. Case studies by architects in japanese-architects.com
Let's take a look at some examples of houses with bulkheads by japanese-architects.com architects. If you would like to consult with an architect who can design a bulkheads that suits you, or if you would like a referral, you may also find japanese-architects.com's architect referrals useful.
4-1. Open two-family house with both public and private spaces
This is an example of a two-family house in which the floors are finished in one open space. The open design allows for natural daylight and ventilation, and also creates a sense of connection between the interior and the exterior. Within this single space, the bulkhead and wainscot are used to give each area its own role.
This bulkhead, however, is not simply a bulkhead, but also a structural member (beam) to create one large space by assembling the bulkhead in a grid pattern. By combining the bulkhead and wainscot, both of which are beams, with the spatial design, it can be said that this is a successful example of utilizing them as a structural member and space partition.
4-2. Natural modern house using white as base color
The second example utilizes an arched opening.
The overall white color creates a gentle atmosphere, and arched openings are used in various places to create a distinctive interior design. The pantry in the back of the kitchen is both functional and well-designed, as it divides the space and can be used more conveniently without a door for stocking stuff.
The arch under the staircase in the second photo would normally have the structural material supporting the staircase at an angle. Here, by making it an arch, the structural material is finished without an oppressive feeling.
4-3. House utilizing natural materials with slanted ceiling and sense of openness
This case study is a house that uses natural painted wall materials, natural paints, and solid flooring for the health of family with young children.
The bulkhead above the dining room is structurally necessary, and also divides the living room from the dining room. Because the kitchen is designed to be relatively closed design, it is difficult to draw a boundary between the dining and living rooms, but it is possible to separate them without interfering with the living space.
4-4. House that creates sense of openness and seclusion by varying ceiling height
We perceive the spaciousness of a space in terms of various factors, and floor space is not the only indicator of spaciousness. This case study shows how the expanse of space is adjusted by a dropped ceiling rather than a bulkhead.
The ceiling height is divided by area to create a sense of openness and seclusion. The living room is designed with high ceiling to create a sense of openness, while the ceiling around the bed in the bedroom is lowered to create a sense of seclusion.
As with bulkhead, varying ceiling heights is another good way to demarcate spaces.
4-5. House with functional "soft boundaries"
This is an example of a barrier free house for a wheelchair user.
The distinctive particleboard-like bulkheads and wainscots are characteristic. Behind the curtain is the work area and the dining room/kitchen on the right side of the photo. The bulkheads and wainscots separate the spaces, but the use of curtains and vertical blinds softly divide the areas as if they were private rooms.
Because the floor is wheelchair accessible, the minimum number of doors is used and the design emphasizes ease of movement. Since the entire floor is one large space, it is possible to create multiple roles within a single space by dividing the space using such bulkheads.
4-6. Rustic natural house with beautiful cafe
The sixth case study is a storefront house with a cafe/yoga studio in Nagano. The house is unified with unadorned, naturalistic materials and interior design, with a bulkhead separating the bedrooms.
The sliding door is used to separate the beds, but even when the door is open, the bed space and the room space are still separated. By changing the wall materials, the space is further differentiated, as if there are two separate rooms, even though they are one continuous space.
4-7. House created with spirals and curves
This case study is an impressive house with a spiral staircase and atrium with a curved shape.
The bulkhead in the case study photo, which is designed to look like a ranma, is designed to combine a steel-frame bulkhead, which is structurally necessary in the back, with a wooden kamoi. Lighting is also incorporated into the design by overlapping the simple bulkhead with kamoi (ranma), achieving both functionality and beautiful appearance.
It also depends on the skill of the designer to integrate the structurally necessary components with the design.
4-8. Playful, gentle, natural-looking single-family house
This is an example of a house finished in a Western-style natural interior.
The arched opening in the living room gives the whole living room a gentle impression, and at the same time, it is designed to be functional with storage space inside the opening.
4-9. Simple natural house with solid structural beams
This is an example of a pure Japanese-style room in a simple natural-type house as above.
Besides the tokonoma drop-down wall, the Japanese-style room is designed to have a low and calm center of gravity of the space. The same applies to the boundary with the living room, where a bulkhead is used to lower the height of the fittings and to match the height of the kamoi with the nageshi. This design is unique to Japanese-style rooms, and the bulkhead also has the effect of lowering the center of gravity of the space in this way.
4-10. House that combines Japanese style and modernity like luxury ryokan
The last case study is a detached house with a high quality interior unified with a Japanese style like a luxury ryokan (Japanese inn).
The kitchen and dining room are separated not by fixtures, but by a bulkhead, which smartly separates the spaces. This is an example of utilizing the merits of a bulkhead, which can secure a line of sight while separating the space.
5. Summary
Through examples by japanese-architects.com's architects, we have seen how bulkheads and other inevitable structural elements can be made beautiful by matching them with the interior.
Even in RC construction or other structural frames where bulkheads are likely to come out, it is possible to divide a single space into multiple areas while maintaining a sense of openness with a creative planning. In the case of 2x4 construction, there are various ways to utilize bulkheads, such as arched openings. It can be transformed from a defect to a focal point in the interior design by various design innovations.
You can also make good use of bulkheads. japanese-architects.com architects for a free consultation with a first-class architect for new construction or renovations.
Let's consult a first-class architect.
"Now, how do I actually incorporate the ideal bulkhead into my house?" If you are thinking, "I need an expert's opinion on whether I should incorporate a bulkhead into my house design," please contact japanesse-architects.com's architectural advisors.
First-class architects and architectural advisors from design firms will listen to your concerns and wishes. Of course, you are welcome to consult with us even if you just want to ask a simple question such as, "I am having trouble with this. If you would like to hear from a professional, or would like to have an experienced person or a third party take a look at your project, please feel free to take advantage of our free consultation.
In order to build a house you will not regret, it is recommended that you ask for a professional opinion at least once.