What is "Hameita(羽目板)"? How to Read It and Examples with Photos of Exterior and Interior Walls
Updated
"Hameita", the board for wall or floor treatments, with its natural atmosphere, is a wall material that allows you to enjoy the warmth of nature by attaching boards to walls and ceilings. It can be used partially or throughout the entire house to greatly affect the atmosphere.
However, many people may not understand the features and functionality of hameita, or find it difficult to incorporate it in a fashionable way.
Therefore, this article will explain the advantages and disadvantages of hameita and show you how to incorporate hameita in a beautiful way with nine real-life examples. By the time you finish reading this article, you will have a deeper understanding of the characteristics of hameita and will find ideas for creating a beautiful home.
1. What is "Hameita" that gives you the warmth of wood?
First, let us explain "hameita" in detail.
1-1. It reads "Hameita"
"羽目板" is read as "hameita," and refers to the technique of stretching a series of boards on a wall or ceiling, or the boards themselves.
Hameita has long been used in Japanese housing because of its excellent humidity control and heat retention properties suited to Japan's unique climate. Furthermore, because it is made of natural materials, it is attracting attention as a material that does not cause "sick building syndrome," which has become an issue in recent years.
It is not only functional. The warmth of wood can be experienced to the fullest, creating a natural atmosphere. Even if you only use hameita on some of the walls, you can easily create a beautiful home.
Hameita is mainly used for walls and ceilings, not floors. It can be used in a variety of ways, depending on your ideas, such as accenting exterior and interior walls with hameita, or using it on ceilings to create a calm impression.
1-2. Difference from flooring
Because flooring and hameita serve different purposes, the strength of the wood used is very different.
Flooring must be made of sturdy wood that will not crack or warp when people walk on it or place heavy furniture on it. For this reason, wood used for flooring is cut thickly and treated to prevent scratches and stains.
Hameita, on the other hand, is mostly used to decorate walls and ceilings in a fashionable manner. Soft and lightweight materials are selected for ease of processing, and the wood is cut thinner than flooring.
Because wood flooring and paneling have different purposes, the choice of wood and processing methods are different.
2. 9 examples of professionally installed hameita (with photos)
Next, we will introduce a collection of examples of hameita installed by building professionals. The explanation is accompanied by selected photos, so if you are considering building a home with hameita, this is a must check.
If you would like to speak with or be introduced to an architect who can help you design the hameita that is right for you, japanese-architects.com's architect referrals are also useful.
2-1. Exterior walls with hameita in soothing colors
This house was designed by connecting five crates of different sizes. For the exterior walls, we used an abundance of hameita in chic and soothing colors. The result is a beautiful residence that looks natural from any angle.
The interior also incorporates a lot of wood to create a home that is soothing both outside and inside.
2-2. A restaurant that bends into the forest
This is a small restaurant with the entire exterior walls made of wainscoting that clearly and beautifully reflects the grain of the wood. Built in Nagano Prefecture, this restaurant is run by a young couple.
Surrounded by forest. The appearance of the house, which blends in with its surroundings as if it were a natural part of the environment, is just like being in a villa. The healing effect of the wainscoting on the exterior walls will lead you to a more satisfying experience.
2-3. Office building with the warmth of wood
The use of eye-catching deep brown hameita on the eaves, which protrude widely from the building, adds warmth to the building as a whole.
Although this is an office building for a construction trade association, the combination of wood hameita under the eaves and white painted walls, as well as a balcony on the second floor to show that people are invited in, create a somewhat relaxing atmosphere that does not bias the impression of being cold.
2-4. Wooden box building that doubles as a beauty salon and residence
The first floor of this building is a beauty salon, and the second floor is a workshop and residence. The exterior walls are made of wood, which is used in abundance to warmly welcome visitors to the store.
Also, an exterior wall that can be enjoyed to the fullest over time will develop its own flavor over time, making it a place that will be deeply felt by both you and your customers.
2-5. Hameita in deep brown to create a mature atmosphere
In this house, hameita with an attractive deep brown color is used throughout the walls. It blends well with the gray floor and ceiling, creating an interior that enjoys a mature atmosphere.
The large window overlooking the ocean is perfect for a relaxing space. In order to keep the room neat and tidy, the lighting is down-lit.
2-6. Beautiful space is complemented by a natural ceiling
Tiles on the floor, painted walls, and stainless steel material in the kitchen give this residence an overall beautiful look. To avoid bias toward a cold impression, the ceiling is paneled with hameita that gives a natural feel.
The dining room and kitchen, with a view of the garden from the window, will allow you to enjoy family gatherings in elegance.
2-7. A house with solid wood throughout, realizing a healing effect
With hameita on the ceilings and exterior walls, and beautifully grained wood flooring on the floors, the house is designed to allow residents to enjoy nature wherever they are.
To match the floor and ceiling, the dining table and chairs are also designed with beautiful solid wood.
2-8. Beautiful house with solid wood unified in light colors
Aiming for a more natural space, this house uses an abundance of light-colored solid wood that matches the white walls. The corridor on the second floor was purposely designed to look as if it were floating in the air, so that the presence of the wood can be enjoyed.
The kitchen is also made of hameita in the same color scheme, which is another attractive feature of the house, allowing the user to directly feel nature wherever they are in the house.
2-9. A bath where you can enjoy a superb relaxing time every day
The couple moved to the suburbs after retirement, and their home is designed to be open and inviting to many visitors.
The ceiling is made of beautifully grained wood hameita so that you can enjoy an elegant and relaxing bath time. The ceiling is made of beautiful wood hameita so that when you look up after soaking in the hot water, you can relax and feel at ease.
3. 4 advantages of using hameita for exterior and interior walls
Here are four advantages of using hameita for exterior and interior walls. The excellent functionality and atmosphere of hameita are explained together, so please use them as a reference for creating a beautiful home.
3-1. Long durability
It is said that hameita has a long durability and can be maintained for 100 years with proper maintenance. Other exterior wall materials are said to last only about 40 years even with regular maintenance, which shows the superior durability of hameita.
The maintenance frequency for long-lasting durability of hameita should be "once every 3 to 5 years". This is because hameita, which is highly absorbent and water-absorbent, can corrode if left to absorb moisture for a long period of time.
With regular maintenance, you can enjoy the beauty of wood for a longer period of time than with other wall materials.
3-2. A beautiful appearance that sets it apart from its surroundings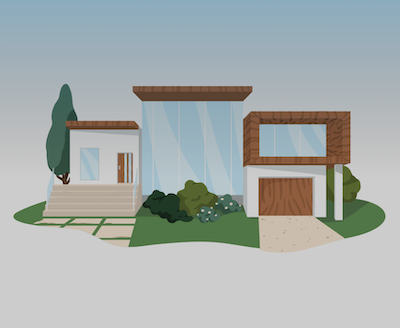 Hameita is the perfect wall material for those who want to create a beautiful look that sets them apart from their surroundings.
Although an increasing number of people are fashionably incorporating hameita, which has a long history, by processing it into a modern style, the number of people who still use wainscoting for exterior walls is still very small. Siding board (ceramic and metal) is currently the most commonly used material for exterior walls, accounting for more than 80% of the total.
Since there are still few examples of its introduction, houses that skillfully incorporate hameita will have a sense of rarity and style that one will stop and unexpectedly look at. This is recommended for those who want to create a beautiful exterior wall that stands out from its surroundings.
3-3. Accent wall with a sense of nature
The beauty of hameita is its natural and tasteful appearance.
While it is wonderful to incorporate hameita into entire walls, using hameita as an accent wall in areas where you want to make a point both indoors and outdoors will create an eye-catching residence with a subtle and beautiful look.
Also, you can enjoy the natural atmosphere when combined with wall materials such as siding. In particular, "painted walls," which utilize natural materials similar to hameita, are an excellent match. If you want to create a space that feels closer to nature, it is a good idea to choose wall materials that are carefully selected.
3-4. Creating a relaxing space
Made of wood, hameita creates a relaxing atmosphere that cannot be created by artificial wall materials. And not only does it create an atmosphere, but it also allows you to truly experience the relaxing effect.
People say that forest bathing calms the mind, and the secret of this effect is the component called "phytoncide" contained in the scent of trees. Phytoncide is said to have relaxing effects such as lowering blood pressure and decreasing stress hormones.
If you incorporate a lot of hameita into the interior design, such as walls and ceilings, the gentle scent of wood will wrap around the room and make it a deeply relaxing space.
4. 3 disadvantages of using hameita for exterior and interior walls
Although hameita gives a natural and fashionable finish, it actually has some disadvantages. Please refer to this page to learn about the disadvantages of hameita and take appropriate countermeasures to create a more beautiful home.
4-1. Easily flammable in case of fire
As long as it is made of wood, its vulnerability to fire is an unavoidable disadvantage.
In case of fire, it is essential to protect flammable hameita with flame-retardant and fire-proof coatings. Of course, regular maintenance should be performed without fail in order to maintain the effectiveness of fire retardant/fireproofing.
It is also important to use hameita not on all walls and ceilings, but only on one wall as an accent wall, and to avoid using hameita near kitchens and other areas where fire is used.
4-2. Frequent maintenance
Another disadvantage of hameita is that it requires more frequent maintenance than other wall materials, which takes time and money.
As mentioned earlier, the appropriate maintenance frequency for hameita is "once every 3 to 5 years. On the other hand, the maintenance frequency for ceramic siding, which is currently the most widespread type of exterior wall in Japan, is said to be "once every 7 to 10 years," so it is easy to see how much maintenance is required for hameita.
If maintenance is neglected or forgotten over a long period of time out of troublesome feeling, the "100-year durability" that is the merit of hameita will be lost. It is important to realize that regular maintenance is essential to maintain the beauty and functionality of hameita.
4-3. High cost
Another disadvantage of hameita is its high cost. The market price is estimated to be "about 8,000-15,000 yen" per square meter, but depending on the quality of the wood, the price may be even higher. In addition, there are construction and maintenance costs.
Ceramic siding, on the other hand, costs "about 4,000 to 5,000 yen per square meter. Construction and maintenance costs also tend to be lower than for hameita.
Although you can enjoy the natural and beautiful atmosphere of hameita, it is important to consult with your architect to make sure you have enough room for the construction costs. Or, set a budget in advance and consult with the architect to have hameita installed within the budget.
Can I do DIY using hameita? Is it available at home centers?
While it is possible to install hameita as a DIY project, it is better to leave it to a professional to ensure a satisfactory finish.
Hameita itself is sold at home improvement stores and can be DIY if you have the necessary materials. However, because of the height of the walls and ceilings, it is difficult for an unfamiliar person to work on them, and it will take a lot of time and effort.
Furthermore, if hameita is to be incorporated, it is safer to apply a flame-retardant/fire-proof coating. If an amateur paints the hameita, it may be uneven or not applied in sufficient quantities, and there may be many concerns.
If you are going to build a beautiful home with hameita, you will be more satisfied if you leave it to an architect who is certified in both appearance and safety.
6. Summary
Wainscoting is a wood that is utilized when you want to add natural warmth to ceilings and walls. As long as it is well maintained, it can also be used for exterior walls due to its excellent durability.
It is also fashionable to use it partially as an accent wall when you want to add a bit of a boost to the atmosphere.
If you are considering a custom home with hameita, please contact a first-class architect at japanesse-architects.com. We will introduce you to the architects and design firms that are best suited to your needs.