How to Use Tenbukuro(天袋)and How to Make the Most of It! Also Explains Storage around Jibukuro(地袋), etc.
Updated
Tenbukuro is an excellent storage solution that makes efficient use of space and also makes a room more beautiful. However, if you have never used a tenbukuro before, it may be difficult to imagine what kind of things you can store in it or how to incorporate it into your new home.
Here we explain in detail the basic uses of tenbukuro and points to keep in mind when making them. It also introduces examples of actual use of tenbukuro and how it can be used to make a room more lovely. Read on to learn how to make a more user-friendly and beautiful tenbukuro.
First, here are the summary points of this article.
Tenbukuro is convenient storage that makes effective use of available space in high locations
High position makes it difficult to put in and out, etc.
Can be made in rooms, halls, kitchens, and many other places
In addition to storage, it also serves as a decorative shelf, a blindfold for the air conditioner, and other functions to make the room more beautiful
Designing the storage around jibukuro(built-in small storage with doors installed directly touching the floor), etc., together makes it even more convenient and fashionable
1. Tenbukuro is a space-saving storage
A tenbukuro is a built-in storage space above eye level, allowing effective use of unused space such as above a window or closet. Incidentally, a tenbukuro with nothing underneath is sometimes called tsurido(吊り戸), a hanging door. One of its features is that it can be built in any location, such as a Western or Japanese-style room, kitchen, or hall.
The front can be fitted with a sliding door that slides both to the left or right, as in a closet, or with a door with a larger opening for taking out items, or it can be left open with nothing attached. The tenbukuro is a storage space that can be arranged to make it easier to use.
1-1. What is the use of a tenbukuro?
It is common to put lighter items that are not usually used much in the top pouch. This is because the tenbukuro is located in a high position and is difficult to put in and out. In the past, it was standard practice to store cushions for guests and gifts that were rarely used. Nowadays, many households store out-of-season clothing and small items that are rarely used.
1-2. Disadvantages of tenbukuro
Although tenbukuro can make use of space without wasting it, be aware of the following disadvantages when actually making it.
It's hard to get in and out
The disadvantage of a tenbukuro is that it is located high up, making it difficult to move things in and out. Because both hands are stretched above the head, it is very difficult to put in and out heavy objects. For this reason, it is advisable to put as many lightweight items as possible in a tenbukuro.
If you want to make use of the top of the closet, you can build a higher ceiling inside the closet and add a makuradana(upper storage inside the closet) to replace tenbukuro. Although the space will be slightly smaller than in a tenbukuro, it will be much easier to put things in and out of the closet.
Cannot contain heavy objects
Tenbukuro is not designed to withstand heavy objects weighing tens of kilograms. This is because, as mentioned above, they are not designed to hold heavy objects, since they are high and difficult to put in and out. Putting too heavy objects in a tenbukuro may cause the bottom plate to drop or break.
If you plan to put in heavy objects, they can be reinforced to withstand the weight. Please consult with the construction company in advance to let them know what kind of items you plan to put in the room.
May feel oppressive
Tenbukuro with a space underneath can feel oppressive, depending on its size and color. For example, a deep tenbukuro may look as if it is covering you when you are close to it. Also, if the door of a tenbukuro is a dark color, the line of sight will be obstructed and the space will seem smaller.
For this reason, if you build a tenbukuro near a place where people sit or pass by frequently, make the depth as shallow as possible without causing inconvenience. Also, using a brighter color for the door will make it easier to feel a sense of spaciousness. Another option is to leave the door open to reduce the feeling of oppression.
2. Example of a tenbukuro that can be used other than a Japanese-style room
Tenbukuro is used not only in rooms but also in various other places. Here are some examples of actual installation of tenbukuro and some key points for planning.
2-1. Storage above window
This is a tenbukuro with a door above the window. Combined with a jibukuro or vertical closet, it creates a varied storage design. In a large space like this, even a high and deep tenbukuro does not feel so oppressive. The use of light wood grain for the doors to create a sense of spaciousness is an ingenious idea that can be used as a reference for general housing as well.
2-2. Plus storage in hall
This is a tenbukuro installed in the hall as an additional storage space. Combined with the jibukuro below, which also serves as a display shelf, it also serves as a storage space. The hollowed-out middle section gives a sense of spaciousness. This is a great plan for a hall that tends to be limited in size.
2-3. Expanded storage for TV boards
This is a tenbukuro designed as a set with a base for a TV. It provides convenient storage for small items around the TV and in the living room. An air conditioner is embedded in the center, contributing to the creation of a clean room atmosphere. The lighting above and below and the bright colors of the doors also help to create a room that does not seem too large.
2-4. Kitchen storage
This is a tenbukuro designed for storage above the kitchen. The right side is for frequently used items, has no door so that it is easy to put in and out. On the other hand, the left side, which holds rarely used items, is hidden by a door. The design is intended to be easy to use, yet not dull in appearance.
3. Beautiful application of the tenbukuro
Tenbukuro can be applied not only for storage but also for creating a beautiful room. Here are some examples of tokubukuro that make the most of space while adding style to a room.
3-1. Use as a display shelf
This is an example of creating an open tenbukuro above a television without a door and using it as a display. By adding indirect lighting and placing small objects, it is simple yet eye-catching. However, it is placed slightly elevated so that it does not bother the viewer when watching the TV.
3-2. Air conditioner blindfold
This is a tenbukuro made to house an air conditioner above a hall closet. By covering it with a decorative lattice, the air conditioner is made inconspicuous while allowing air conditioning and heating to pass through. By extending the lattice to the left and right, it also serves as a design accent in the space.
4. Storage around the tenbukuro, etc.
When planning a tenbukuro, it is recommended that you know what other storage and other items are available around it. Planning a tenbukuro together with the surrounding items will make it more convenient and good-looking. Finally, the following is an easy-to-understand explanation of typical storage around a tenbukuro.
4-1. Jibukuro
Jibukuro is a low storage attached to the floor. Unlike a tenbukuro, it is easy to put in and out, and because the floor is immediately below it, even heavy objects can be stored. However, the storage capacity is small compared to the space it takes up, which is a big difference from a tenbukuro, where the space underneath can be used for other purposes.
4-2. Chigaidana(違い棚)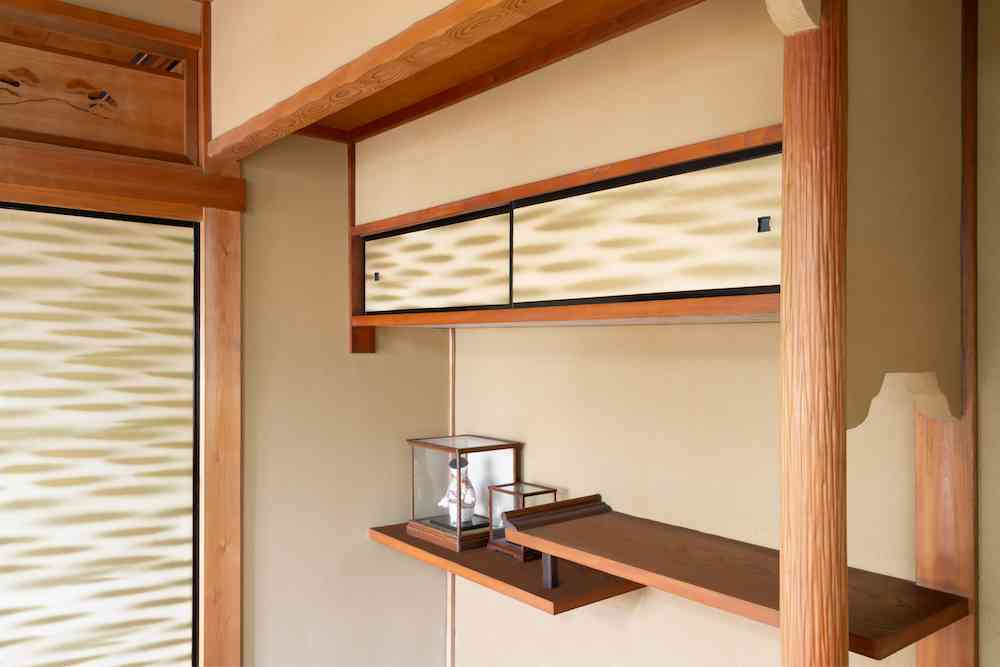 Chigaidana is a combination of shelves of different heights to display small ornaments and other objects. Combined with a tenbukuro or jibukuro, this shelf is used as a design accent in a room that also serves as a storage space. They can be installed anywhere in a Japanese-style room, a Western-style room, or a hall, and are available in a variety of shapes and sizes, including single-panel shelves.
4-3. Kamidana(神棚)
A kamidana is a place where ofuda(Shinto amulet plate)is enshrined. It is sometimes used to place a shrine or sakaki (榊, devotional offering)to pay respect and pray for the safety of the family. There are two types of kamidana: the tenbukuro style, which is made by hollowing out the top of a storage space, and the tanada style, which is made on a board protruding from the wall. Both types are generally built at a height above eye level.
4-4. Tokowaki(床脇)
Tokowaki, as the name suggests, refers to the side of an alcove, where the different shelves, jibukuro, and tenbukuro described above are located. Tokowaki-dana (tokowaki shelf) refers to the shelves set up on the side of the floor, and refers to the tokowaki-dana, jibukuro, and tenbukuro.
4-5. Tsurioshiire(吊り押し入れ)
Tsurioshiire is a closet that appears to float, with a space below. There are various variations, such as having a window at the bottom, a space above, or a combination with a tenbukuro. Originally, it was a device to get light in a limited space, but now it is also made for the purpose of adding variety to the design.
4-6. Takamado(高窓) and chimado(地窓)
A high window, like a tenbukuro, is placed above eye level, and a low window, like a jibukuro, is called a chimado. These windows are installed above and below storage areas, above furniture and appliances, and in other places with limited wall space to let in light and air. Recently, more and more people are installing these windows in place of conventional large windows in order to protect the privacy of the home.
5. Summary
Tenbukuro is a very convenient storage solution that makes effective use of overhead space. In addition to storage, tenbukuro can be used in a wide variety of ways, such as a display shelf or as a blindfold for an air conditioner. Furthermore, by designing it together with the surrounding storage such as jibukuro, you can create a more convenient and lovely tenbukuro.
If you are planning to build a tenbukuro in your home, why not consult with an architect who has a variety of ideas for tenbukuro? He or she will be able to suggest a variety of tenbukuro that you may not be able to come up with on your own.
japanesse-architects.com provides free introductions to architects with a wealth of experience. If you are thinking, "I want to make a convenient and beautiful tenbukuro," please feel free to contact us.