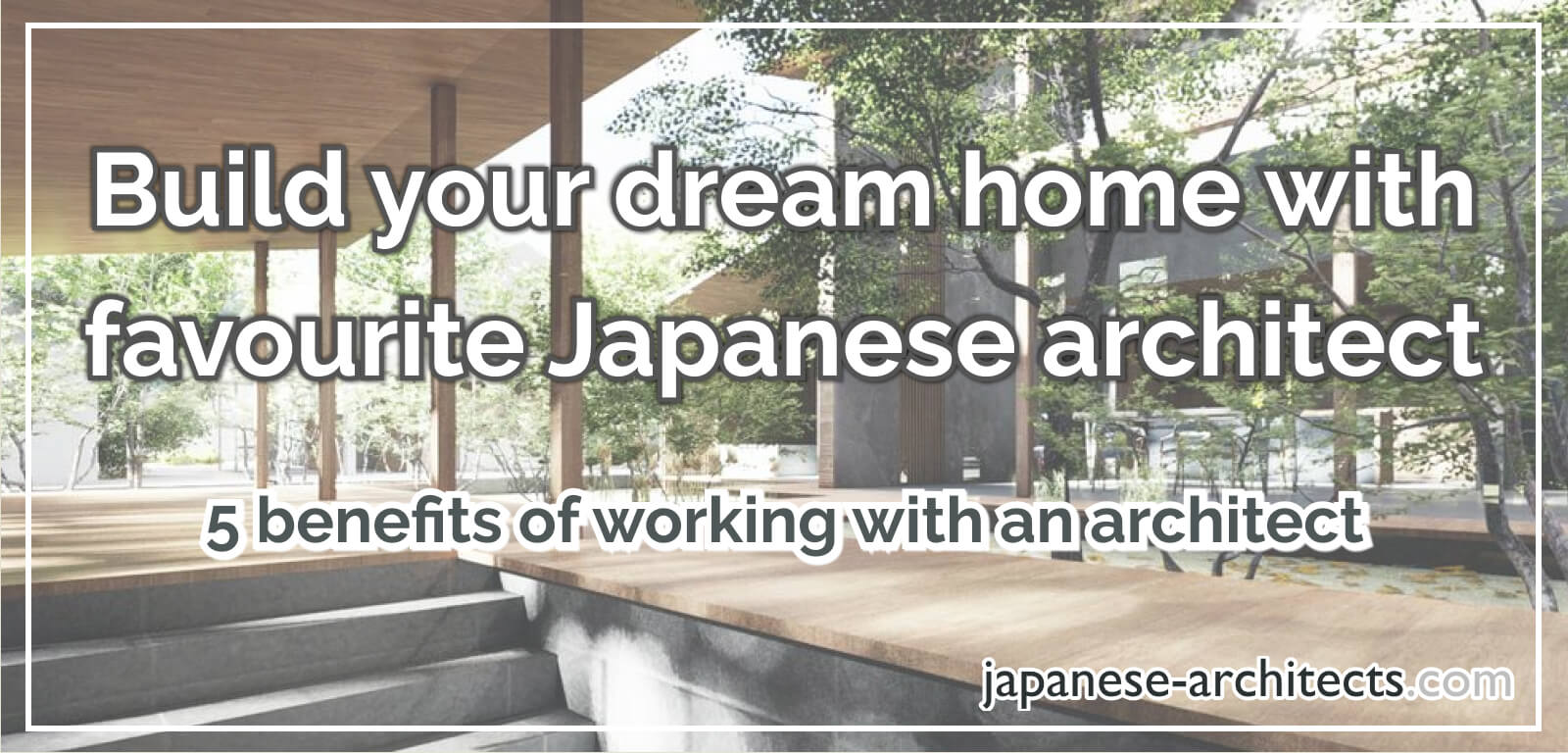 Steps and Benefits of working with an architect - Guide to building your dream home in Japan -
Updated
For those who are looking for a custom-designed house and are usually looking for more than just a regular house, you should definitely hire an architect to take on your project. The relationship between the client and architect is very personal, involving discussions of your lifestyle, taste, and hobbies.
To help you better grasp the overview and the process of building your tailor-made house with an architect, we will describe the 5 major steps of the process as well as the benefits in each step. You can learn what you can get from an architect and what how you can collaborate with them.
Table of Contents - benefits of finding land with an architect:
1. What do architects do for you?
To determine whether you need an architect or not, you first need to know what exactly a Japanese architect does. In Japan, architects (建築家 or Kenchikuka) or architect offices (建築設計事務所) are individuals or groups of professionals who plan, design and supervise the construction process of a building or an architecture.
Architects do not only design houses or buildings. Full architectural design services involve:
Find land candidates
Secure the building code and regulations
Coordinate your budget
Give you proposals before official contract
Consult with urban, city planning and neighborhood
Prepare construction papers and documents
Check the contractor's estimate
Negotiation with the contractors
Construction site supervision
Maintenance follow up after completion
For foreigners who are unfamiliar with the Japanese house build system, hiring professional architects is beneficial since they can even help with managing the whole building process, from visiting the building site, planning permission and observing the different contractors to deliver your vision.
2. "5 steps" for working with an Japanese architect and benefits in each step
Here are the 5 main steps of working with an architect as well as tips and benefits of working with them in each phase.
Step 1: Understand what you want for your custom-made house
Whatever your ambitions are, choosing a sympathetic architect who you can constructively collaborate with will help by understanding what you are trying to achieve and develop your vision extremely easier.
The greatest benefit in asking an architect is the high flexibility and the sophisticated sense of designs. They will design and build your house from scratch to create the one-and-only living space tailored for you.
It is important that you can describe the requirements and images of your building to the architect.
Your architect would want to know:
Budget (land cost and construction fee)
Program (housing, apartments, etc )
Scale (one-story, two-story, three-story, 4 bedrooms, more than 100 m2, etc)
Design style (contemporary, sustainable, minimum, western, traditional, wooden, concrete, etc)
Expectations (high-ceiling, open to nature, natural lights, more space, greater flexibility, versatile uses, etc )
Get in touch with us if you're in the process of researching those above points or how to clarify what you want for your one-and-only living space. Our qualified international staff will be happy to discuss further.
Step 2: Develop your rough building costs and plan your budget in advance
People tend to think asking an architect to design a house will cost more than a ready-built house - however, this is not the case. Japanese architects will try to answer the client's request within the set budget, regardless of whether it is large or small, by scrutinizing their demands and bringing creative solutions without being restricted by existing plans or concepts like house makers.
Full architectural design services typically fall within 10-20% of the construction cost. Furthermore, you will be able to assign more budget on the construction cost if you work with an architect compared to working with a house maker. This is because Japanese house makers usually operates with massive advertising costs and architects do not. By selecting an architectural firm, you may benefit from some cost savings on advertising cost and, as a result, obtaining higher-quality housing with the same reasonable budget.
Step 3: Search for candidate sites
Before buying your property, it is essential that you consult a professional architecture firm with experience in searching for the building code and building permission at an early stage of your project.
You need to pay extra attention when seeking out land for sale in Japan. Some foreigners go through all the trouble of doing the research, buying and paying for the land, only to find that they can't secure building code and building permission for the desired property.
We, japanese-architects.com, can introduce you to professional Japanese architects who can help you to look for and analyze your candidate sites in person. The architect will not normally charge you the site analysis fee and this service is usually included in the total design fee.
See also: How to find the best land to build your own house in Japan
Step 4: Check and know the completed works of candidate architects
It is important to know the atmosphere of the architects' works, the choice of material, spatial experience and plan layout as each architect has a different taste and specializes in different areas of design.
The easiest way will be checking on the architect's completed works . If you are not sure how to look for the right architect, we will help you in introducing the most suitable architect for you based on your tastes and requirements.
Our local staff will connect you with the architects online, or in person. You will get to know the works of architects, practice details, and most importantly, advice for your project and their personalities to make sure you and your architect will get along with each other.
Also, our professionals will be able to support you in translation and process management throughtout the process. Get in touch with us for free
Step 5: Understand what you want for your custom-made house
Hiring an architect is important because they are able to work with you side by side on a daily basis. Building a house is likely to be a long process. Architects will support you from the very beginning until the end, even after the completion of the project.
Architects typically break down their design process into smaller chunks and the phases usually look something like:
Site analysis (1 month)
Conceptual / Schematic Design (1~3 months)
Design Development (2~3 months)
Construction Documents / Cost adjustment / Building contract (1~2 months)
Construction (5~6 months)
Complete inspection
(steps and required time will vary in each case)
After the site analysis, your architect could be able to provide sketches and drawings to present an architectural solution that will both address and enhance internal and external context of your land.
Depending on the scale of your project, the entire house building process will normally take 12~20 months. In each phase, they will develop the plans and hold meetings with you until the building has a clear idea of your wants and needs. Learn more details in Step-by-step guide to the house building process .
Full architectural design service often includes communication with the house builder. The architects are responsible for managing the building process and will be the communicator between you and the house builder when you need any maintenance or upgrades after completion of the house.
3. Summary
Architects can provide full design service and a huge opportunity to maximize the potential for your home within your budget, and expanding your vision.
Before looking for your architect, it is important that you have a rough idea and understanding of:
Your wishes and requirements
Rough budget
Land / area candidates
Favourite works and design style
Schedule expectation
If you have not figured out the above points, or if you do have a rough idea but have no idea where to start, contact us and we will provide a tailored recommendation of architect(s) for you based on the wishes and requirements you have. An English-speaking professional will support you along the way.