10 Examples of Completed Garage House Designs
Updated
A garage house is probably the dream home for car lovers.
Recently, they have also become increasingly popular not only among car and motorcycle lovers, but also because they allow people to get in and out of their cars without getting wet in the rain, making their lives stress-free. The design with a lot of storage space inside the garage is also popular among people who like camping and other outdoor activities.
Here, we explain the merits of garage houses and the key points to consider when building one, focusing on examples of actual garage houses that architects have created.
1. What is a garage house?
A "garage house" is a building that combines a house and a garage. A garage is generally located on the first floor of a house or a part of a house, and is also called a "built-in garage".
A "garage" is a structure that is surrounded by walls on three sides and is closed off from the surrounding area. Since the garage is part of the building, it is included in the building area and is sometimes considered as "a room".
The term "carport" is similar to the term "garage", but the two are different. A carport is a simple structure with a roof attached to a pole to shelter it from rain and snow. It is generally treated as a "part of the exterior" that is separate from the building.
2. Advantages of garage house and points to consider when building one
First, let us briefly introduce the advantages of a garage house and the key points to consider when building one.
2-1. Advantages of garage houses
The advantages of a garage house are four major points
1. Protecting the car
The garage could prevent the car from wind and rain, furthermore, the car can be carefully protected with high security.
2. Effective use of space
Parking space can be provided even on narrow lots without having to rent a parking space.
3. Use as a hobby space
The space can kill two birds with one stone in that it can also be used as a space for hobbies, such as car maintenance or storage of outdoor equipment.
4. Easy living on rainy days
You can enter the living area without getting wet from the rain, so there is no stress and your luggage does not get wet.
2-2. Key points of garage house floor plan
By adding a twist to the floor plan, you can create a garage house that fits your lifestyle. Here are some points to keep in mind when considering the floor plan so that you will not regret what you should have done after you move in.
2-2-1. Figure out the size you need
The first thing to keep in mind is the size of the garage house. Since it is difficult to make a garage house larger or build a new one later, it is necessary to estimate in advance how large the garage space should be to fit the number of cars you will have, when you build your house.
It is recommended that a space of 5.5~6m (L) x 2.5~3m (W) x 2.3m (H) be secured for each car, including getting in and out of the garage. If you have any requests, such as "I want the garage to be as compact as possible", "I may buy a large van", or "I want to have space for maintenance", it is important to inform the designer at an early stage and have them reflected in the plan. This is because the size of the garage may greatly affect the size of the building and the overall plan.
2-2-2. Consider external and internal relations
The next major point is how to design the "connection with the outside" and "relation with the inside". For example, the approximate location of the garage can be determined by considering convenience and security aspects, such as "the garage should face the street", or "the garage should be set back so that it cannot be seen from the outside".
Another method is to decide on a floor plan by envisioning the scenes of daily life, such as "I often come home late at night, so I want the garage as far away from the bedroom as possible", "I want to be able to view my car from the living room", or "I want to connect the garage to the pantry and use it as a garbage storage area".
2-2-3. Assume necessary equipment
It is important to remember to incorporate "facilities" such as lighting, electrical outlets, water fixtures, and ventilation fans into your plans. There are many cases where people regret after living in the house, such as, "It is too dark to maintain my bike", "There are not enough power outlets", or "I wish there were water fixtures to wash my hiking boots. We tend to forget about the facilities because we are so focused on the design of the interior and storage space. However, it is necessary to plan properly because it is a part that is closely related to daily life.
2-3. Building a garage house lowers your taxes!
Garage homes have the potential to reduce property taxes.
If less than one-fifth of the total floor area is devoted to the garage area, that space is generally "excluded" from the property tax calculation. This translates into lower property taxes. This is a big advantage for small houses in urban areas where land prices are high.
It is also not uncommon in urban areas for the cost of one parking space to be more than ¥300,000 per year. In areas where land prices are high, a garage house may be considered a good value for money.
Please be noted that garage houses are only planned as part of the house, so the price will be higher than carports and other facilities that are not subject to property taxes at all.
3. Disadvantages and cautions of garage houses
Although attractive, garage houses also have its disadvantages and cautions.
The first disadvantage is that "the living space becomes smaller" as the garage is installed. Also, on a narrow lot in the city center, it is possible to use the 2nd and 3rd floors as living space in order to install a garage on the 1st floor. It is important to understand that going up and down the stairs may be a burden.
It will also add the cost to build a garage. Since a large frontage must be provided to accommodate cars, the structure must be solidly built to accommodate them. In some cases, garages are built with materials such as reinforced concrete or heavy steel frames.
In addition, if you want to install shutters on your garage, you will also have to pay for them. Depending on the function, it is said to cost 300,000~600,000 yen for manual and 500,000~1,500,000 yen for electric, and even more for two cars, so be sure to include this in your budget in advance.
4. 10 examples of garage houses by architects
Let us introduce some key points by looking at an actual example of a garage house designed by an architect.
4-1. Garage house for those who want to decorate and view cars
In this garage house, motorcycles can be placed and viewed as if they were displayed in a showcase. The space for your hobby will be seen from the living room, and you will be able to spend your time peacefully.
The exterior of this one is pure white and simple, which is why the design makes the car stand out like in museum when seen from the outside. The exterior is also closed, making it difficult to see the floor plan for security reasons, while the interior is bright and open.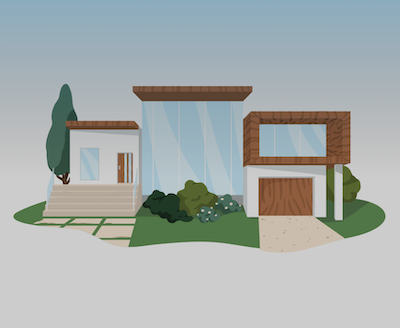 The light falling from above is impressive in this garage house. Cars and motorcycles are put away in the house just like people. The garage is a white base with a slight pop of color, making it an exciting space for car lovers.
This is an elegant, hotel-like residence. Cars are placed like decorations in the light-flooded, fair-faced concrete space. The cars can be seen from inside the house.
4-2. Garage house for people who want to be actively involved with cars
Next, we introduce a garage house for those who want to be actively involved with their cars, whether maintaining them or looking at them.
If you are thinking of moving to the suburbs, why not use plenty of land to create your own hobby space? The living area is a soft space with bright outside light. The garage is a slightly geeky space surrounded by equipment and containers. This is recommended for those who want to immerse themselves in the maintenance of their favorite cars.
In the house, you may find many small pleasures here and there: looking at cars and motorcycles from the bedroom, spending holidays in the garage while maintaining them, and drinking beer in the small garden on the roof on sunny holidays. Because the houses are lined almost next to each other with less gaps, the living area has openings only on the side with a good view as picture windows, and light is brought in through the glass stairwell connecting the two buildings. Even on a site with difficult conditions, it is possible to create a satisfactory house by working with an architect.
4-3. Lush greenery and garage house
Next, for those who are considering a garage house in a suburban or vacation home area with abundant greenery, this is a good example.
This house was built as a villa in Yatsugatake. Cars can pass through the property as if passing under the house. You can experience as if even the forest that surrounds the house is your home.
This residence is rich in the way the garage relates to the external spaces such as the veranda, terrace, and garden. The space, which always seems to enjoy the outside, transforms the garage into a place with a warm impression.
4-4. Simple garage house
Finally, here are some examples for those who do not have car-centric life but would like to live with a car in the city center.
The built-in garage means the car to be less closely connected to the living area, but this allows the rich living area. This plan is for those who want to have a car in the city center but still focus on the living area.
The house has a simple built-in garage. The plan has a sufficient setback area for easy loading and unloading of cars. The ease of loading and unloading cars in a built-up site in the city center is a small point, but it is a safe and stress-free plan.
5. Summary
Garage houses offer a variety of benefits not only to car lovers.
If you love cars and want to make your life a little richer, please consider us. Japanese-architects.com connects you with architects. You can browse the work of registered architects to find the one you like, or connect with an architect who is right for you through consultations with our professional staff.
We have presented a variety of examples, but if you have any concerns or doubts, a free consultation with our staff is a convenient place to start. You can easily discuss your concerns and questions about garage house design with our experts.